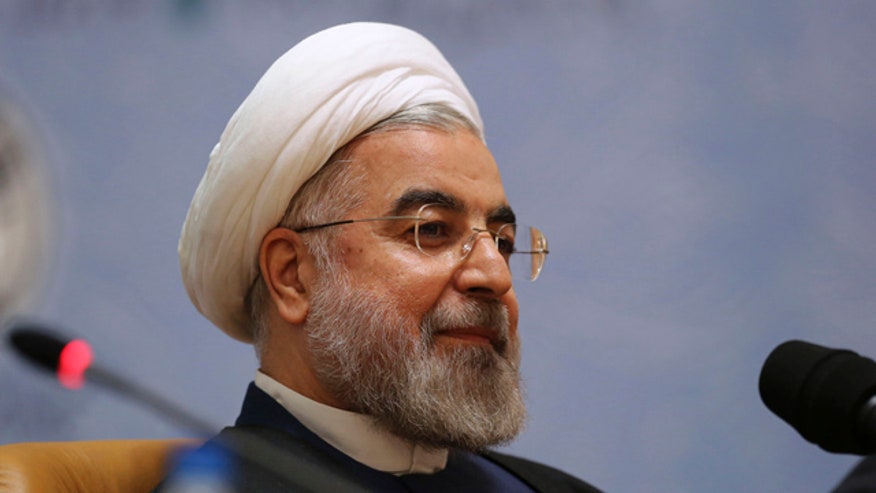 The White House says the U.S. will begin easing economic sanctions on Iran after Tehran began shutting down its most sensitive nuclear work Monday.
Iran's move was part of a landmark deal struck with world powers to allay concerns over its nuclear program and begin a partial removal of sanctions that have stifled the country's economy.
White House spokesman Jay Carney added in a statement that Washington will continue to aggressively enforce sanctions that will remain in effect.
"In reciprocation for Iran's concrete actions, the United States and its P5+1 partners -- the United Kingdom, France, Germany, Russia, and China, as well as the European Union -- will today follow through on our commitment to begin to provide the modest relief agreed to with Iran," the Carney statement read. "At the same time, we will continue our aggressive enforcement of the sanctions measures that will remain in place throughout this six-month period."
The United Nations nuclear agency has confirmed that higher-level uranium enrichment at a facility in central Iran has been stopped.
The U.S. Treasury Department said that now that Iran has fulfilled its initial nuclear commitments under the deal, ``the administration has taken the necessary steps to pause efforts to further reduce Iranian crude oil exports,'' according to a Reuters report.
Monday's move allows the six current customers of Iranian oil to maintain their purchases at current reduced levels for six months, in accordance with the interim nuclear deal between Iran and world powers, the Treasury Department said.
Iran will be permitted to resume some key exports -- including petrochemicals -- and resume trading in gold, other precious metals and automotive parts.
The European Union also has announced that it is suspending some sanctions following Tehran's implementation of its commitment.
A report from the International Atomic Energy Agency (IAEA) said Monday that Iran had halted its 20 percent uranium enrichment, which is just steps away from bomb-making capability and began diluting its stockpile of uranium enriched to that level.
Earlier Monday, Iranian state TV reported that workers had cut the link feeding cascades enriching uranium at its facilities at Natanz and Fordo. The state TV report also claimed that inspectors from the IAEA were present to observe the procedure.
Under the six-month agreement reached by Iran, the U.S., Great Britain, France, Germany, Russia and China on Nov. 24, confirmation from the IAEA that Iran has curbed its enrichment would clear the way for the partial suspension of U.S. and EU sanctions.
In exchange, Iran has agreed to halt enrichment of uranium above 5 percent purity and "neutralize" its 20 percent enriched uranium. Inspectors will be given daily access to the Fordo enrichment site, located near the city of Qum, and monthly inspections would be allowed at the Arak heavy water reactor.
Iran also is scheduled to receive the first of six installment payments of unfrozen overseas funds on or around Feb. 1. In total, the payments will amount to $4.2 billion, with the last of the funds due to be transferred in July.
The six-month agreement is designed to give negotiators breathing space in the hopes that a permanent deal can be reached. EU foreign policy chief Catherine Ashton told Reuters that she was hopeful that a new round of negotiations would begin "within the next few weeks."
Since the deal was announced late last year, the Obama administration has fought hard against the prospect of additional sanctions legislation passing the Senate. Last Sunday, President Obama threatened to veto any such bill, which its proponents claim would keep the pressure on Iran to adhere to the terms of the deal.
The U.S. and its Western allies have long feared that Iran's nuclear program would be used to develop weapons. Iran has repeatedly insisted that it has no such intention and claims its program is for peaceful purposes, like power generation and medical research.
The Associated Press contributed to this report.