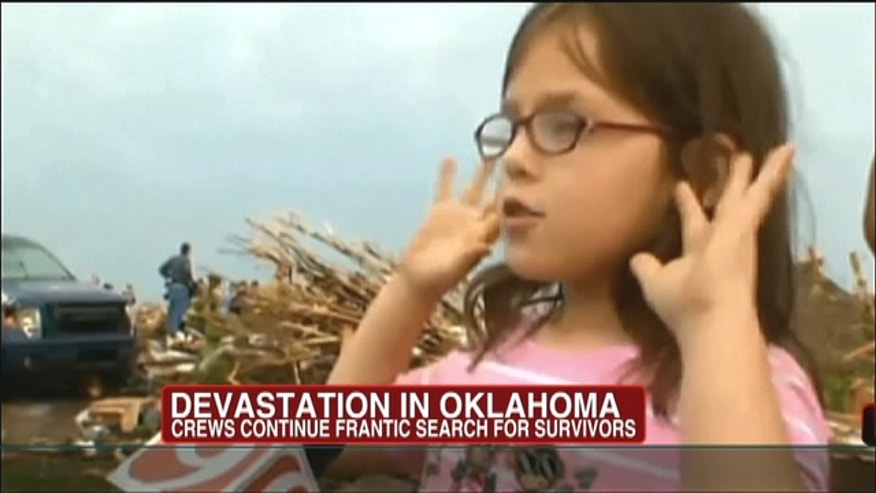 In the tornado-ravaged Oklahoma town of Moore, America's diversity was displayed in both victims and Good Samaritans.
One out of every four of Moore's roughly 39,000 residents are white, while Latinos make up 10 percent, or 5,000, of this bedroom community. The rest are Asian, Native American and black.
Moore, which is adjacent to Oklahoma City, reflects the growing diversity of the Sooner State, which saw its Latino community double in the last decade to comprise 10 percent of Oklahoma's nearly 4 million residents.
It's also the center of the ongoing devastation caused by massive tornadoes that destroyed entire neighborhoods and claimed two dozen lives, including nine children.
Latino businesses now number almost 8,000 statewide, up from some 1,500 just a decade ago, according to the Greater Oklahoma City Hispanic Chamber of Commerce.
The growth of the Latino community, the state's fastest growing minority group, is especially marked in the Oklahoma City public schools, where now nearly half the student population of 43,000 is Hispanic.
"The [Latino] community in the Oklahoma City area is a pretty good size," David Castillo, head of the Oklahoma City Hispanic Chamber of Commerce, told Fox News Latino. "Most of the community is new, the growth began about 15 years ago. Many are from Mexico, they're Mexican-American. But the Latino community has a variety, you have second- and third-generation Latinos."
Castillo and his staff were in their Oklahoma City office, just miles from Moore, when the tornadoes struck, pulverizing much of certain areas. His office manager, a Salvadoran immigrant, learned that her home was destroyed.
"She left to be with her family in Moore when the tornado hit, and she rode out the storm in a storm shelter," he said. "There are many people who lost everything."
"It's hit close to home," Castillo said, adding that he and other Latino leaders will be discussing how to help people in the ethnic community as well as others who've suffered losses.
Castillo, who was the first Latino elected to the Oklahoma City Board of Education, said Latino leadership in the state is still taking shape. Other than churches with large Latino congregations that offer services in English and Spanish, and some organizations that offer Spanish-language services, the state still lacks an organized network of Latino organizations to meet the needs of the growing community, he said.
Located next to Texas, and near California, Oklahoma has attracted Latinos in those states looking for a less expensive place to live that has plentiful job opportunities.
But this week, Oklahomans of all ethnic roots say their minds and hearts are with the victims of the tornadoes, and on helping to rebuild and recover.
Moore residents Alfredo Corrales and Viviana Luna told NBC News that they rode out the storm in the shelter underneath their home.
"All of a sudden we were hearing some noises like some voices up above, and we were like, 'What is that?''' Corrales told NBC. "So I popped the door open, and there were four or five of our neighbors standing there asking if they could come in. They got in there, and it was probably not even two minutes. The tornado came over, and I just can't really describe what the sound was like, but it was horrible."
When he deemed it safe enough to venture out, Corrales said he looked for ways to help, going from house to house.
"We pulled a bunch of people out,'' he told NBC. "A lot of them were elderly people. We pulled some younger people out, too. Some didn't make it, (but) most of them did that we were involved with."
Though emotionally impacted, he quickly took action.
"I kicked a door in just to save this one elderly lady and her grandkids. She had just gotten inside the house when it hit. She was still in the living room. The whole living room was just obliterated. I don't know how she made it, but she did, thank God," he said.
Elizabeth Llorente is Senior Reporter for FoxNews.com, and can be reached at Elizabeth.Llorente@Foxnews.com. Follow her on Twitter @Liz_Llorente.