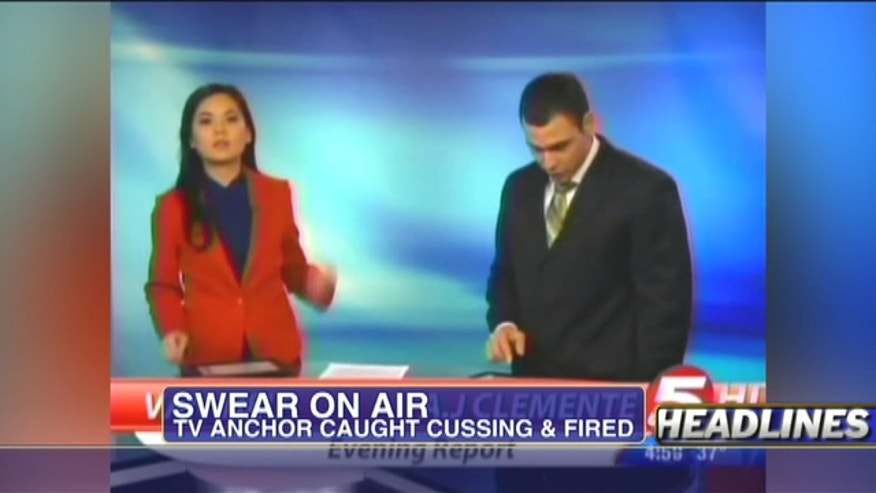 One rookie news anchor's worst nightmare has now put his career on the fast track into the upper echelons of the media world.
A.J. Clemente, the young reporter who was fired for dropping the F bomb in his debut as a TV news anchor, has been keeping up appearances and soaking up his recent national fame.
Stopping by 'The Late Show' with David Letterman on Wednesday, Clemente spoke about how he dealt with the cringe worthy moment when he said "F---ing sh-t" live on air.
"I went home, crawled in bed and called my parents," Clemente told Letterman.
But while Clemente was quickly humbled from the whole experience, all the recent media attention may now be going to his head.
After hearing his sob story, and poking numerous jokes at Clemente's expense, Letterman told him why he'd brought him on the show in the first place.
"Look, I'm trying to get you the job back in Bismarck," said Letterman, referencing the North Dakota town where Clemente was employed a few days ago.
However, with his ego now given a boast, a confident, edging on the side of cocky, Clemente said he now has bigger fish to fry—specifically a job working for ESPN.
But again Letterman steered Clemente back toward reality.
"Forget about ESPN," said Letterman.
"That ain't gonna happen. You're going back to Bismarck."
While ESPN may not be Clemente's immediate future, he already got a shot at redemption.
On "Live With Kelly and Michael," hosts Kelly Ripa and Michael Strahan asked the potty mouthed reporter to be their celebrity correspondent for Wednesday night's premiere of the new movie "Love Is All You Need."
So why was it that Clemente felt the need to curse in the first place?
According to his account, he could not pronounce three of the names being mentioned in his debut segment on NBC's North Dakota affiliate.
"It's inexcusable, first, to even say those words,'' Clemente told the "Today" show Wednesday.
"I didn't even know I said it on camera until my news director walked in on the third break."
While it took place on a small NBC affiliate, the incident quickly spread across the country on social media.
On Monday morning, less than 24 hours after making his debut, Clemente was fired.
"I fully expected that they would fire me," Clemente told the "Today" show. "I even called my news director after and apologized again ... No animosity at all."
Follow us on twitter.com/foxnewslatino

Like us at facebook.com/foxnewslatino