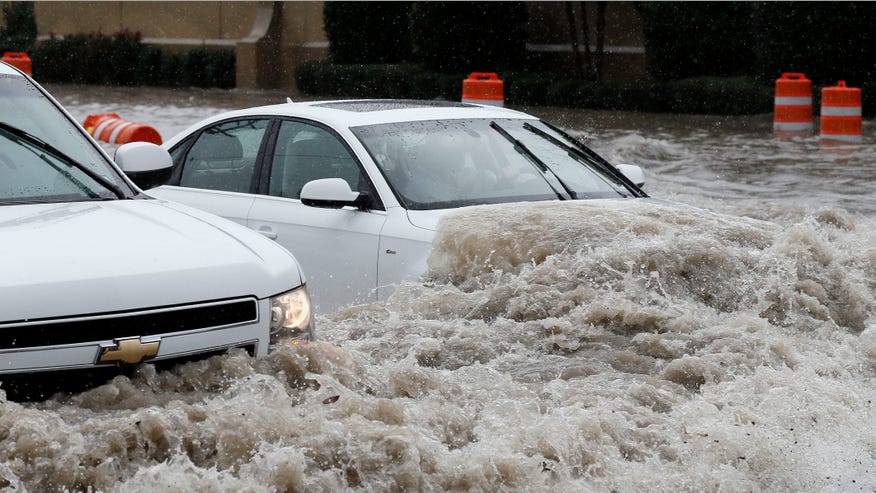 DALLAS – Emergency management officials in Texas contending with multiple storm systems are preparing for heavy rains to continue through the weekend and widespread flooding that may follow.
Rain fell steadily Friday through much of the state and is forecast to continue through at least Saturday as a storm system slowly moves eastward. Many parts of Texas, including the metro regions of Austin, Dallas and Houston, could see upward of 12 inches of rain by Saturday.
Rainfall totals had already surpassed that level by Friday evening in some areas, including more than 13 inches at the airport in Corsicana, 50 miles south of Dallas.
The rains left many roads and highways awash, causing some vehicles to stall. Interstate 35 near Waco and Interstate 45 near Corsicana was closed by high water at times Friday. No injuries or significant damage has been reported.
Torrential rains across North and Central Texas closed heavily traveled highways for a while and scrambled the schedule of high school and college football games.
As much as 7 more inches of rain was forecast for the Waco-Corsicana corridor. In South Texas, emergency workers are concerned the current system will be followed by the wet remnants of powerful Hurricane Patricia, which made landfall Friday evening in southwestern Mexico.
National Weather Service meteorologist Kurt Van Speybroeck said as the hurricane moves inland, the mountains of Mexico "will shred Patricia apart," but the weakened system will continue moving north and eventually bring another round of rain to Texas before moving into Arkansas, Louisiana and beyond.
"It's definitely going to be beneficial when it comes to the drought and fire concerns we've had over several weeks in Texas," Van Speybroeck said.
But for emergency officials a primary concern is the widespread flooding anticipated over the weekend. Official in Hidalgo County planned to hand out free sandbags to help residents prepare for the expected deluge.
The potential for flooding comes five months after torrential spring storms caused more than 30 deaths and left large swaths of the state underwater.
The Memorial Day weekend brought an astonishing amount of rainfall, with some isolated areas receiving more than 20 inches. Homes were either damaged or swept away by river water southwest of Austin, about 1,500 homes in the Houston area alone sustained flood damage, and neighborhoods throughout the state were cut off by rising waters.
Little rain has fallen since then.
Nim Kidd, chief of the state emergency management office, on Friday encouraged people to stay off roadways and avoid high water.
"This is a dangerous situation that will be developing over the weekend," Kidd said.
National Weather Service forecaster Lamont Bain said the Dallas-Fort Worth area received 3 to 5 inches of rain since Thursday morning, in waves of showers.
Dallas-Fort Worth International Airport set a record Thursday with 2.58 inches of rain, breaking the Oct. 22 rainfall record of 2.19 inches set in 1908, according to the NWS.
"We had a very wet spring and then the summer and fall, the first part of the fall, proved to be very, very dry," Bain said. "The rain is certainly welcome across the area."
More than half of the state's 254 counties had outdoor burn bans in effect Friday, due to previous dry conditions, the Texas A&M Forest Service reported.
The soggy weather spoiled some outdoor homecoming weekend activities at Baylor University in Waco. The world's largest Baptist university, with nearly 17,000 students enrolled this fall, canceled a Friday night bonfire and fireworks show. No. 2 Baylor hosts Iowa State on Saturday.
Rain and lightning also were affecting Grand Prix racing in Austin.