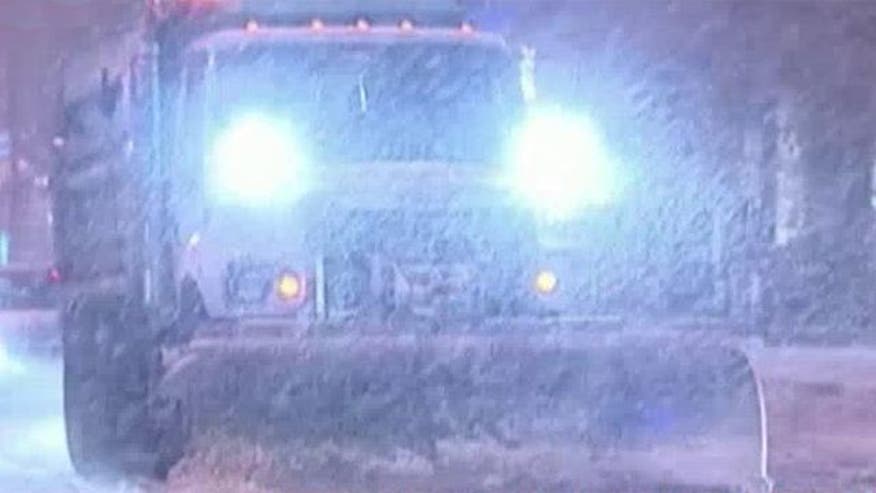 A winter weather system expected to dump more than a foot of snow in some places has begun its trek east, with a separate blast of arctic air right on its heels.
As the Alberta clipper-like system moves across the Ohio Valley and Northeast, most areas will see accumulation of between 2 to 5 inches, National Weather Service meteorologist Jamie Enderlen told the Associated Press. But some areas will be hit with heavier snow bands, including lake-effect snow, and could see accumulations up to 15 inches.
The system is likely to weaken as it nears the East Coast, but a couple inches are possible Tuesday in mid-Atlantic states, according to the Weather Service.
A little snow to welcome the 114th Congress! pic.twitter.com/Y94PQqAdyS

— Mario Diaz-Balart (@MarioDB) January 6, 2015
After the clipper, a high-pressure system over Canada is expected to move toward the Plains Wednesday and then slide east, bringing unusually frigid temperatures to the eastern two-thirds of the United States, Enderlen said.
Some airports are reporting delays by late Tuesday morning. Washington Dulles International reported about arrival delays up to an hour and Philadelphia International issued a ground stop, according to the Federal Aviation Administration. Other area airports are experiencing departure delays up to 15 minutes.
Parts of Georgia could see low temperatures Wednesday in the teens, and northern Florida is expected to be at or below freezing. From the Dakotas, across the Midwest and into the Ohio Valley, temperatures are likely to be below zero.
In the West, a stream of Pacific moisture that dropped as much as 7 inches of rain along the Washington coast is expected to give way to clear skies. Flooding washed out foundations of a few houses and forced the evacuation of about 60 nursing home residents in Hoquiam in western Washington. Some rivers are already flooding or are expected to reach flood stage by Tuesday.
12:27pm CST #SPC_MD 0027 concerning heavy snow, #ilwx #iawx #mnwx #sdwx, http://t.co/6Y5ILXEEhJ pic.twitter.com/q0edIHG9hT

— NWS SPC (@NWSSPC) January 5, 2015
Come Thursday, New York City will "will be lucky if it hits 20" with lows near 10 degrees, according to Michael Musher with the Weather Service's Weather Prediction Center.
The Weather Service warns that snow-covered roads and reduced visibility will create poor travel conditions in many areas Tuesday, especially during the morning commute. Even after most snowfall has ended, increasing winds Tuesday could result in drifting snow.
1st snow of 2015! #Letitsnow #DCWeather pic.twitter.com/SMq5bn8iaF

— AmericanIndianMuseum (@SmithsonianNMAI) January 6, 2015
At Chicago's O'Hare International Airport on Monday night, airlines were reporting delays of 30 minutes for incoming and outbound flights and had canceled more than 230 flights, according to the city's Aviation Department. At Midway International Airport, about three dozen flights were delayed an average of 45 minutes.
Mike Gillispie, a weather service meteorologist in Sioux Falls, South Dakota, said that local road conditions "are going to be deteriorating very rapidly.
"If you don't have to be out and about, it's a good time to stay indoors," he said.
We do not recommend parking like this! #snow #accidents pic.twitter.com/PlPWojYYP4

— ArlingtonCountyPD (@ArlingtonVaPD) January 6, 2015
Officials in the coldest areas are urging residents to bundle up to guard against hypothermia and exercise caution while driving.
In Detroit and across Illinois, warming centers have opened to provide temporary relief from the cold.
Temperatures are expected to be lower than normal for days but could rise a bit by the end of the week.
"We have cold temperatures, but it's not like it never happened before," said Bob Oravec, a meteorologist with the Weather Prediction Center. "It's typical for an Arctic outbreak."