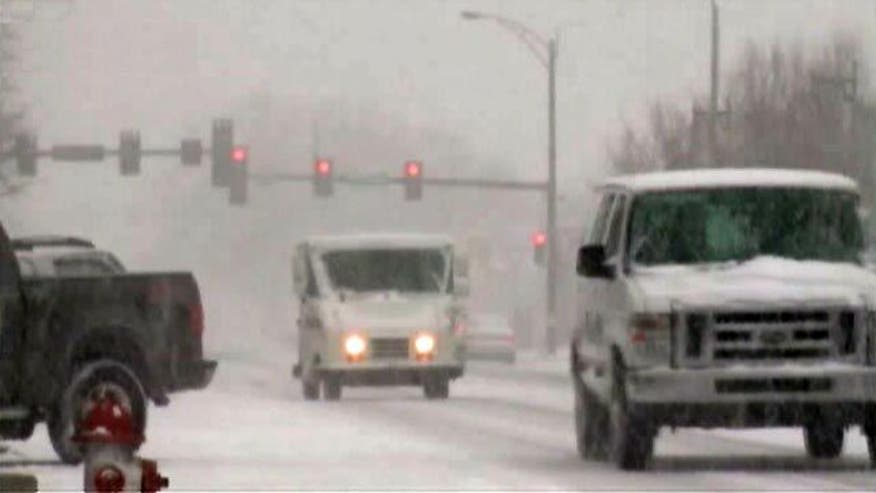 Powdery snow, up to a foot and a half in some places, bombarded much of the nation's midsection Thursday, impeding travel and shutting down airports, schools and state legislatures.
The widespread winter storm system swirled to the north and east Thursday night, its snow, sleet and freezing rain prompting winter storm warnings in Kansas, Nebraska, Iowa, Missouri and Illinois.
Corey Mead, a meteorologist with the National Weather Service's Storm Prediction Center in Norman, Okla., said the winter storm would be centered in the upper Midwest by Friday morning.
"Even across Kansas, the snowfall rates should continue to taper off through the evening," Mead said.
The system left behind impressive snow accumulations, especially in western Kansas, where 17 inches fell in Hays.
Several accidents and two deaths were blamed on icy and slushy roadways; two people died in crashes Wednesday. Most schools in Kansas and Missouri, and many in neighboring states, were closed. Legislatures shut down in Kansas, Missouri, Arkansas, Nebraska and Iowa.
National Weather Service meteorologist Scott Truett said the "thundersnow" that rumbled through Kansas and Missouri earlier Thursday was the result of an unstable air mass, much like a thunderstorm.
"Instead of pouring rain, it's pouring snow," Truett said. And pouring was a sound description, with snow falling at a rate of 2 inches per hour or more in some spots.
Topeka got 3 inches of snow in one 30-minute period, leaving medical center worker Jennifer Carlock to dread the drive home.
"It came on fast," Carlock said as she shoveled around her car. "We're going to test out traction control on the way home."
Snow totals passed the foot mark in many places: Monarch Pass, Colo., had 17 1/2 inches, the Kansas cities of Hutchinson, Macksville and Hanston all saw 14 inches, and Wichita, Kan., had 13 inches. A few places in far northern Oklahoma saw between 10 to 13 1/2 inches of snow. Missouri's biggest snow total was 10 inches, shared by the Kansas City metropolitan area, Rockport in the northwest corner and Moberly in the central part of the state.
Transportation officials in affected states urged people to simply stay home.
"If you don't have to get out, just really, please, don't do it," Kansas Gov. Sam Brownback said.
Drivers were particularly warned away from the Kansas Turnpike, which had whiteout conditions. Interstate 70 was also snow-packed, and a 200-mile stretch was closed between Salina and Colby.
But some people came down with cabin fever, like Jennifer McCoy of Wichita, Kan. She loaded her nine children -- ages 6 months to 16 years -- in a van for lunch at Applebee's.
"I was going crazy, they were so whiny," McCoy said.
Cases of wine and beer -- as well as bottles of scotch and whiskey -- were flying off the shelves at Ingersoll Wine and Spirits ahead of the storm's arrival in Des Moines, Iowa.
"A lot of people have been buying liquor to curl up by the fire," wine specialist Bjorn Carlson said.
NWS forecasts showed 3 to 9 inches of snow were expected in Iowa overnight, and Nebraska will see an additional 2 to 5 inches.
Heavy, blowing snow caused scores of businesses in Iowa and Nebraska to close early, including two malls in Omaha, Neb. Mardi Miller, manager of Dillard's department store in Oakview Mall, said most employees had been sent home by 4 p.m., and she believed "only two customers are in the entire store."
The storm brought some relief to a region that has been parched by the worst drought in decades.
Vance Ehmke, a wheat farmer near Healy, Kan., said the nearly foot of snow was "what we have been praying for." Climatologists say 12 inches of snow is equivalent to about 1 inch of rain, depending on the density of the snow.
"The big question is, `Is the drought broke?' " Ehmke asked.
Near Edwardsville, Ill., farmer Mike Campbell called the precipitation a blessing after a bone-dry growing season in 2012. He hopes it is a good omen for the spring.
"The corn was just a disaster," Campbell said of 2012.
In Colorado, the U.S. Forest Service planned to take advantage of the snow to burn piles of dead trees on federal land. Areas in the Texas Panhandle also had up to 8 inches of snow, and in south central Nebraska, Grand Island reported 10 inches of snow. And Arkansas saw a mix of precipitation -- a combination of hail, sleet and freezing rain in some place, 6 inches of snow in others.
Missouri Gov. Jay Nixon declared a state of emergency Thursday morning. All flights at Kansas City International Airport were canceled for Thursday night, and officials said they'd prepare to reopen Friday morning. More than 320 flights at Lambert Airport in St. Louis were canceled by Thursday afternoon. Traffic throughout the state was snarled by hundreds of accidents and vehicles in ditches.
The University of Missouri canceled classes for one of the few times in its 174-year history. At a nearby Wal-Mart, some students passed the ice scrapers and snow melt, heading directly to the aisles containing sleds and alcohol.
"This isn't our usual Thursday noon routine," Lauren Ottenger, a senior economics major from Denver, said as she stockpiled supplies.