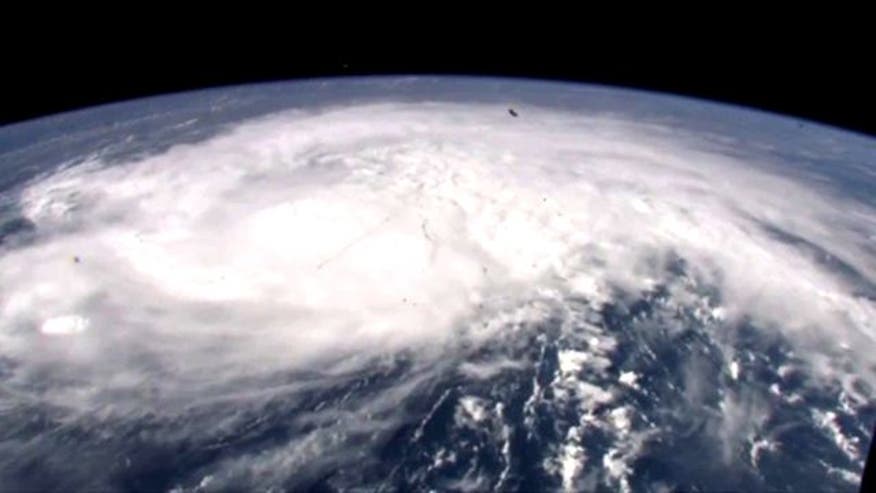 PROVIDENCIALES, Turks and Caicos Islands – Punishing winds from Hurricane Irene howled over Turks and Caicos and the sparsely populated islands of the southeastern Bahamas as residents huddled in darkened homes, hotels and public buildings late Tuesday.
Islanders wary of a possible blow from Irene pulled boats ashore and packed supermarkets on the Turks and Caicos Islands before the Category 1 storm spun over open seas toward the tiny British territory, where tourism is the primary industry. The government moved the elderly and sick to safety, and officials said power had been knocked out on the capital and light poles were being toppled.
Howling winds were rattling the storm shutters on Sandra Thompson's windows at her home in Providenciales in the eight-island British dependency located between Haiti and the Bahamas and roughly 1,000 kilometers (600 miles) southeast of Miami.
"I can sure hear the wind howling out there. There's still a lot of rain falling outside and a lot of wind," Thompson said by phone on Tuesday night.
Thompson and other islanders were thankful that the hurricane had lost a bit of steam as it approached the territory. It weakened into a Category 1 storm earlier in the day. Forecasters at the U.S. National Hurricane Center in Miami had initially expected Irene to strengthen into a Category 3 on Tuesday.
Irene was forecast to pass over or near the Turks and Caicos Islands and the southeastern Bahamas by Tuesday night and be near the central Bahamas early Wednesday. Forecasters said it's possible Irene will make landfall over the North Carolina coast Saturday, then move to the north near the Chesapeake Bay.
The Category 1 hurricane was about 50 miles (80 kilometers) west-southwest of Grand Turk island Tuesday evening, with maximum winds of 90 mph (150 kph). Irene was moving toward the west-northwest near 9 mph (15 kph). The U.S. National Hurricane Center said it should pass near or over the Turks and Caicos Islands during the next several hours and the southeastern and central Bahamas later tonight and Wednesday.
At the Comfort Suites Resort in Providenciales, Gary Anderson and his wife, both of Delaware, said they were preparing to experience their first hurricane.
Anderson said he anticipated chaos after two days of snorkeling and other activities.
"Don't know how long it's going to last, don't know what the 100 mile per hour winds are like, but we'll get through it," he said.
By Tuesday night, only the island of Grand Turk, where Hurricane Ike damaged roughly 95 percent of homes in September 2008, had electricity knocked out amid Irene's passage, according to government spokesman Kendol Morgan.
Hunkered down in a government building on Grand Turk, Morgan said he had not heard of any initial reports of any injuries or major damage. But authorities were not yet able to assess the full extent of storm damage as torrential downpours and powerful winds made surveillance by authorities almost impossible.
"It's early days still," Morgan said by phone from Grand Turk, the islands' capital, where there are about a half-dozen hotels.
Tourism is the primary industry in Turks and Caicos, which have little natural protection from powerful storm surges. The Caribbean island chain has also been a hot stop for celebrities for years.
The government assured people it has enough emergency supplies available, and that a Royal Navy ship is on standby in Curacao.
In the Bahamas, the military expected to deploy small teams to Acklins, Cat Island, Eleuthera and Abaco, said Prime Minister Hubert Ingraham.
He said if Irene strengthens to a Category 3 hurricane, it will damage roofs and weak structures. He urged islanders to prepare supplies and pick up debris that whipping winds could turn into dangerous projectiles.
"We cannot replace life. Hence my urgent and repeated appeals for the observance of safety measures," he said.
The Abaco Beach Resort had enough space for yachts to berth because most boat owners sailed to the United States ahead of Irene, according to marina employee Carolyn Smith.
"Right now, the sun is shining so bright. But we know in the next 70 hours it will all change," Smith said from the 198-slip marina in Abaco, about 165 miles (266 kilometers) off the Florida coast.
In the southernmost Bahamian district of Great Inagua, which is the archipelago's third largest island but only has about 1,000 people, power appeared to be out on Tuesday night. Numerous phone calls made to residents and hotels on the island, which is home to a huge breeding colony of West Indian flamingos, did not go through.
Irene was still impacting the northern coasts of Haiti and the Dominican Republic, where crews have begun cleaning up debris and the government warned of flooding. Officials said more than 1,000 people were evacuated.
In neighboring Haiti, 500 people were evacuated from a coastal town amid fears of flooding, while 36 prisoners were relocated to a more secure location, said Marie Alta Jean-Baptiste, director of Haiti's Civil Protection Agency.
In Puerto Rico, a 62-year-old woman died on Tuesday after she tried to cross a swollen river in her car, police said.
In the United States, residents from Florida to the Carolinas stocked up on supplies and readied for the worst from Irene.
Federal officials warned the storm could flood streets and knock down power lines as far north as New England.
Federal Emergency Management Agency administrator Craig Fugate urged people not to become complacent, even though the forecast is still uncertain and the storm may be days from hitting the U.S.
"We need to remind people, hurricanes are not just a Southern thing. This could be the Mid-Atlantic and the northeast coast," Fugate said. "We've got a lot of time for people to get ready, but we don't have forever."