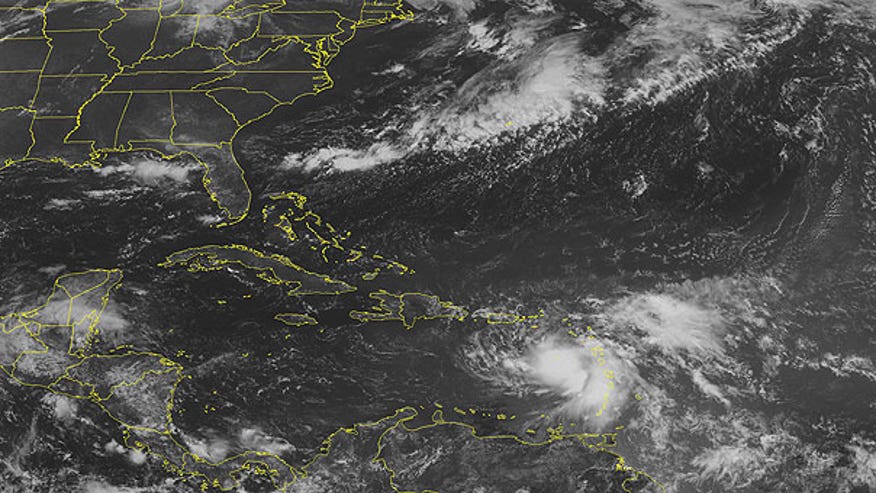 PORT-AU-PRINCE, Haiti – Joceline Alcide stashed her two kids' birth certificates and school papers in little plastic bags that aid groups handed out. It was the only precaution she could take as Tropical Storm Emily headed toward the Dominican Republic and Haiti.
Alcide lost her shelter in an early summer storm and now she was back in one of the thousands of flimsy shanties that sprung up in the aftermath of last year's earthquake in Haiti.
"There really isn't much more we can do. We just got these bags," the 39-year-old Alcide said, standing outside her teepee-like tarp shelter.
Forecasters expected the center of the storm to brush the southwestern corner of the Dominican Republic late Wednesday and reach Haiti's southwestern peninsula early Thursday. The high mountains dividing the countries could weaken Emily. But intense rain posed a threat to the two nations that share Hispaniola island, said Diana Goeller, a meteorologist with the U.S. National Hurricane Center.
Tracking maps showed the storm's path changing, veering westward.
"This storm has a lot of heavy rainfall with it," Goeller told The Associated Press. "So in those mountainous areas, there could be very dangerous, life-threatening mudslides or flash floods."
The worst rainfall was expected to miss the Haitian capital, but it could be enough to cause severe flooding and increased misery. Rain already was falling on Port-au-Prince's eastern side by late Wednesday afternoon. A U.N. aid group distributed cholera prevention kits to help fight the waterborne disease, and the government set up a network of shelters.
Francois Prophete, who was shoring up the corrugated-metal roof of his one-room cinder block home in the hills southeast of Port-au-Prince, said most people had few options in a nation where the vast majority are desperately poor. "We can't afford to do much," he said.
Others just hoped the storm would skip Haiti.
"If any storm comes, we meet our demise," said Renel Joseph, a 57-year-old resident of Cite Soleil, a seaside shantytown of the capital.
Michel Davison of the U.S. National Oceanic and Atmospheric Administration said parts of the Dominican Republic could see up to 20 inches (50 centimeters) of rain within 36 hours. Up to 10 inches (25 centimeters) is expected in rural Haiti and up to 6 inches (15 centimeters) in the capital.
The storm had already dropped up to 10 inches (250 millimeters) of rain in parts of Puerto Rico, though its center never got within 100 miles (160 kilometers) of the island, the U.S. National Weather Service said.
Forecasters expected the mountains on Hispaniola to weaken the storm but still issued warnings for parts of Cuba and the Bahamas.
Civil defense officials and the military in the Dominican Republic moved dozens of families out of high-risk zones ahead of the storm.
Batista Geovanny nailed down the tin roof of his house near the Ozama river in Santo Domingo.
"You never know what might happen," said Batista, fearful that the riverbank outside his front door might burst.
In Haiti, local authorities urged people to conserve food and safeguard their belongings and prepared a fleet of buses to evacuate people from flooded areas.
The United Nations peacekeeping force in the country told its 11,500 troops to be on standby to provide aid. The International Red Cross alerted emergency teams that have access to relief supplies already in place for up to 125,000 people throughout the country.
A slow-moving storm that triggered mudslides and floods in Haiti killed at least 28 people in June.
That was the same storm that toppled Alcide's previous tent-like shelter, which stood on the side of a ravine. Her neighbors saw cinderblock houses slide down the hills in unforgiving mudslides.
Haiti's government urged people to evacuate their neighborhoods if there is flooding, but Vania Zamor said she had no plans to leave. She feared thieves might break into her sheet metal shack and steal the beans and rice she sells as a merchant.
Besides, "it's going to be very hard for us to leave because people rely on us," said Zamor, a 39-year-old camp leader in a ravine shanty in the Petionville section south of Port-au-Prince.
"If God doesn't protect the people living on the hills, there's going to be a lot of damage."
The U.S. National Hurricane Center said the storm was heading west at 14 mph (22 kph) late Wednesday afternoon, and it was expected to turn toward the northwest. The storm was about 60 miles (95 kilometers) southeast of Isla Beata in the Dominican Republic. It had maximum sustained winds of 50 mph (85 kph).
A tropical storm warning was in effect for the Dominican Republic, Haiti, the southeast Bahamas, eastern parts of Cuba and the Turks and Caicos Islands.