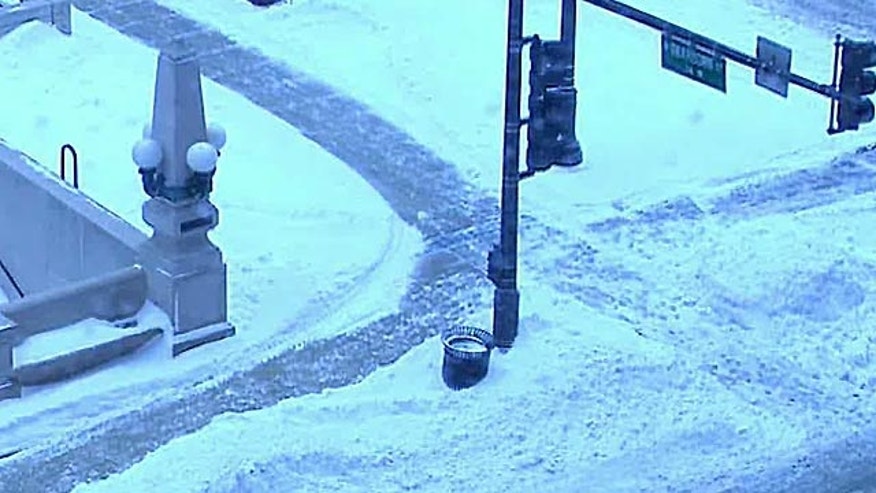 CHICAGO -- A massive storm billed as the worst in decades barreled northeast thorough U.S. states on Wednesday, leaving vast swaths from Chicago to New York paralyzed by snow and ice.
Hundreds of motorists were stranded overnight, and airports and schools were forced to close.
Chicago had 19.5 inches (49.53 centimeters) of snow, ranking the storm the third-largest on record to hit the city -- and still more snow was possible. As much as 18 inches (46 centimeters) fell in Missouri, more than a foot (30 centimeters) dropped on northern Indiana and southeast Kansas, and Oklahoma saw up to a foot.
New York City was expected to get up to three-quarters of an inch (2 centimeters) of ice by midday before the mix of sleet and freezing rain warms up to rain.
Forecasters warned ice accumulations could knock down some tree limbs and power lines across the storm's more than 2,000-mile (3,220-kilometer) path. Ice also could affect transit service.
The storm was, if not unprecedented, extraordinarily rare, National Weather Service meteorologist Thomas Spriggs said.
"A storm that produces a swath of 20-inch snow is really something we'd see once every 50 years -- maybe," Spriggs said.
In Chicago, the city closed public schools for the first time in 12 years and shut down Lake Shore Drive, where hundreds of motorists were stranded for 12 hours after multiple car accidents on the iconic roadway.
Bulldozers moved snow away from an estimated hundreds of cars that remained buried up to their roofs Wednesday morning, after drivers had been rescued. Only then could tow trucks move in.
Raymond Orozco, chief of staff to Mayor Richard Daley, said motorist rescue efforts had been "severely hampered" by snow drifts, high winds and white-out conditions.
Jenny Theroux, 23, told the Associated Press she was stranded from 4 p.m. Tuesday until about 4 a.m. Wednesday. Stranded just 800 feet (240 meters) from an exit, she repeatedly called the city for information.
"It was a very stressful experience toward the end, especially not knowing what's going on," Theroux said, after abandoning her car. "I'm just very confused as to why it all transpired this way."
Not only was driving dicey, but flying in and out of Chicago's O'Hare International Airport -- a major U.S. hub -- won't be possible until Thursday. The decision by O'Hare-based airlines to cancel all their flights for a day and a half was certain to have ripple effects, said transportation expert Joseph Schwieterman.
"Effectively shutting down America's most important aviation hub hits the system immeasurably hard," he said of O'Hare.
Boston's Logan Airport also closed but was expected to re-open later Wednesday morning.
More than 5,300 flights were canceled nationwide, according to flight tracking service FlightAware. That came a day after airlines grounded 12,630 flights due to the storm.
More than 200,000 homes and businesses in Ohio began Wednesday without power, while in excess of 100,000 customers had no electricity in New Jersey and Pennsylvania, which were hit with mostly freezing rain and ice.
Rolling blackouts were in Texas.
In Oklahoma, rescue crews and the National Guard searched overnight for any motorists who might be stranded along its major highways after whiteouts shut down Tulsa and Oklahoma City.
The storm's powerful punch came from cold air that swept down from Canada, clashing with warm, moist air coming up from the south, explained National Weather Service meteorologist Gino Izzo.
Click here for more on the massive winter storm from MyFoxChicago.com
Chicago Tells Residents: Stay Inside, Don't Drive as City Digs Out of Blizzard: MyFoxCHICAGO.com