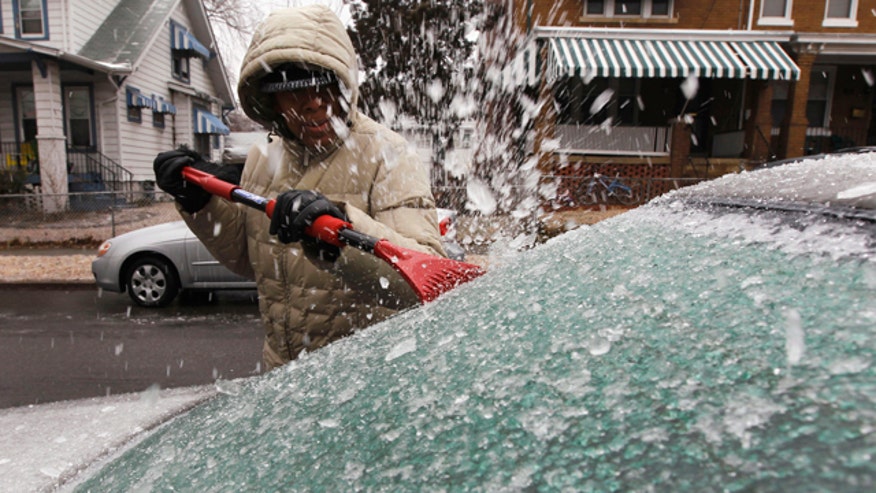 HARTFORD, Conn. -- A mix of snow, sleet and freezing rain iced over roads from Delaware up into northern New England on Tuesday, making for messy driving and delaying flights for tens of thousands of weather-weary travelers.
The storm came less than a week after a winter storm dumped up to 2 feet of snow in some spots of Connecticut and elsewhere along the East Coast.
"This seems a little more like a New York winter," said David Cairns, trying to keep his dress shoes from getting wet while crossing the street in White Plains, N.Y. "Ice and slush and cold rain. It beats a blizzard."
Tuesday's icy blast also closed hundreds of schools and delayed or canceled flights throughout the region.
In Wallingford, Conn., about 90 passengers on an Amtrak train were put on buses Tuesday morning after it struck a FedEx delivery truck that became stuck on the tracks.
No injuries were reported in the low-speed crash, which left packages strewn on the slushy pavement near the damaged tandem truck.
Several airports remained open Tuesday but delayed or canceled flights because of poor conditions, including airports in New York, New Jersey, Baltimore and Washington, D.C., as well as Connecticut's Bradley International Airport.
Over 400 flights were canceled at New York's three main airports, most of them at Newark Liberty International Airport, where Continental Airlines had halted its flights there because of freezing rain and snow. New York's LaGuardia Airport reported 1 hour and 35 minute delays on arriving flights in the late morning.
Boston's Logan International Airport was able to keep all of its runways clear and open, but outgoing flights to several other cities affected by the storm were delayed.
Some commuter rail services also reported delays, and public works crews were dispatched throughout the region to clear debris from storm drains so melting snow wouldn't pool and cause flooding.
Patricia Ricciardi, 49, used a tissue to wipe sludge off the cuffs of her slacks in a south Philadelphia subway station as she headed downtown to work at her city job.
"I don't want to go to work looking like I came from a garage instead," she said. "It's disgusting."
Tomoko Takushi, a graphic designer in Philadelphia, described her walk to work on the ice-glazed sidewalks as "terrifying."
New York City streets and sidewalks were a slushy mess Tuesday morning, with pedestrians forced to cross large watery accumulations at street corners, and icy stretches of sidewalks were like Slip n' Slides.
Cars passing by intersections threw up gobs of slush onto anyone standing too close to the street.
The National Weather Service issued a winter storm advisory until 1 p.m. in New York City. The area got 1 to 2 inches of snow and sleet by early morning. It was to be followed by an inch of ice before turning to all rain by late morning.
Speed limits were lowered on highways from Delaware to New Jersey.
Connecticut State Police Lt. J. Paul Vance said troopers were flooded with more than 700 calls for help during the morning rush hour, including more than 70 collisions and spin-outs. No deaths or serious injuries were reported.
"The problem with every crash is that we had difficulty getting equipment to the crash site due to the volume of traffic and the slippery conditions," Vance said.
Michael Riley, president of the Motor Transport Association of Connecticut, an industry group for truck drivers, said some companies were keeping their trucks parked and others had to continue on their regular schedules to meet delivery requirements.
"The drivers are being careful, and I think people understand that the commerce of the country can't stop for every snowstorm," Riley said.
Several collisions were reported in the region involving jackknifed tractor-trailers, and a snow plow caught on fire early Tuesday on Interstate 84 in Southington, Conn.
The eastern half of New York was expected to get up to 8 inches of snow, along with freezing rain and sleet. Coastal New Hampshire was bracing for power outages as ice was expected to build up on power lines later Tuesday.
New Hampshire could get up to 10 inches of heavy snow, the weather service said. The most serious hours of the storm were expected to hit there late Tuesday and into Wednesday.
Rail service was also affected due to ice. Metro-North Railroad, which serves commuters from Connecticut into New York City, reported up to 40-minute delays on some lines. The Southeastern Pennsylvania Transportation Authority, which serves the Philadelphia area, reported delays on its commuter rail service and bus detours.
After a Christmas weekend blizzard dumped 20 inches of snow on New York City, Mayor Michael Bloomberg was criticized for the slow cleanup. Up to 12 inches of snow blanketed the area again last week, but the city was prepared and the streets were quickly plowed.