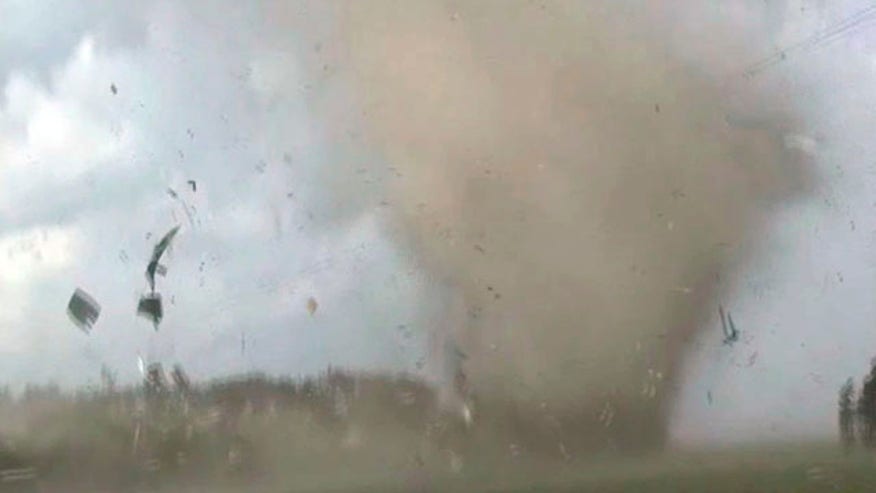 GRAND FORKS, North Dakota -- Strong storms spawned several tornadoes that touched down in southeast North Dakota and western Minnesota, including one that appeared to have struck a farm house. No injuries have been reported.
A video shot by a storm chaser showed a tornado touching down near a farm house in Wilkin County, Minnesota, and debris flying into the air as the funnel tore into the building. As the tornado moved away, the home appeared shredded, with part of its roof missing.
The storms started in North Dakota and moved east into Minnesota, said Tom Grafenauer, a meteorologist with the National Weather Service office in Grand Forks. Touchdowns were reported Saturday evening near Tyler, North Dakota; Tenney, Minnesota, and Fergus Falls, Minnesota.
"Most of this action was in Minnesota," Grafenauer said.
One tornado appeared to be on the ground for 20 or 30 minutes, he said.
Dave Langenwalter told KVLY-TV in Fargo that he and his son had just gone into their basement when a tornado touched down just yards (meters) from their house near Tyler. The outbuildings were flattened and his garage was gone, he said. His car apparently was picked up and dropped several yards (meters) away. Langenwalter found it behind a nearby grove of trees.
It wasn't clear Sunday morning exactly how many separate tornadoes touched down or what the extent of the damage was. A National Weather Service storm survey team was in the area assessing the damage and trying to determine exactly what happened, Grafenauer said.