Crime & Courts
The New York Police Department has made a third arrest in an aggressive manhunt after an assault on two officers during a protest over the chokehold death of Eric Garner.
CRIME
Florida authorities say a police officer was shot and killed in Tarpon Springs early Sunday.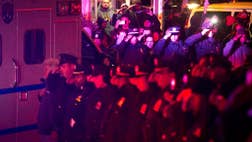 CRIME
New York City's police commissioner says the gunman who ambushed and killed two officers had made online posts that were "very anti-police." Commissioner Bill Bratton choked...