CRIME
Police say a 44-year-old man was killed and five other people were wounded when gunfire erupted during a party at a Detroit social hall.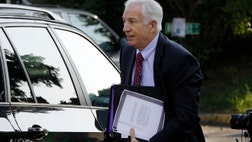 Sex Crimes
Now that a settlement has cleared the way for $60 million from Penn State to be spent in Pennsylvania to address child sexual abuse, potential recipients are starting to think...
Homicide
Authorities say a Pennsylvania man accused of killing his wife with an ax on Christmas Eve was pronounced dead after a suicide attempt left him brain-dead.