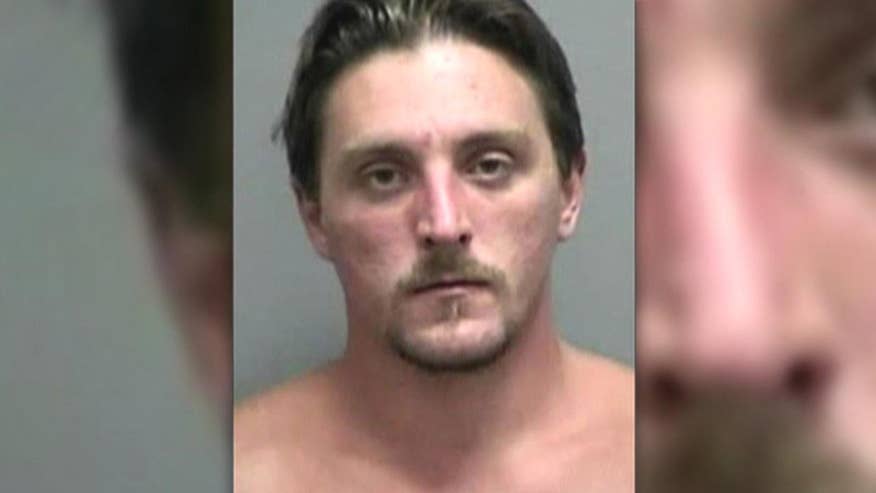 Federal authorities doubled the reward amount for information that leads to the arrest of a Wisconsin man suspected of stealing guns and threatening attacks in an anti-government manifest he mailed to President Trump.
The FBI increased the reward Tuesday to $20,000 to help authorities capture Joseph Jakubowski, 32. Authorities have been searching for Jakubowski since April 4, when authorities believe he stole 18 firearms from a gun store in Janesville.
Authorities also released a modified mug shot of Jakubowski with his head and facial hair shaved off because the FBI believes he may have altered his appearance. The FBI and Rock County Officials said in a statement that there are more than 150 law enforcement officials working the case.
Meanwhile, Don McLean, Jakubowski's stepfather, said his stepson never had a good relationship with police and that he and his wife ware concerned for his safety.
"We just want him to give up. There's no good ending to this except him giving up," McLean said.
Frank Taorimo, a former neighbor of Jakubowski's, told Fox 6 Milwaukee the man was "quite the troublemaker" and nearly got into a fight with him over the way he would drive.
"I'm like, 'I don't appreciate the way you're flying around the neighborhood.' He told me to mind my own business. I said 'this is my business. These are my children,'" Taormino said.
Jakubowski has a troubled past. According to court records, he got into an incident with an ex-girlfriend in 2008. He allegedly got physical with her while she was gathering her belongings, Fox 6 Milwaukee reported.
Two months after that incident, Jakubowski got into an incident with a Janesville police officer when he was being stopped for having a suspended registration. He allegedly fled police and got into it with the officer who tried to restrain him. Jakubowski allegedly "grabbed the officer's gun and holster with both hands." It took three officers to finally arrest him.
Taormino fears Jakubowski's next confrontation with police will be worse.
"I don't think he's going to jail. I think he's going out in a blaze of glory, honestly," he said.
The Associated Press contributed to this report.