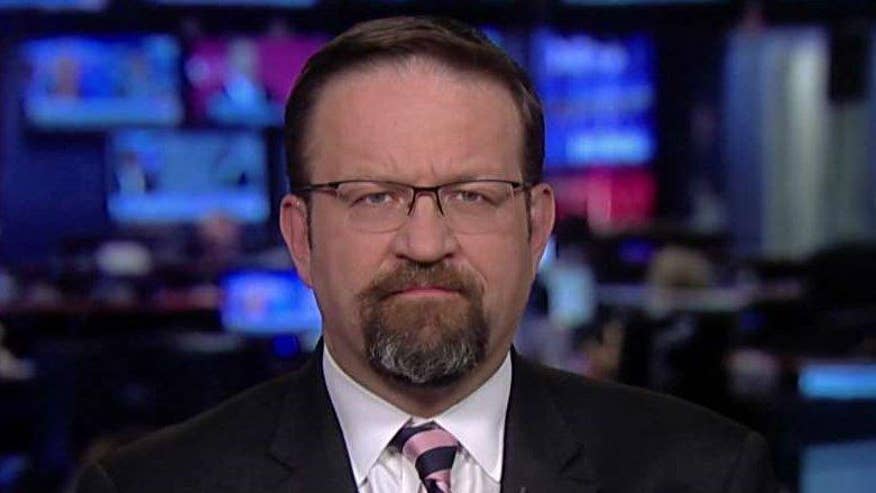 British law enforcement on Thursday conducted sweeps at six properties with links to Wednesday's terror attack in the heart of London. Authorities said eight people have been arrested in connection to the attack that left four dead, including the attacker. PM Theresa May faces her first security crisis, but an expert said that her experience has prepared her for the role.
'HANNITY': GINGRICH SAYS WE NEED A WORLDWIDE TERROR STRATEGY
'HANNITY': DR. GORKA SAYS NOBODY SHOULD BE SURPRISED BY ATTACK
TUCKER: TERROR WASN'T ALWAYS 'INEVITABLE' IN BIG CITIES
'TUCKER CARLSON TONIGHT': FARAGE: YOU CAN'T HAVE OPEN-DOOR IMMIGRATION WITHOUT TERROR
NO DEAL
House Republicans' ObamaCare replacement plan was in peril early Thursday after lengthy leadership and committee meetings failed to produce an agreement that would shore up support among conservative members. The committee spent 13 hours in session Wednesday without setting up a formal rule governing debate on the health care bill, which had been expected to be voted on by the full House Thursday.
'SPECIAL REPORT': KRAUTHAMMER SAYS OBAMACARE REPEAL FAILURE WOULD 'DAMAGE' TRUMP
'TUCKER CARLSON TONIGHT': HHS SECRETARY PRICE ON WHY THE PROPOSED OBAMACARE REPLACEMENT PLAN LIVES UP TO TRUMP'S PROMISE
O'REILLY SLAMS MEDIA
Fox News' Bill O'Reilly slammed the mainstream media on Wednesday's "The O'Reilly Factor" for ignoring the case of two immigrant teens, at least one of whom is in the U.S. illegally, accused of raping a Maryland high school student.
"ABC, NBC, CBS did not cover it on their nightly news broadcasts," O'Reilly said in his "Talking Points Memo." "CNN did not cover the Maryland story in primetime last night. Ditto MSNBC. That is beyond anything I have ever seen in my 40 years-plus of journalism."
FOX NEWS OPINION
NEWT GINGRICH: Like Andrew Jackson, Donald Trump is an intensely American president
The former speaker writes that President Trump gave a historic speech last week honoring President Andrew Jackson. True to current form, the media largely either missed or maligned it.
NORTH KOREA EYED IN CYBERTHEFT
Federal prosecutors are reportedly investigating if North Korea played a role in last year's theft of $81 million from a Bangladesh central bank account at the Federal Reserve Bank of New York. The probe opens a new front in cyberwarfare where essentially a nation-state could be a suspect in a bank robbery.
COMING UP ON FNC
9 AM ET: House GOP Conference holds meeting to discuss Health Care. Watch FoxNews.com for live coverage.
1:30 PM ET: White House press briefing with Sean Spicer. Watch live on FoxNews.com
COMING UP ON FOX BUSINESS
Eric Schmidt, executive chairman of Google's parent company Alphabet, will be on "Mornings With Maria" at 6:30 AM ET.
WITH GOP HEALTH CARE BILL IN LIMBO, SO ARE INVESTORS
The U.S. financial markets declined slightly for the second consecutive session Wednesday. As uncertainty looms around the future of the ObamaCare replacement, investors are sitting on the sidelines, growing more uneasy about the likelihood of tax reform in the near future. Follow the markets throughout the day and the health care bill vote results on FOXBusiness.com