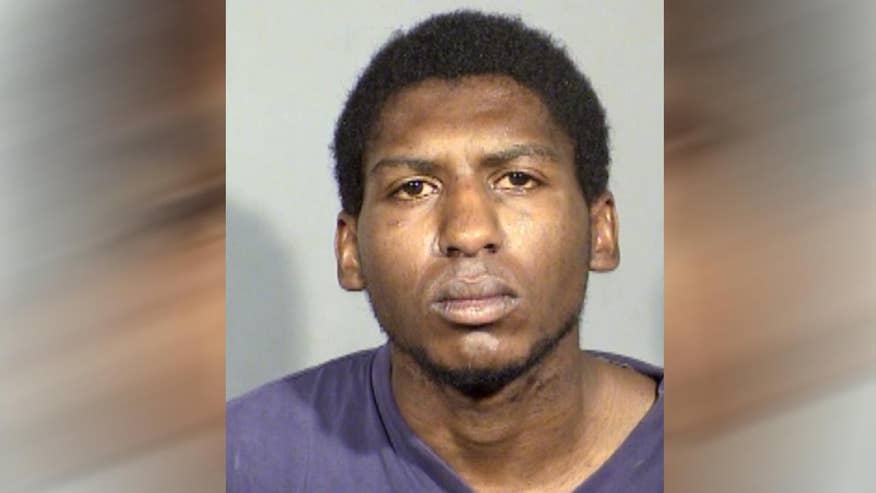 Days after a man in Las Vegas was arrested for killing his ex-girlfriend and burning her body, prosecutors have now revealed that it happened after she called him lazy -- and he apparently snapped.
Raymond Lewis, 22, admitted to strangling 20-year old Geranique Bentley before lighting her body on fire, according to the arrest report from the Clark County District Attorney.
DYLANN ROOF'S FRIEND SENTENCED TO PRISON
The two had been in an intermittent relationship since December 2015. On the night of March 10, they "procured entry" into an abandoned apartment to spend the night, according to the arrest report.
Police reports described the couple as "transients."
PUTT-PUTT KILLER'S FAMILY WANTS HIS LIFE SPARED
Las Vegas Metro Police released an initial sketch of Bentley in order to identify her. Lewis reached out to authorities to say he recognized the victim and identified her. He initially told police that he awoke to find Bentley gone from the apartment on the morning of March 11.
According to the report, police reviewed surveillance tape from the surrounding area.
Lewis's story did not add up and police questioned him a second time. Lewis admitted he had a verbal argument and strangled Bentley after she called him lazy.
The arrest report went on to say that Lewis tried to revive Bentley with chest compressions, but she did not regain consciousness. No attempts were made to call medical professionals, according to the report.
The arrest reports states that after questioning, Lewis said he set the body on fire to hide fingerprints and physical evidence and returned to the body to pour more lighter fluid on Bentley a second time after noticing the initial flame had diminished quickly.
He is being held without bail at the Clark County Detention Center.
Andrew Craft is a Fox News multimedia reporter based in Las Vegas, Nevada . Follow him on twitter: @AndrewCraft