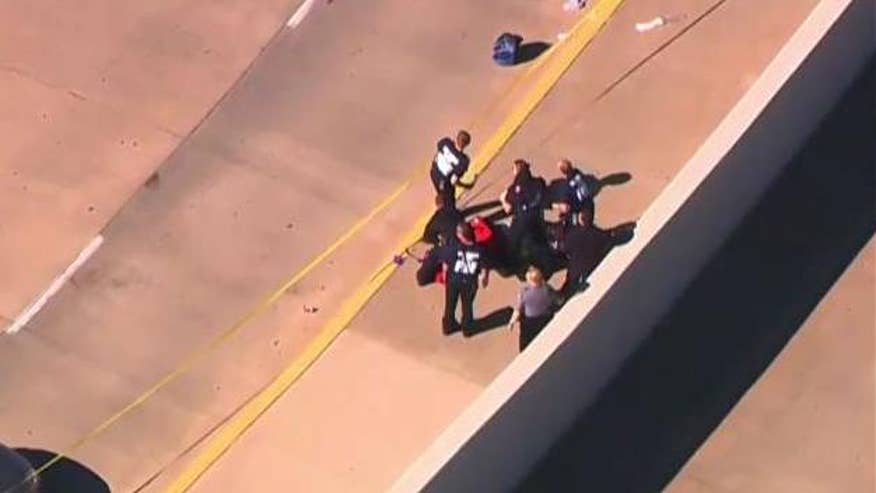 Investigators in Oklahoma City said Wednesday the gunman who opened fire at the Will Rogers World Airport, killing a Southwest Airlines employee before turning the gun on himself, formerly worked for the airline.
Police said 45-year-old Lloyd Dean Buie shot and killed 51-year-old Michael Winchester with a rifle from about 50 yards away at the east side of Terminal Drive on Tuesday. Authorities said they believe Buie went to the airport with the intent to kill, but it was unclear if Winchester -- who also was the father of a Kansas City Chiefs long snapper -- was the killer's intended target.
911 CALLS SHOW PULSE PATRON CALMING OTHERS DURING MASSACRE
Buie quit his job as a ramp agent in April 2015 after he refused to take an alcohol screening, Southwest spokeswoman Brandy King said. "He was exhibiting signs and symptoms of being under the influence of alcohol while at work," she added. Winchester was not Buie's supervisor.
The 1 p.m. shooting set off a scramble at the airport, with police immediately closing the sprawling complex and asking passengers inside to seek cover.
OFFICER CHARGED WITH MANSLAUGHTER IN MINN. SHOOTING; AFTERMATH CAUGHT ON FACEBOOK LIVE
They diverted incoming flights and refused to give already-loaded aircraft permission to leave. There were concerns the gunman might have entered the terminal and mingled among passengers or employees.
"We have a heightened level of security all the time. These people have access to aircraft so we're very concerned about that," airport spokeswoman Karen Carney said.
Winchester -- whose address is listed as Washington, Oklahoma, about 35 miles south of the airport -- was a former University of Oklahoma football player whose son James is a player for the Kansas City Chiefs. The NFL team tweeted Tuesday night: "Our love and support is with James and the entire Winchester family."
Southwest Airlines canceled flights out of the city for the remainder of the day even though the rest of the terminal reopened.
Hundreds of people were stranded inside the terminal for more than three hours before officers began letting them leave slowly. Carney said about 300 people were held on aircraft away from the terminal after their planes landed ahead of a ground stop.
Police found the suspect's red pickup truck on the second floor of a public parking garage about three hours after the shooting and used a robot to determine the suspect was dead, then gave an all-clear.
FoxNews.com's Edmund DeMarche and The Associated Press contributed to this report