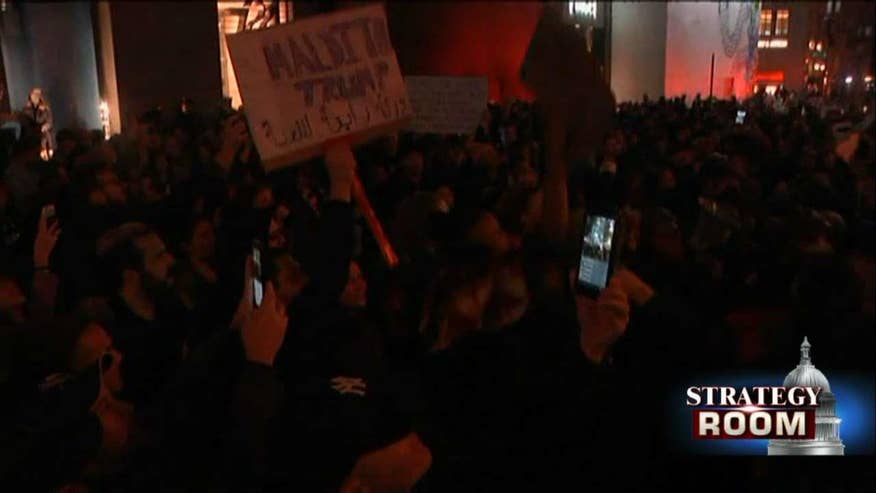 Chicago police were searching for a group of people who assaulted a motorist this week while bystanders laughed and taunted him about voting for President-elect Donald Trump.
The incident, which was caught on video, occurred Wednesday afternoon on the city's West Side. The victim, 49-year-old David Wilcox, told reporters that he was trying to make a left turn when another car pulled up and scraped the side of his vehicle.
"I stopped and parked. And I asked if they had insurance, and the next thing that I knew they were beating the s--- out of me," Wilcox told the Chicago Tribune.
The video shows three men repeatedly punching and kicking Wilcox. Bystanders can be heard yelling, "You voted Trump!" and "Don't vote Trump!" along with the more quotidian "Beat his ass!"
Wilcox told reporters that he had voted for Trump in Tuesday's presidential election, but said his assailants had no way of knowing that. He did tell the Tribune that he believed the men were egged on by the bystanders.
"They intensified it, aggravated it and made it more than it was," Wilcox said.
Wilcox also denied claims that he had a Trump bumper sticker or sign on his car, as well as that he had used a racial slur against one of the men.
One of the men eventually got into Wilcox's car and drove it away, despite the victim's attempt to stop him by hanging on to the door frame.
No arrests have been made in the case, but police and local residents decried the incident as unacceptable.
"You cannot conquer hate with hatred ... anything more than self-defense, that's not who we are," Jedidiah Brown, an activist who participated in anti-Trump protests around the city, told WLS-TV. "Chicago is better than that."
"I don't think they should be fighting or starting violence because somebody voted Trump," Laquanna Moore told the station. "But I, myself, think Trump shouldn't be president because he's racist."