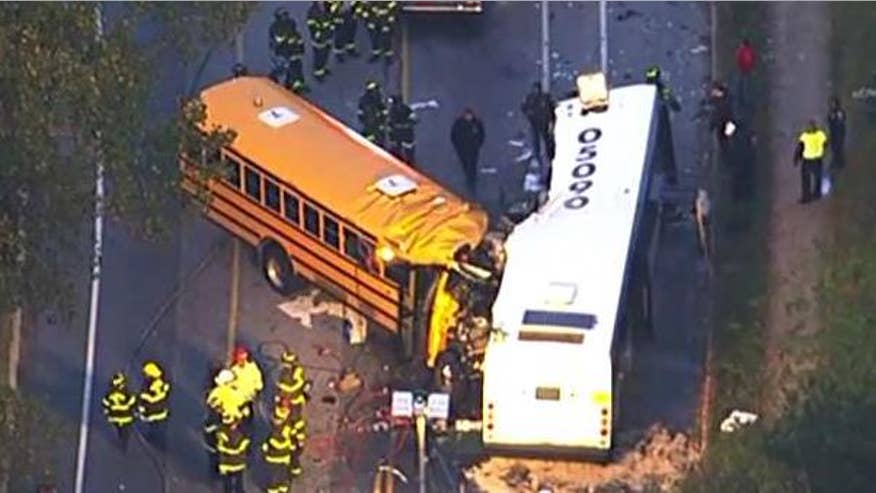 Authorities in Baltimore responded Tuesday morning to a school bus collision with a commuter bus during the morning commute, killing at least six and injuring others.
There were no children killed in the accident. Authorities said five of the victims were on the city bus and the school bus driver was killed. Police called the scene "fluid" and said there were "significant injuries."
Video from above the scene shows the front part of a yellow school bus smashed into the side of a Maryland Transit Administration bus. The driver's side of the MTA bus is ripped off with debris spilling down onto the road.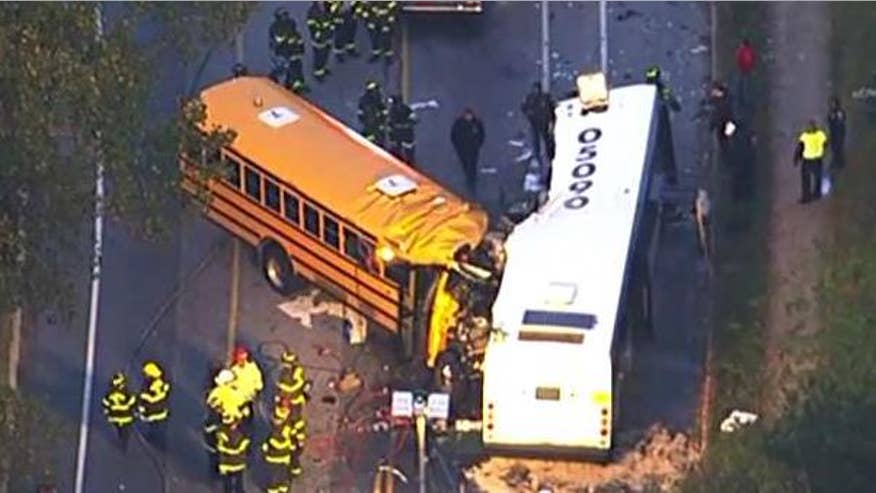 "It literally looks like a bomb exploded in the bus. It's catastrophic damage," Baltimore Police spokesman T.J. Smith said.
The only other occupant of the school bus, an aide, was taken to a hospital, as were the car driver and eight people from the commuter bus, Smith told a news conference. Their injuries ranged from minor to critical, he said.
The school bus slammed into the MTA bus, crumpling both driver's areas, and then raked the side of the commuter bus, tearing off sheet metal. It finally came to a stop with its front end buried toward the back of the MTA bus.
Smith noted a lack of skid marks at the crash scene on Frederick Avenue near Loudon Park Cemetery, leading to what he called a working theory that the school bus driver had suffered a medical emergency.
Firefighters were still working their way through the wreckage of the commuter bus about two hours after the 7 a.m. crash, Baltimore Fire Chief Niles Ford said.
"This was a significant, significant wreck, so there are still portions of the bus that our people have not been able to fully access," Ford said.
He said firefighters also had to enter the school bus from the rear and cut out the seats to reach the driver and aide.
Smith characterized it as an accident investigation, not a crime-scene investigation, despite the presence of homicide detectives. Smith said they were called because they are accustomed to conducting death investigations.
University of Maryland Medical Center spokeswoman Lisa Clough said the hospital received one patient in critical condition and four others in fair condition.
The Associated Press contributed to this report
Click for more from Fox Baltimore