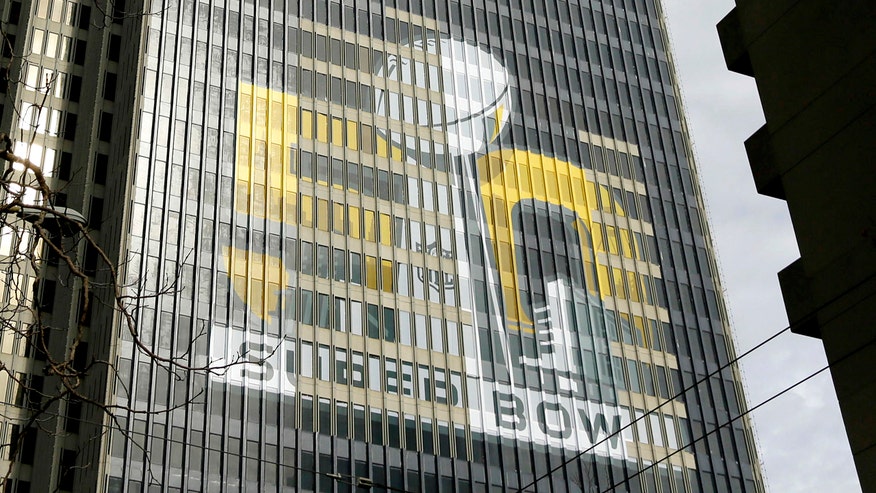 As the Denver Broncos and Carolina Panthers prepare to take the field Sunday in Super Bowl 50, there have been other teams working hard in the days leading to the big game: the San Francisco Bay Area police departments.

Law enforcement authorities in the Bay Area are pulling out all the stops to get the jump on any potential threats during the days before the game, including having F-15s fighter jets on standby, helicopters on patrol, police officers on motorcycles and off-road dirt bikes, and beefed up security on public transit – even on the cable cars.
The Super Bowl comes on the heels of deadly terror attacks in Paris and San Bernardino, Calif., and the timing is not lost on police departments serving the area around Levi's Stadium in Santa Clara, where more than 100,000 people are expected on Feb. 7.
"Those events definitely play a factor in our security plans. They have to," Sgt. Michael Andraychak, a spokesman for the San Francisco Police Department, told FoxNews.com. "Times have changed and we have to adjust to what's happening around the country and the world."
The San Jose Police Department says it plans to investigate up to 20 threats a day using their SWAT team and K-9 units, CBS SF reports.
"Security for all Super Bowls and NFL events has been at a heightened state of alert since 9/11"

- Brian McCarthy, Vice President of Communications, NFL
Among law enforcement's fears: attacks against fiber-optic systems, threats from drones, crowds being targeted outside Levi's Stadium and "lone wolf" attackers, according to an internal memo from the FBI and Homeland Security that was obtained by several news agencies.
The memo, sent to law enforcement in mid-January, said lone-wolf attackers "are of particular concern" due to the difficulty in detecting them.
A series of unsolved cases of fiber-optic cables being severed in the San Francisco area "[raise] the concern individuals may be using these incidents to test and prod network durability in conjunction with a more complex plot," according to NBC 4 Washington.
Bay Area cities such as San Jose, Fremont and Walnut Creek have been hit by the attacks, with at least a dozen being recorded since mid-2014, the FBI says.
"Security for all Super Bowls and NFL events has been at a heightened state of alert since 9/11," Brian McCarthy, the vice president of communications for the NFL, told FoxNews.com. "We have been working for more than a year with our law enforcement partners at the federal, state and local level in preparation for Super Bowl 50."
For the time Super Bowl 50 festivities are going on in the Bay Area, the FBI is running a round-the-clock joint operations center at a hidden location 6 miles away from Levi's Stadium to coordinate law enforcement efforts.
There is "no credible threat" to the area at this time, according to Michele Ernst, a spokeswoman for the FBI San Francisco Field Office, but members of the public attending Super Bowl week events should expect to see a visible FBI presence.
"Ultimately what we are trying to do is we want to provide the best security we can, but as minimally invasive as possible. We want people to enjoy themselves," Ernst told FoxNews.com.