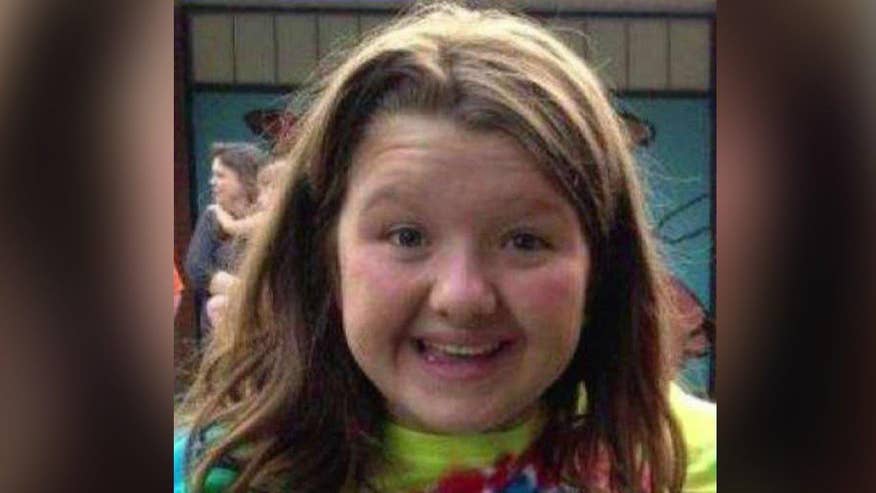 Two Virginia Tech students appeared in court Monday after being charged in connection with the abduction and murder of a 13-year-old girl whose body was found on the side of a North Carolina road last weekend.
David Eisenhauer, 18, was charged with kidnapping and first-degree murder and Natalie Keepers, 19, was charged wiht improper disposal of a body and accessory after the fact in the commission of a felony, in the case of Nicole Madison Lovell.
Lovell was described as "an awesome little girl" who had a tough life — she survived a liver transplant as a youngster and suffered from bullying at middle school and online, her mother said.
Police in Blacksburg, Va., said they have evidence showing Eisenhauer knew the girl before she disappeared, but have not released any details about what led up to her death.
Tammy Weeks told The Washington Post that authorities said Lovell likely had some sort of relationship with Eisenhauer on social media.
"That's all I know," Weeks told the paper. "It was some off-the-wall site I never heard of."
"Eisenhauer used this relationship to his advantage to abduct the 13-year-old and then kill her. Keepers helped Eisenhauer dispose of Nicole's body," a police statement said.
Eisenhauer's hearing happened ahead of schedule and out of sight of reporters on Monday. Keepers appeared later, handcuffed and shackled in an orange jumpsuit. She told Judge Robert Viar Jr. she understands the charges. Both have lawyers; neither one commented.
Eisenhauer cryptically told an investigator "I believe the truth can set me free," according to an arrest warrant viewed by The Roanoke Times.
Lovell's body was found Saturday at the side of a road just over the North Carolina state line. An autopsy is set for Monday, according to a Baltimore Sun reporter, though it's unclear when the results will be released.

During brief arraignments Monday morning, Eisenhauer and Keepers were appointed lawyers and given a preliminary hearing date of March 28, WDBJ7 reported. They were held without bond, according to a Baltimore Sun reporter.
The Post reported that Nicole had survived a series of health problems, including a liver transplant, lymphoma and the staph infection MRSA. Weeks said her daughter had been bullied both at school and on social media due to her appearance.
"She didn't like going to school," Weeks told the Post. "She was telling me that girls were saying she was fat and talking about her scars from her transplant."
The paper also reported that Nicole frequently posted updates to Facebook and Instagram about her search for teenage romance. At one point, she posted pictures of herself on a Facebook forum called "Teen Dating and Flirting" and asked if she was cute. Her post reportedly received 304 replies, many of them negative.
Blacksburg police had previously said that Eisenhauer and Lovell knew each other prior to her murder, but declined to say exactly how. Police spokesman Lt. Mike Albert said Eisenhauer "used this relationship to his advantage" to abduct and kill Lovell.
Charging documents stated that a gun wasn't used in Lovell's death, but provided few other details, according to The Baltimore Sun. The documents don't reveal how Eisenhauer knew Lovell.

Lovell, who lived in Blacksburg, where Virginia Tech is located, is believed to have slipped out of her room sometime early Wednesday. Her family said a nightstand had been pushed against her door and her window was open. They initially raised the alarm because Nicole needed daily medication as a result of her liver transplant.
"God got [Nicole] through [her health issues], and she fought through all that, and he took her life," Weeks said. "That evil bastard took her life."
The Associated Press contributed to this report.
Click for more from The Washington Post.