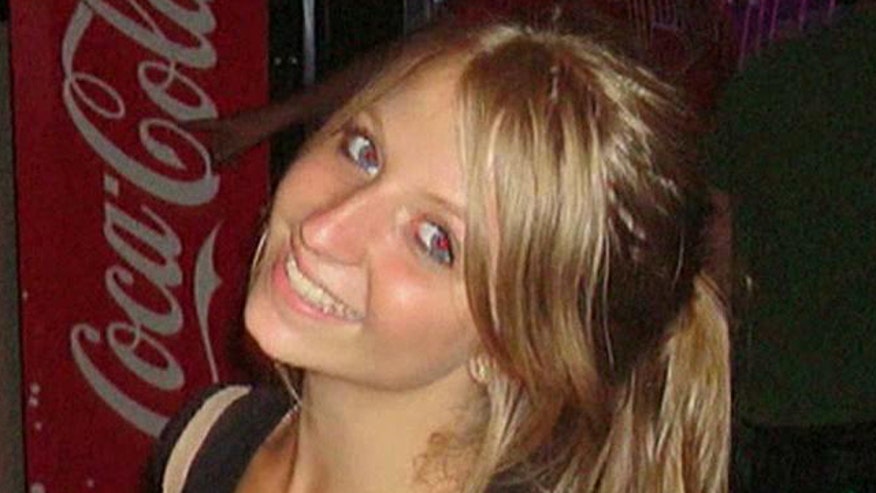 Authorities are reportedly seeking a DNA swab of an Indiana man who may have a connection to the 2011 disappearance of Lauren Spierer.
A source told Fox 59 Friday that a Bloomington Police detective, along with a defense attorney, was seeking Justin Wagers' DNA. Wagers has been held at the Johnson County Jail since last August on public indecency charges.
Authorities raided a property where Wagers, 35, used to live on Thursday. The place is located in Morgan County in the 3900 block of Old Morgantown Road near Martinsville. The FBI and Bloomington police searched for evidence at the property and conducted a dig after a cadaver dog picked up a "hit" on the property, according to law enforcement sources.
According to Fox 59, a source said Bloomington Police told Charlene Spirer they were following a tip that Wagers could have knowledge of Lauren Spierer's disappearance.
"The guy looks very scary to me," Charlene told the Bloomington Herald-Times. Wagers has not been named a suspect in the Spierer case.
Wagers lived at the property before he was arrested in August for indecent exposure. He is currently being held at Johnson County Jail. He was accused of exposing himself to a woman at a Shell gas station near State Road 37 and Bluff Road. Police had been investigating a "serial flasher" wanted in several cases prior to Wagers' arrest but could not say if he was connected to each case, according to Fox 59.
A white truck was found at the Wagers' property and was towed. However, it doesn't match the description of the truck investigators sought when the case initially opened.
FLASHBACK: WHERE IS LAUREN SPIERER?
Spierer, a 20-year-old Indiana University sophomore from Greenburgh, N.Y., was last seen June 3, 2011, after a night out with friends and acquaintances in downtown Bloomington.
A male acquaintance claimed he watched from his apartment balcony as Spierer – barefoot and without her cell phone – walked alone in the dark at approximately 4:30 a.m. She never made it home.
Despite massive searches by air and land, no traces of Spierer were found and no arrests have been made.
Wagers has been arrested at least six times since 2001, when he was charged with four counts of public indecency after several women reported he had exposed himself and masturbated in public. In 2002, while he was still on probation for indecent exposure, police said he pulled his pants down and fondled himself in front of middle school girls at a Martinsville bus stop, according to Fox 59.
In 2004, police say Wagers exposed and fondled himself in front a teen girl near Mooresville High School. Months later, he was sentenced to three years on sexual gratification charges. In 2013, Wagers was arrested three times for public indecency, invasion of privacy, and intimidation charges. He also knocked on a woman's door in Johnson County without pants in August 2015.
Doug Wagers, Justin's father, told the Bloomington Herald-Times the search lasted about six hours and the property belongs to Justin's grandparents.
"I said you do a thorough search. I don't care if it takes three days, but when you're done, don't come back," Doug Wagers said he told the investigators.
He said is son isn't connected to the disappearance of Spierer.
Anyone with information on the disappearance of Lauren Spierer is urged to call the Bloomington Police Department 24-hour tipline at 812-339-4477 or contact them by email at policetips@bloomington.in.gov.
FoxNews.com's Cristina Corbin contributed to this report.