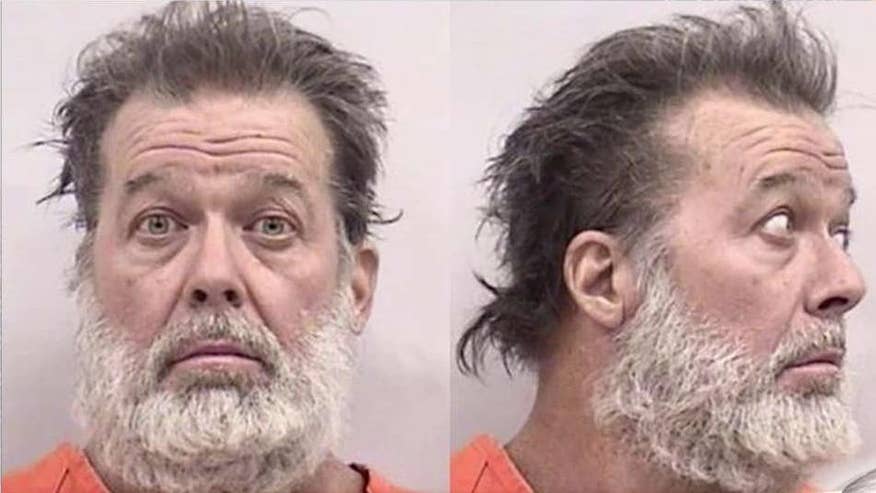 The head of the Colorado Planned Parenthood clinic where a gunman killed three people and injured nine others said in a statement Saturday that the man held anti-abortion views.
"We are learning that eyewitnesses confirm that the man who will be charged with the tragic and senseless shooting that resulted in the deaths of three people and injures to nine others at Planned Parenthood's health center in Colorado Springs was motivated by opposition to safe and legal abortion," Planned Parenthood Rocky Mountain CEO Vicki Cowart said.
"This is an appalling act of violence targeting access to health care and terrorizing skilled and dedicated health care professionals."
A law enforcement official also told the Associated Press that Richard Lewis Dear, 57, made a "no more baby parts" remark following his arrest in the deadly rampage Friday. The official told AP he couldn't elaborate about the comment and spoke on condition of anonymity because the official was not authorized to speak publicly about the ongoing investigation.
The attack thrust the clinic to the center of the ongoing debate over Planned Parenthood, which was reignited in July when anti-abortion activists released undercover video they said showed the organization's personnel negotiating the sale of fetal organs.
The anti-abortion activists, part of a group called the Center for Medical Progress, denounced the "barbaric killing spree in Colorado Springs by a violent madman" and offered prayers for the dead and wounded and for their families.
Cowart also said Saturday that Dear "broke in" to the clinic but didn't get past a locked door leading to the main part of the facility.
Cowart said there was no armed security on Friday when Dear launched his attack but she defended the level of security in place at the time, saying people going to a health clinic shouldn't have to walk through metal detectors.
Attorney General Loretta Lynch also said Saturday that Friday's attack at the clinic was a crime against women receiving health care services. She also said it was a clear attack against Americans' right to safety and against law enforcement seeking to protect and serve.
She expressed her thoughts and prayers to the shooting victims, including police officer Garrett Swasey, who was killed in the line of duty. Lynch said Swasey gave his life in order to keep others safe.
Dear, a North Carolina native, surrendered to police after a five-hour standoff. Dear was seen wearing a trench coat and carrying a rifle when he stormed the clinic.
Those who knew Dear told the AP Saturday e seemed to have few religious or political leanings. He also was described as a longer who lived in a mountain cabin in the North Carolina woods without electricity or running water.
"If you talked to him, nothing with him was very cognitive -- topics all over place," said James Russell, who lives a few hundred feet from Dear in Black Mountain. A cross made of twigs hung Saturday on the wall of Dear's pale yellow shack.
Neighbors of Dear's in North Carolina said the man kept mostly to himself and Russell said that two topics he never heard Dear talk about during his ramblings were religion or abortion.
Dear's cabin is a half-mile up a curvy dirt road about 15 miles west of Asheville, N.C. He also had a trailer in the nearby town of Swannanoa.
Other neighbors knew Dear but didn't want to give their names because they said they were fearful he might retaliate, the Associated Press reported.
In the small town of Hartsel, Colorado, about 60 miles west of Colorado Springs, about a dozen police vehicles and fire trucks were parked outside a small white trailer belonging to Dear located on a sprawling swath of land. Property records indicate Dear purchased the land about a year ago.
A law enforcement official said authorities searched the trailer Saturday but found no explosives. The official, who has direct knowledge of the case, said authorities also talked with a woman who was living in the trailer. The official spoke on condition of anonymity because the official was not authorized to speak publicly about the ongoing investigation.
Dear was in jail Saturday on what officials said were "administrative holds." Charges apparently won't be lodged until he appears in court Monday.
The Associated Press contributed to this report.