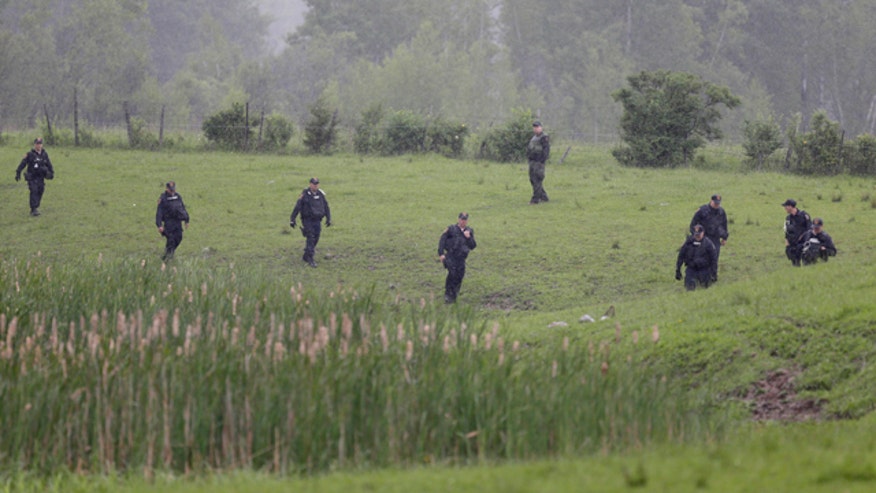 Two murderers who escaped from a maximum-security prison in upstate New York may be headed for Vermont, authorities said Wednesday, as they urged the public to remain vigilant and said there's no doubt the men could kill again.
"We have information that would suggest that Vermont was discussed as a possible location," New York Gov. Andrew Cuomo said of David Sweat and Richard Matt, who escaped Clinton Correctional Facility in Dannemora, N.Y. late Friday -- using power tools to break through steel walls and crawl through a steam pipe.
Cuomo, who spoke at a press conference with Vermont Gov. Peter Shumlin, said authorities in both states are on high alert for Sweat, 34, and Matt, 48, scouring farms and woods as well as the Lake Champlain shore line for any sign of them.
"We need to find these escapees. They are killers. They are murderers," Cuomo said, adding that the killers could "do it again" as they become increasingly desperate.
Earlier Wednesday, high level sources closed to the case told Fox News a female prison work supervisor, identified as Joyce Mitchell, gave the inmates the power tools to escape from the prison. They also said 51-year-old Mitchell planned to provide a getaway car for the convicts but suffered a panic attack and checked herself into a hospital instead.
Matt and Sweat remained on the run Wednesday, nearly five days since they escaped the high-security prison some 20 miles from the Canadian border.
A law enforcement sweep of a small upstate New York town Tuesday turned up no sign of the two, though authorities said leads continued to be generated and there would be an increased police presence in the area.
The search for Sweat and Matt had focused on Willsboro, a town of approximately 2,000 people in the foothills of the Adirondack Mountains close to Lake Champlain, after residents reported seeing a couple of men walking on a road late Monday during a driving rainstorm.
On Tuesday, searchers walked shoulder-to-shoulder, wearing bulletproof vests and carrying sidearms as they went through hilly woods, fields and swamps, checking every home, garage, shed and outbuilding, then yelling, "Clear!" when there were no signs of the inmates.
By early evening, it appeared the sweep had come up empty, and there was no confirmation from police that the escaped convicts had been there. New York State Police issued a statement Tuesday saying that more than 400 corrections and other law enforcement officers were in the area and planned to go door to door, checking homes and seasonal camps.
The New York State Police also searched homes in Dannemora on Wednesday.
"He's been shot like nine times. It's like they can't kill him."

- Nicholas Harris, son of murder fugitive Richard Matt
"These searches are not the result of a new lead, law enforcement are retracing steps made early in the investigation," the state police said. "Residents will notice an increased police presence in the area."
Sweat and Matt cut through a steel wall of the Clinton Correctional Facility, broke through bricks and crawled through a steam pipe before emerging through a manhole outside the prison grounds.
They were discovered missing early Saturday after stuffing their beds with clothes to fool guards on their rounds and leaving behind a taunting note: "Have a nice day." According to media reports, the men's green prison uniforms were found in a pipe they used to climb out of the manhole.
A law enforcement official familiar with the investigation told the Buffalo News that Matt and Sweat had access to the inner catwalks and passages of the maximum security prison about a month before their escape.
There was speculation the inmates had arranged for someone to pick them up outside the prison and were long gone from the area, even Canada or as far as Mexico. The escape from the 3,000-inmate state prison immediately raised suspicions the men had help on the inside. Mitchell was being interviewed by investigators and "being cooperative," according to multiple reports. According to her Facebook page, Mitchell is an industrial training supervisor at the prison, where her husband also works.
"They haven't charged her because they want to keep her talking," a source told the New York Post. "She hasn't asked for a lawyer."
Meanwhile, a spokeswoman for the Alice Hyde Medical Center, a hospital in Malone, N.Y., told Fox News that Mitchell had been treated for an undisclosed ailment at the hospital in the days since the escape and had been released. Megan Avery would not say if Mitchell was admitted to the hospital or just treated in the emergency room. She also would not comment on how long she was treated.
In addition to Mitchell, investigators have been questioning prison workers and outside contractors. Contractors have been doing extensive renovations at the 170-year-old prison, a hulking, fortress-like structure that looms over Dannemora's main street.
A $100,000 reward has been posted for information leading to the men's capture.
Sweat was convicted in the 2002 killing of a Broome County sheriff's deputy and was doing life without parole. Matt was serving 25 years to life for the murder of his boss, businessman William L. Rickerson, in 1997.
Matt had twice tried to escape from prison, once successfully. Matt's 23-year-old son told the Buffalo News his father escaped in 1986 from New York's Erie County Correctional Facility, where he was serving a year for assault. He scaled a wall and gate topped with razor wire that slashed his forearms and eluded authorities for five days before he was captured at a family apartment in Tonawanda, N.Y., near Buffalo, his son, Nicholas Harris, told the newspaper.
Matt later served three years in the 1990s for attempted burglary and was released in 1997. That same year, Matt fled to Mexico to avoid arrest for the torture, murder and dismemberment of his 76-year-old boss in Tonawanda. After killing another man outside a bar in Mexico, he was thrown into a Mexican prison where he tried to escape, climbing to the roof of the prison before he was shot by guards, according to Harris.
"This guy has bullet holes on his body. He's been shot like nine times. It's like they can't kill him," Harris told the Buffalo News.
Matt spent several years in the Mexican prison in the beating death of an American man outside a bar. In 2007, he was extradited to the U.S. to stand trial for the murder of his boss, whose torso was found in the Niagara River. Matt was considered so dangerous that police snipers were assigned to the roof of the courthouse in case he tried to flee during his trial in Niagara County and Matt was required to wear an electric stun belt. He was sentenced to 25 years to life with no chance of parole before 2032 for the murder.
Sweat was sentenced to life in prison after he and another man killed Kevin Tarsia, a Broome County, New York Sheriff's Deputy, firing 15 rounds into him after Sweat broke into a Pennsylvania house and stole rifles and handguns.
Despite their dangerous pasts, Matt and Sweat were placed in the prison's "Honor Block," which allowed them to do factory work inside the prison, earning up to 65 cents an hour for sewing and stitching clothing. Mitchell, their alleged accomplice, reportedly worked as a seamstress at the facility.
The Associated Press contributed to this report.