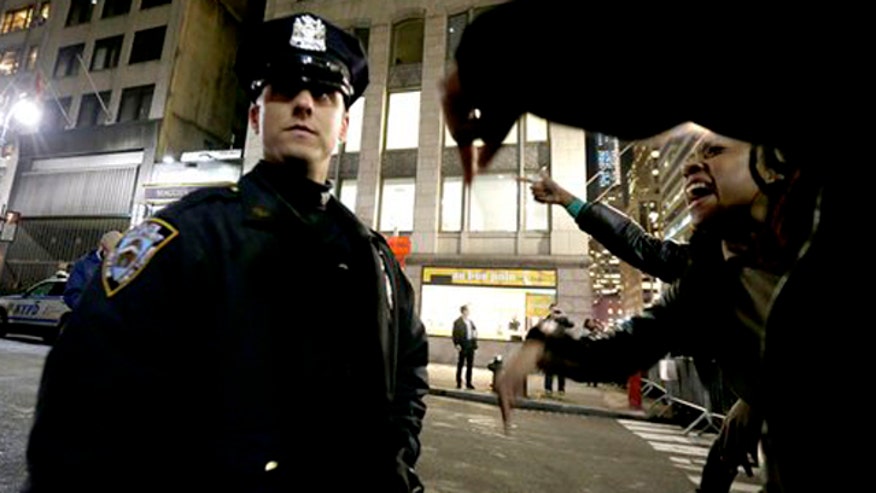 Demonstrations in New York took place for the second straight night as protesters shut down roadways, bridges and tunnels all around the city.
Protesters were seen blocking traffic and even carrying a coffin on the Brooklyn Bridge during the night. More than 200 arrests were made overnight, the New York Police Department said.
While marchers took to the streets to protest the lack of charges against white police officers in the deaths of two unarmed black men, many more turned to social media to voice their objections to the grand jury decisions from their computers and mobile devices.
I guesstimate 1500 people apparently about to take the brooklyn bridge. I cant see entire scene. #blacklivesmatter pic.twitter.com/rYPJuec9mC

— newyorkist (@Newyorkist) December 5, 2014
Photos: Thousands Rally At Foley Square, Brooklyn Bridge To Protest Eric Garner Decision http://t.co/vlajv6Gq8I pic.twitter.com/tM74PnJgfv

— Gothamist (@Gothamist) December 4, 2014
Later Thursday night, protesters began walking north toward the West Side Highway, located on the west side of Manhattan, overtaking lanes in both directions.
...and the Westside Highway is closed in both directions #EricGarner pic.twitter.com/fvNBaB2C58

— Michael Skolnik (@MichaelSkolnik) December 5, 2014
Meanwhile, protests over the deaths of Eric Garner and Michael Brown continued across the nation Thursday night.
In Chicago, hundreds were thwarted in their efforts to march to Soldier Field, where a Bears-Cowboys football game was scheduled. They reversed course and at the city's Dan Ryan Expressway, about two dozen demonstrators darted onto the road and briefly blocked five lanes before being pushed back by police.
From the protest in #Chicago for Eric Garner Thursday night #ICantBreathe pic.twitter.com/GVLxp8EmRj

— Alex Wroblewski (@alexwroblewski) December 5, 2014
Protesters laid down on the ground for a "die-in" at Detroit's Campus Martius at midday as temperatures hovered around freezing. In Denver, students from at least four high schools joined in protest, including those from Abraham Lincoln High School, who left class and walked about 6 miles to the Capitol, snarling traffic. Buses were sent to pick up the students after the protest.
And in Minneapolis, demonstrators decrying police treatment of minorities stopped traffic for several hours on Interstate 35W near downtown before rallying at City Hall. Some protesters were fast-food workers demanding higher wages and union rights.
Two of the most-discussed social media conversations questioned the fairness of policing in the United States: #Crimingwhilewhite: self-reported tales of white people committing crimes while police look the other way and #AliveWhileBlack, corresponding stories of harsh treatment of black people by police and authorities. Topsy, a site that offers Twitter analytics, logged more than 300,000 uses of #Crimingwhilewhite in the past day, while #Alivewhileblack had hit almost 65,000.
Other trending terms included #EricGarner and #ICantBreathe, references to the last words Garner uttered as a New York police wrestled him to the ground. Celebrities, like hip hop mogul Diddy, took to Instagram to express fear and disgust.
"When I see a cop car, I don't feel safe as a black man. When I see a cop car, I get scared. My kids get scared," Diddy said in a video posted to his account.
A grand jury's decision Wednesday not to bring charges against Officer Daniel Pantaleo, who held Garner to the ground, triggered protests around the country that resulted in dozens of arrests. Twitter and other forms of social media quickly became a complement to the protests, particularly among people who shared the protesters' sentiments but couldn't join them for various reasons, said Meredith Clark, professor at Frank W. & Sue Mayborn School of Journalism at the University of North Texas in Denton.
"They're using Twitter as a tool to provide support and to lend their voice to these protests when being there physically is not an option," Clark said. Social media also provides a forum to express honest thoughts about American life, and "advance conversations in ways we haven't seen before."
Garner, 43, died July 17 after scuffling with officers who tried to arrest him for selling untaxed cigarettes. The last moments of his life were caught on video that showed Pantaleo holding the unarmed Garner around the neck as Garner repeatedly gasped, "I can't breathe."
On Wednesday, Staten Island District Attorney Daniel Donovan said the grand jury found "no reasonable cause" to charge Pantaleo. That followed an announcement in Missouri last week that a grand jury decided not to indict police officer Darren Wilson for the fatal Aug. 9 shooting of unarmed Brown, 18, in Ferguson. Brown was black; the officer who killed him is white.
Some who engaged in protests over Garner's and Brown's deaths worried that venting from the safe confines of the Internet, or what some are calling "armchair activism," takes away the incentive for direct action. Amanda Seales, 33, a black marcher who took part in protests in New York City on Wednesday night, said more activists needed to get off social media and into the streets. "For black people, this isn't new," Seales said.
But Kelly Garrett, professor at the School of Communication at the Ohio State University, said social media actually has the potential to get more people physically involved in movements.
"Yes, there are some people who will stay home because they have said their part," Garrett said. "But there are also some people who, ... having said something and been part of a larger dialogue, they realize, 'Hey, you know what, I actually need to do this.'"
Fox News' Kathleen Foster and The Associated Press contributed to this report.