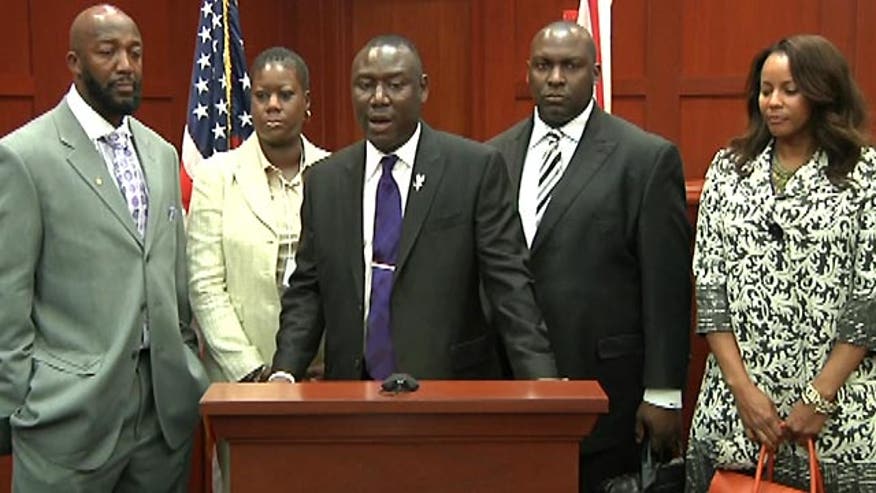 Attorneys quickened the pace in jury selection Wednesday in the George Zimmerman trial, as a lawyer for the family of Trayvon Martin stressed the teenager Zimmerman is accused of murdering was not the one on trial.
On a third day of juror questioning, the lawyers sought to whittle down the pool of hundreds of potential jurors to just six, plus four alternates, who will decide the fate of Zimmerman, a Florida neighborhood watch captain.
SPECIAL COVERAGE: Zimmerman Trial
After the day's proceedings, Martin family attorney Ben Crump said at a short press conference, "Trayvon Martin is not on trial here, he is the victim. George Zimmerman, his killer, is the man who is on trial."
Crump also took issue with a comment made by former New York City police detective Harry Houck Tuesday on a FoxNews.com live panel, in which he said that Martin would still be alive if he hadn't had a "street attitude."
"This comment is reprehensible and extremely reminiscent of the victim-blaming rhetoric we saw a year ago," said Crump.
Attorneys breezed through questioning ten potential jurors Wednesday afternoon before breaking for the day.
Jury selection began on Monday, when four potential jurors were grilled about their knowledge of the case. Ten more were questioned on Tuesday. By the end of the day Tuesday, more than 70 jury candidates had been dismissed.
Once 30 jurors have been questioned individually about pretrial exposure and have not been dismissed for cause or hardships, they will be brought together as a group for broader questioning by lawyers on both sides.
In the press conference, Crump noted that the family had been inspired by what they had heard from potential jurors.
"Their answers have been forthright and we have faith that the justice system and the members of the public who are selected for the jury will perform their civic duty in a fair and impartial manner," he said.
Martin's father, Tracy, also commented on the process of jury selection,
"As we sit through jury selection...we are encouraged that we as a family can get justice for our son Trayvon and we ask that the public continue to come forth and be honest as potential jurors."
The case has sparked national interest, and one potential juror even suggested to attorneys that they're going to have a hard time finding jurors who haven't heard about the case and can only hope they find residents who can keep an open mind.
"I haven't lived under a rock for the past year," said Juror B-51. "It's pretty hard for people not to have gotten some information."
Juror B-35, a middle-aged black man who owns vending machines, described protests last year over Martin's shooting as &quotsaber-rattling.&quot He wondered why there weren't protests over the fatal shootings of other African-American men in Sanford, the Orlando suburb where Martin was killed in February 2012. He also said he believed Zimmerman deserved his day in court.
&quotI think they politicized it and made it a racial issue, and I didn't like that,&quot said Juror &quotB-35. &quotI wasn't agreeing with the racial connotation.&quot
Circuit Judge Debra Nelson has said she will keep the identities of selected jurors anonymous, but she rejected a defense request to sequester the initial jury pool of 500 residents. The familiarity of the first four jurors questioned Monday ranged from specific details of the February 2012 shooting to vague outlines of the case and the circumstances that led to Martin's death.
Zimmerman, 29, is pleading not guilty to second-degree murder charges in the death of 17-year-old Trayvon Martin. If convicted, Zimmerman could face life in prison.
Jurors were asked to fill out questionnaires about themselves and their ability to serve before they were verbally questioned. Prosecutors and defense attorneys are trying to find six objective members and four alternates. In Florida, 12 jurors are required only for criminal trials involving capital cases, when the death penalty is being considered.
Judge Nelson said the jury selection would alternate with the continuation of a hearing to determine whether she will allow the testimony of voice-recognition experts who say they might be able to identify who was screaming on a 911 tape recorded during Zimmerman's confrontation with Martin.
Zimmerman admitted to shooting Martin in the chest with his 9-mm. handgun after calling police, exiting his pickup truck to follow Martin, and then getting into a fight with the 17-year-old on a rainy night inside a gated community on February 12, 2012.
But Zimmerman also says the teen circled back and attacked him as he walked back to his truck – punching him in the face and slamming the back of his head into the sidewalk.
Photographs taken that night show Zimmerman with a broken nose, bruises and bloody cuts on the back of his head.
Fox News' Serafin Gomez and The Associated Press contributed to this report.