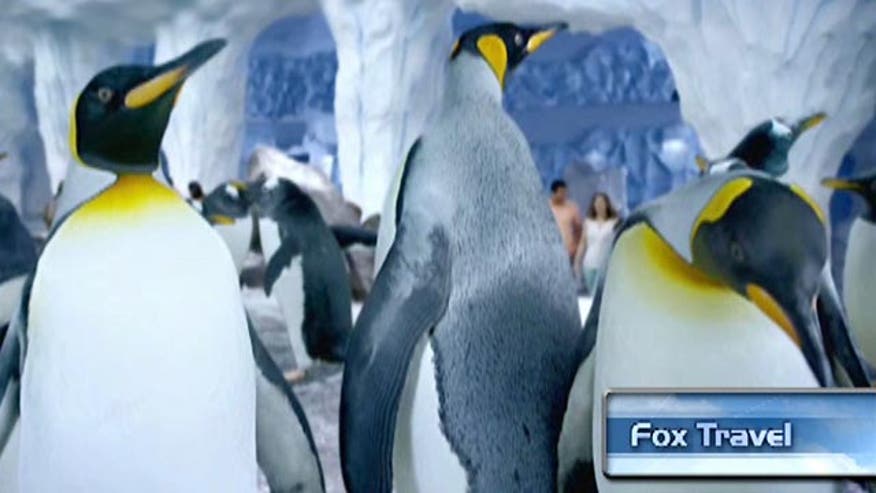 Imagine entering the icy world of Antarctica in the heat of sunny Florida.
On May 24, visitors to SeaWorld Orlando will be able to live among the penguins at the highly anticipated attraction -- Antarctica: Empire of the Penguin attraction.
The largest expansion in the park's history, the four-acre attraction features a trackless, high-tech ride and the largest artificial penguin habitat ever built filled with 4 different types of species and complete with an underground viewing area. It also has a new restaurant and a gift shop.
Empire of the Penguin has been lauded among one of the most exciting additions in the line up of theme park attraction openings of 2013, which also includes Universal Orlando's Transformers: The Ride-3D ride.
Empire of the Penguin, SeaWorld's newest ride, seats up to eight visitors that travel along a trackless, spinning path through an icy, virtual wonderland filled with hand-blown icicles. Visitors can choose low-or high-intensity speeds.
Pulling from real reference photos and real research materials from Antarctica, the penguin habitat will be an immersive view of the icy land. Kept at a brisk 30 degrees, it and will have icebergs and hundreds of live penguins. And unlike many other live animal experiences, the penguins will also be able to interact somewhat with the guest due to the lowering of the partition that typically separates guests from the animals.
The Expedition Café will also feature food from around the world, like herb roasted chicken and Italian sweet sausage, based on what would be served at international base stations where research teams live.
Along with the food offerings, the park just announced it will be serving an exclusive Coca-Cola Freestyle flavor only in Antarctica, described as a "vanilla-infused" drink and offered in an RFID chip embedded cup interacts with Coca-Cola Freestyle dispensers. The machines will tell parkgoers how much CO2 each guest saves from entering the atmosphere when they choose to reuse the cup for refills.