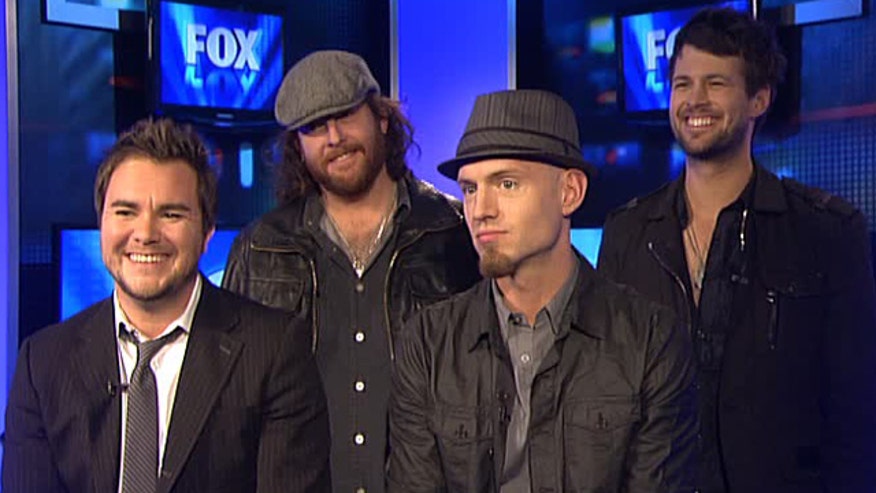 From college roommates to one of the most popular country music bands, Eli Young Band's story is something out of a Hollywood movie script.
Turning jam sessions into nation-wide tours, Mike Eli, James Young, Jon Jones and Chris Thompson have seen great success in just 11 years of a career. Their most recent album "Life at Best" hit the number six spot on the Billboard 200 and number three on the Country Albums chart. Their hit single off the album, "Crazy Girl" has given the band their first platinum record and has sold over 1.5 million downloads.
Not only are they a success among country music fans but they are beginning to make their rounds on the award circuit as well. In the 2012 they band won the American Country Music Award for Song of the Year and were also the MusicRow Awards' choice for Breakthrough Artist.
This Texas band looks to the Northwest when in need of a break. The young crooners recently sat down with Fox411 to talk about the appeal of Seattle, which includes the city's proximity to nature, its seafood, and of course, as it is the home to the original Starbucks, its coffee:
Eli: There's something about Seattle and the atmosphere, the smell in the air. We've gone down to the fish market. We've always just had such a great time in Seattle every time we've been there
Young: I think that was one of the towns, one of the regions we went to last as we were kind of becoming a touring band and visiting radio stations. I mean we've kind of done California and everything east of that and we finally made it to Seattle and it's so completely different. Just that area. I've always really fell in love with it because it was different and fresh and new.
Jones: It's also really one of the places that we had a little time to explore. Usually on tour stops we're on the bus, in the venue and then out after the show. For whatever reason every time we've been in Seattle we've gotten a couple extra hours to check some stuff out. So, we get to connect with the city a little bit more."
Fox411: What do you recommend people do when visiting?
Eli: Well the fish market was, the flying fish market. That's what it's called, right?
Young: Right by the original Starbucks of course.
Eli: We went to the original Starbucks, which was cool because we love coffee.
Jones: I think it's cool driving around the hills outside of the city. It's really beautiful and a lot of fun. It's a gorgeous part of the country. We like outdoor stuff and seeing all the different colored leaves and the beautiful scenery and I think that really struck a chord with all of us.
Eli: In Texas we don't have much of a fall. So, being able to witness fall in Seattle is always exciting.
Fox411: Is there any special connection for you guys to Seattle?
Eli: What's funny is that Seattle was in the early part of our career, one of the first places to start spinning a lot of our songs. That was such a huge part in being able to get up there and able to play a show finally when we got there was fun.
Young: I wouldn't say that when you think of Seattle you think of a country music culture where people are walking around in cowboy boots and all of that but you put on a show there and people show up in their boots and it's great.
Fox411: What should you bring to Seattle?
Jones: A jacket.
Eli: Always have a coat, an umbrella. But I think it's one of those things that. Every time we've been to Seattle it's never raining, it's just overcast. They say that so people don't visit. I think we're totally ruining that for Seattle right now.
Jones: I think you should probably bring an appetite to Seattle too, they've got a pretty good food scene, there's a lot of great places to eat. It has been quite a while since we've all been there. I think any seafood we've had you really can't go wrong.
Fox411: What's your favorite Starbucks coffee?
Jones: Iced Americano. Regular strong coffee with ice.
Eli: I'm going to have to say the same.
Young: I'm going to have to say a nice vanilla latte.
Thompson: Skinny vanilla latte.
Fox News Entertainment Producer Ashley Dvorkin covers celebrity news, red carpets, TV, music, and movies. Dvorkin, winner of the 2011 CMA Media Achievement Award, is also host of "Fox 411 Country," "Star Traveler," "Fox 411 Big Screen," and "Fox on Reddit."