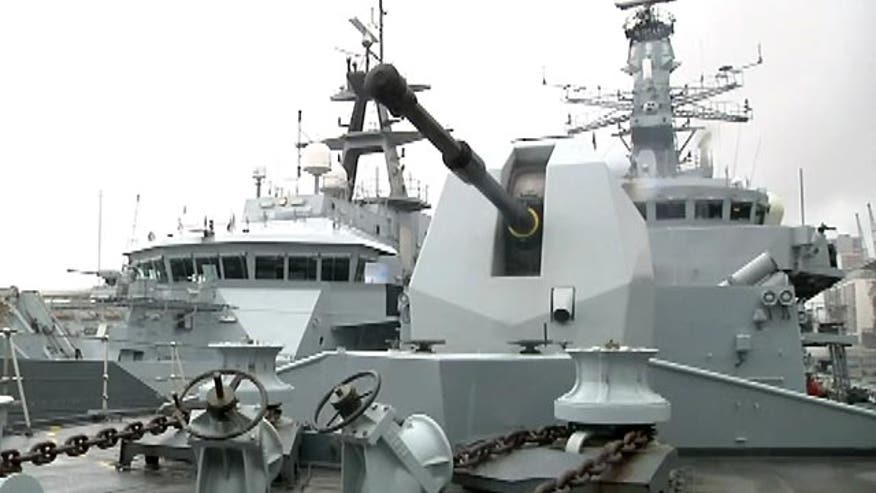 Why christen a boat with champagne when you can use scotch?
That's one of the questions answered during a special visit aboard the frigate HMS Sutherland at DSEI, the world's largest defense show. The British warship was parked outside the world's largest defense defense and security trade show in September, where FoxNews.com took a private tour of the ship.
At the biennial Defense and Security Equipment International (DSEI) fair, buyers and sellers of top military tech from around the world convened in London. About 30,000 visitors from 121 countries -- and protesters galore -- attended the event.
Commander Al Wilson walked FoxNews.com through the various defense technologies on board, from helicopters that serve as force multipliers to infrared cameras and anti-ship missiles like the FASGW -- Future Anti-Surface Guided Weapon.
"HMS Sutherland and her sister ships were primarily and originally designed for anti-submarine warfare, and Sutherland herself has had a significant capability upgrade in the last few years," Wilson told Foxews.com.
Leftenant Paul Duncan described the Wildcat, a substitute at the show for the Merlin helicopter that is usually stationed aboard the ship.
"This is the Navy's newest helicopter, we've only got the first one delivered in April this year," We're gettting about one a month as they come off the assembly line."
The Sutherland was christened not with the standard champagne bottle but with a bit of the stronger stuff -- a bottle o fMacallan, Commander Wilson said.
"It's very appropriate that Sutherland was launched with a very iconic brand of whisky," he said.
Allison Barrie is a defense specialist with experience in more than 70 countries who consults at the highest levels of defense and national security, a lawyer with four postgraduate degrees, and author of the definitive guide, Future Weapons: Access Granted, on sale in 30 countries. Barrie hosts the new hit podcast "Tactical Talk" where she gives listeners direct access to the most fascinating Special Operations warriors each week and to find out more about the FOX Firepower host and columnist you can click here or follow her on Twitter @allison_barrie and Instagram @allisonbarriehq.