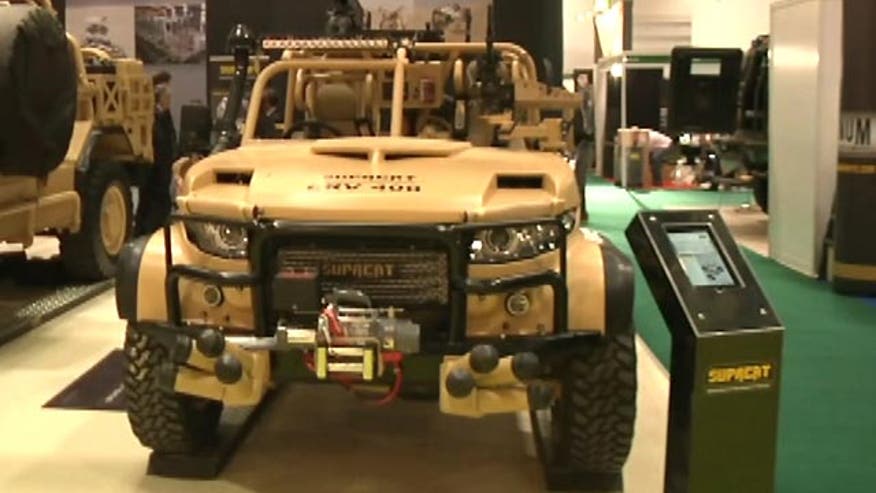 Here's something you don't see every day: a smoke-screen spewing, fully armed, tea-brewing special forces all terrain vehicle.
The Supacat Light Reconnaissance Vehicle 400 (or LRV 400) prototype made its debut in September at the world's largest defense defense and security trade show. At the biennial Defense and Security Equipment International (DSEI) fair, buyers and sellers of top military tech from around the world convened in London.
About 30,000 visitors from 121 countries -- and protesters galore -- attended the event.
The LRV 400 is the result of a partnership with race vehicle designers; the high performance off road military vehicle used the Qt Wildcat race vehicle as a point of departure. Reflecting its racing roots, the vehicle has 300 mm travel race derived hydraulic shock absorbers.
It can reach speeds of over 100 mph -- and beyond the guns, it has a very unusual accessory.
"Anybody will tell you, no British soldier is happy unless he's got a cup of tea," explained James Clarke from Supacat. "So on here we've got a boiling vessel that constantly maintains just the right temperature."
Allison Barrie is a defense specialist with experience in more than 70 countries who consults at the highest levels of defense and national security, a lawyer with four postgraduate degrees, and author of the definitive guide, Future Weapons: Access Granted, on sale in 30 countries. Barrie hosts the new hit podcast "Tactical Talk" where she gives listeners direct access to the most fascinating Special Operations warriors each week and to find out more about the FOX Firepower host and columnist you can click here or follow her on Twitter @allison_barrie and Instagram @allisonbarriehq.