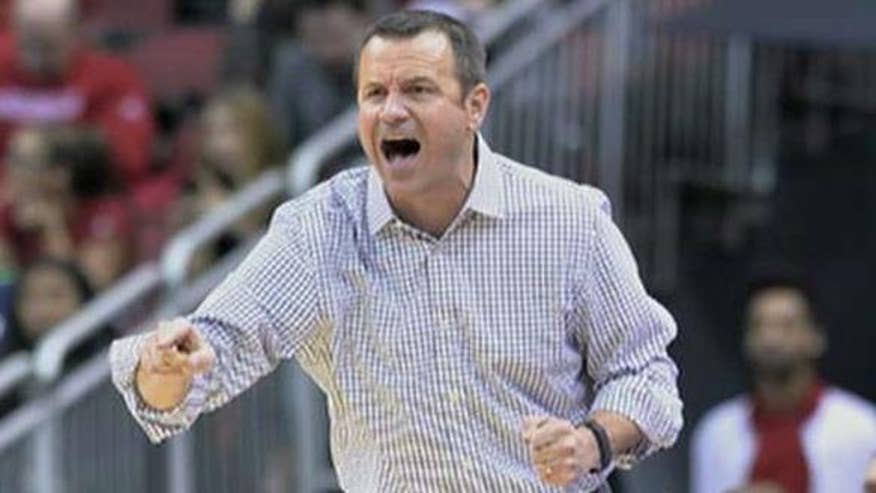 A viral rant from Louisville's women's basketball coach -- which called out participation trophies and the "everyone's a winner" culture in sports -- may have been all his team needed to return to its winning ways.
HOOPS ALWAYS ON GATES' MIND AS HE CLOSES IN ON TOUCHDOWN RECORD
Jeff Walz called out his team's lack of effort during a postgame news conference after No. 7 Louisville lost its second straight game to No. 5 Maryland on Thursday. He also suggested some players came into college hoops expecting to get cheered and celebrated when they didn't earn it.
"What's that teaching kids? It's OK to lose. And unfortunately, it's our society. It's what we're building for, and it's not just in basketball, it's in life," Walz said. "You know, everybody thinks they should get a job. Everybody thinks they should get a good job. No, that's not the way it works, but unfortunately, that's what we are preparing for, because -- you finish fifth, you walk home with this nice trophy, parents are all excited. No. Not to be too blunt, but you're a loser."
LOUISVILLE'S JACKSON, CLEMSON'S WATSON AMONG FIVE HEISMAN TROPHY FINALISTS
On Sunday, his Cardinals turned it around, rallying from a 54-50 deficit with 4 minutes left in the game to tie the game twice against No. 17 Kentucky, forcing the game into overtime. Louisville scored the first five points of OT, holding on to edge the Wildcats 69-67.
This time, Walz had nothing but praise for his players after their gut-check performance.
"We fought, which I was proud of," Walz said. "I stand 100 percent behind my postgame comments, which I never believed would get to where it was. Let's not be so sensitive."
Walz has a history of pouring his heart out during and after games, Fox Sports points out. He's in his 10th season at Louisville.
The coach's diatribe Thursday generated plenty of support from fans on social media -- and his players said they got the message, too.
"We all took it to heart," Myisha Hines-Allen, who scored 26 points on Sunday, reacted. "We knew we had Kentucky coming in next, so we had to chew it, had to take it and come ready to play. It started in practice because we had energy that next day. He was completely right."
The Associated Press contributed to this report.
Click for more from Fox Sports.