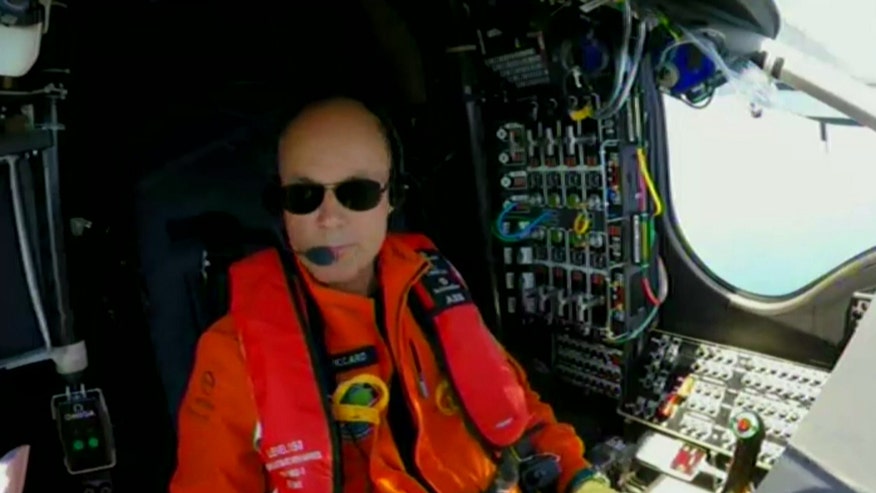 Solar Impulse 2 took off from New York early on Monday, attempting a historic solar-powered flight across the Atlantic.
The four-day flight is the 15th leg of Solar Impulse 2's epic attempt to circumnavigate the globe. Piloted by Solar Impulse Chairman Bertrand Piccard, the single-seater is expected to land in Seville, Spain on June 23.
Solar Impulse 2, which arrived in New York on June 11, took off from John F. Kennedy International Airport around 2:30 a.m. ET Monday.
"It was fantastic to take off from one of the busiest airports and one of the most famous airports in the world," Piccard told FoxNews.com, via satellite link from the plane's cockpit, about 8 hours into the flight. "It was a beautiful way to leave America."
Related: Solar Impulse 2 makes Statue of Liberty flyby, arrives in New York
The plane has travelled more than 18,540 miles since setting off on the first leg of the trip from Abu Dhabi to Oman in March 2015, and has racked up over 390 hours of flight time.
Piccard told FoxNews.com that Solar Impulse 2 is continuing the tradition of aviation pioneers such as Charles Lindbergh, who made the first solo transatlantic flight in 1927. "This is exactly our goal with Solar Impulse," he said. "We try to show that we can cross this iconic ocean with a solar airplane without a single drop of fuel."
A larger version of a single-seat prototype that first flew six years ago, Solar Impulse 2 is made of carbon fiber and has 17,248 solar cells built into the wing that supply the plane with renewable energy, via four motors. The solar cells recharge four lithium polymer batteries, which provide power for night flying.
To accommodate the solar cells the plane has a 236-foot wingspan, similar to that of a Boeing 747. The aircraft weighs just 2.3 tons, similar to a family car and typically flies between 30 mph and 40 mph.
Related: Solar Impulse 2 pilot eyes renewable energy future
The plane is the brainchild of explorer and Solar Impulse Piccard, who is taking it in turns with his fellow Swiss pilot Andre Borschberg to fly the aircraft on its journey across the globe.
Piccard says he is undaunted by the dangerous journey across a vast expanse of ocean. "You need to get out of your comfort zone," he said. "This is really the world I live, the world of exploration – it's something that we should teach much more to our children in school."
The explorer, with Brian Jones, made the first non-stop round-the-world balloon flight in 1999.
However, flying four days and four nights across the Atlantic in a cockpit too small to stand in will be a major test of Piccard's physical and mental endurance. The pilot told FoxNews.com that he will use self-hypnosis to relax and will snatch sleep in short increments. "When I am not wearing the oxygen mask I can recline my seat and sleep 20 minutes at a time," he said. "I can sleep maybe 10 times a night like that."
Related: Solar Impulse 2's epic journey in pictures
Designed to prove the potential of renewable energy, Solar Impulse 2 has already earned a place in the history books. Borschberg broke a number of records on the eighth leg of Solar Impulse's 2 journey, landing in Hawaii on July 3 2015 after an incredible 4,480-mile, 118-hour flight from Japan. The journey shattered the record for longest solar-powered flight in terms of distance and duration. Borschberg also broke the record for longest non-stop solo flight without refueling, which previously stood at 76 hours and 45 minutes.
Prior to its arrival in New York, Solar Impulse 2 made stops in India, Myanmar, China, Japan, Hawaii, California, Phoenix, Tulsa, Dayton and Lehigh Valley. After flying across the Atlantic, the final leg of the odyssey is from Europe to Abu Dhabi.
Follow James Rogers on Twitter @jamesjrogers
The Associated Press contributed to this report.