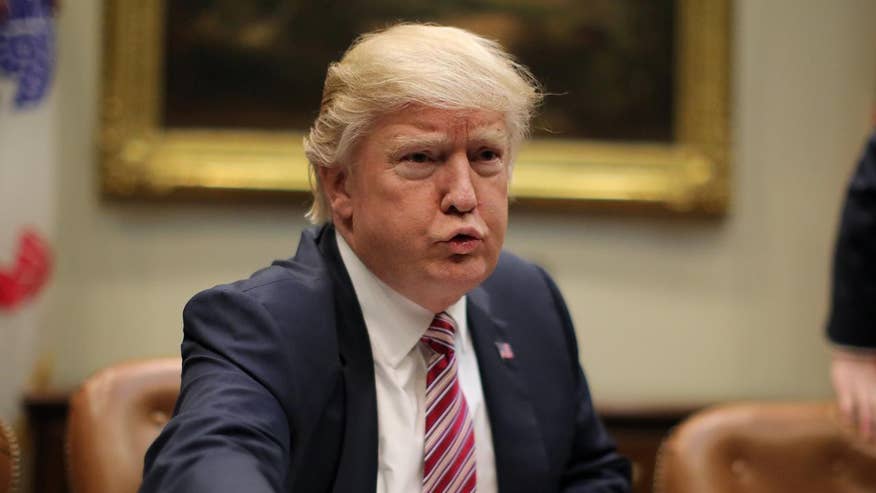 The GOP bill to repeal and replace ObamaCare calls for defunding Planned Parenthood, a step pro-choice lawmakers are blasting as government overreach and pro-life lawmakers are dismissing as far too little.
While the American Health Care Act (AHCA) adds more than $420 million to community health centers that serve women, it prohibits -- for one year -- Medicaid money from going to centers that provide abortions.
AshLee Strong, spokeswoman for House Speaker Paul Ryan, told Fox News: "Our goal is making sure women get the kind of care they need and we believe that can best be achieved by putting money into community health centers, which provide similar services as Planned Parenthood but vastly outnumber them."
The White House told Fox News on Friday that the president is pro-life, but is committed to preserving funds for women's health services.
Besides the Medicaid provisions, the bill also prohibits federal premium tax credits from being applied to plans that cover abortions, as well as stops small employers from receiving tax credits if their plans include abortion coverage beyond the "Hyde Amendment" limitations. Those limitations, which have been in place since 1976, forbid taxpayer funding of abortion, except in the cases of rape, incest or threat to the mother's life.
But the AHCA does not ban abortion coverage, or prohibit anyone from buying abortion coverage — as stated in the text of the bill. Instead, it simply doesn't allow that coverage to be subsidized by the government.
But that's not enough for pro-lifers, who expressed their concerns to the White House on Thursday to Vice President Mike Pence.
"Conservatives continue to have concerns that there aren't ample protections for the unborn in the legislation," a senior Congressional aide told Fox News on Friday. "Defunding Planned Parenthood for one year, as the bill does, is woefully inadequate to many conservatives."
But other pro-life activists say that the AHCA is hardly abortion-proof.
"There is still a great deal of work to be done to ensure that this entire bill is pro-life, specifically with regards to tax credits and health care savings – ensuring that neither go to pay for abortion," Tom McClusky, March for Life Action vice president of government affairs, said in a statement this week.
"Our message is simple: Abortion IS NOT healthcare, and our laws should reflect this basic principle."
The pro-choice community is no less opposed to the bill.
Planned Parenthood President Cecile Richards said in a statement this week that defunding the organization would be a "disaster for women's healthcare."
"This is government overreach at its worst," Sen. Kirsten Gillibrand, D-N.Y., told Fox News on Friday. "And the plan does all this despite the fact that Planned Parenthood currently doesn't receive a dime from the federal government to pay for abortions. Like many of the Trump administration's policies, this plan disproportionately disadvantages women and those most in need."
Brooke Singman is a Politics Reporter for Fox News. Follow her on Twitter at @brookefoxnews.