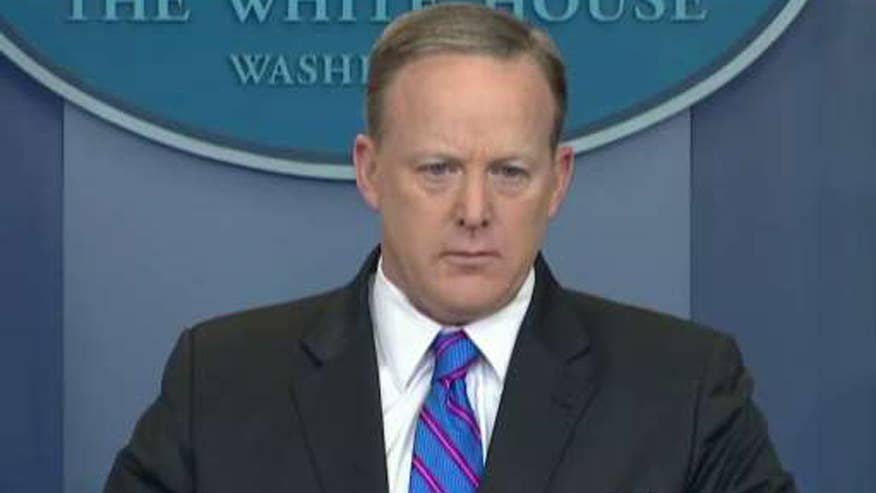 The White House took a preemptive shot Wednesday at the congressional budget scorekeepers responsible for estimating the price tag and impact of the newly released ObamaCare repeal bill – questioning their credibility by noting they were "off by millions" the last time.
"If you're looking to the CBO for accuracy, you're looking in the wrong place," Press Secretary Sean Spicer said.
Spicer knocked the Congressional Budget Office (CBO) before the price tag on the repeal bill has even come out. The unusually blunt criticism of an office that is supposed to be apolitical, though, could dovetail with an apparent effort by Republican authors of the legislation to downplay the significance of whatever estimates the office produces.
Amid claims from critics that their replacement plan could insure fewer people and/or cost more, those pushing the bill are suggesting the CBO 'score' should not be considered the final word.
"The irony of the score is that the CBO was way off the last time," Spicer said at Wednesday's briefing. "Of course cost matters, but look how wrong they were last time."
Spicer was referring in part to the CBO's 2010 estimate that the Affordable Care Act, as passed under then-President Barack Obama, would cover 21 million people through the new exchanges. It ended up covering over 12 million.
Spicer said the idea that CBO is an "authority" here is a little "far-fetched."
CBO was closer to the mark by some other measures.
The office in 2009 estimated that the average premium for the second-lowest 'silver' plan under ObamaCare would be $5,200 in 2016. The actual average was $4,583, according to the Kaiser Family Foundation.
Asked for comment on Spicer's remarks, a CBO representative referred Fox News to a recent statement noting that taxpayer costs also have been lower than estimated – for various reasons, including the slower-than-expected enrollment.
"For example, CBO and [the Joint Committee on Taxation] projected at the time that the gross cost of the provisions would be $214 billion in 2019; they currently project a cost of $148 billion in 2019, a reduction of about one-third," the statement said.
The White House downplayed the reliability of the office's figures as Republican leaders on Capitol Hill began to work on the legislation in committee, hoping to advance some version of it despite resistance from both conservative and moderate GOP colleagues, as well as Democrats.