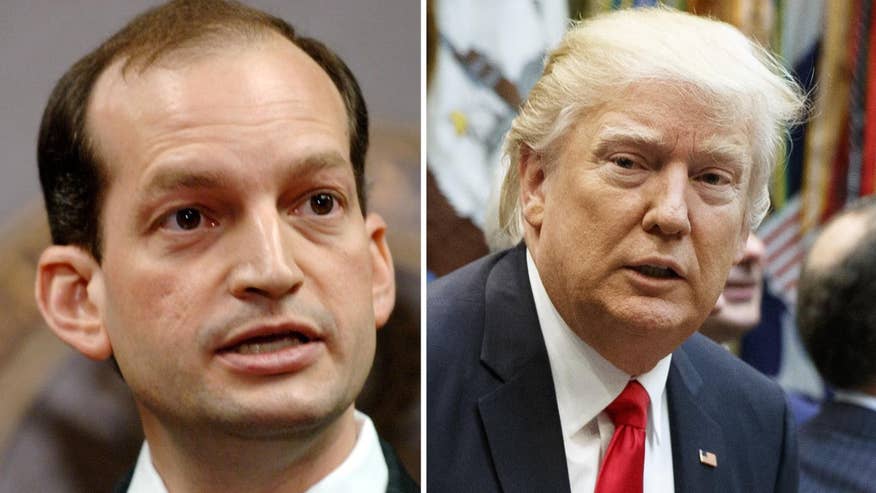 Moving quickly to fill the void left after his first pick withdrew, President Trump on Thursday nominated law school dean and former federal prosecutor Alexander Acosta for labor secretary.
"He has had a tremendous career," Trump said, noting he's been through Senate confirmation three times for past positions. "I think he'll be a tremendous secretary of labor."
Trump made the announcement at the beginning of a lengthy press conference during which he repeatedly blasted the media and defended his administration's agenda. But the key piece of business he addressed was Acosta's nomination.
"Alex is going to be a key part of achieving our goal of revitalizing the American economy, manufacturing, and labor force," Trump added later in a written statement.
Acosta may have an easier time getting through a Senate confirmation hearing than fast food CEO Andrew Puzder.
Putzer pulled out of the running Wednesday, on the eve of his scheduled hearing.
If confirmed, Acosta would be Trump's first Latino Cabinet member. According to top GOP sources, Republican Florida Sen. Marco Rubio and other Hispanic leaders are enthused about the pick.
"Today's nomination demonstrates that diversity does not come at the expense of highly skilled and experienced candidates for his presidential Cabinet," Pedro J. Torres-Diaz, president of the Hispanic National Bar Association, said in a written statement.
"The nomination of the son of Cuban immigrants, with a demonstrated commitment to public service and our nation, is just one example of qualified and diverse individuals around the nation that will not only help lead the government but also better reflect the citizens it serves," he added.
Acosta currently is dean of Florida International University College of Law. He previously served as the first Hispanic assistant attorney general and as U.S. attorney for the Southern District of Florida, as well as on the National Labor Relations Board.
Puzder earlier backed out of consideration for labor secretary amid bipartisan scrutiny of his personal and professional past.
Announcing a new labor nominee less than 24 hours after Puzder called it quits gave Trump an opportunity to shift the focus from Puzder's failed bid and instead blast Senate Democrats for holding up his other Cabinet picks.
Puzder was the first Trump Cabinet nominee to withdraw.
The move came after Michael Flynn resigned as national security adviser over a separate controversy regarding his past contacts with Russia's ambassador. Those contacts emerged in news reports.
Trump is trying to get his nominations back on track after weeks of delays in the Senate. While majority Republicans until this week had succeeded in confirming every nominee who came for a final vote, Puzder fell to a relentless series of attacks from Democrats, labor and other groups who opposed him on ideological and personal grounds.
Ultimately, enough Republicans joined in voicing reservations to put the nomination in jeopardy.
Critics contended that Puzder's corporate background and opposition to such proposals as a big hike in the minimum wage made him an unfit advocate for American workers at the top of an agency charged with enforcing worker protections. They rolled out stories from workers who said they were treated badly at Puzder's company. Details from his messy divorce also emerged, including past allegations of domestic abuse that his ex-wife later retracted.
Fox News' John Roberts and The Associated Press contributed to this report.