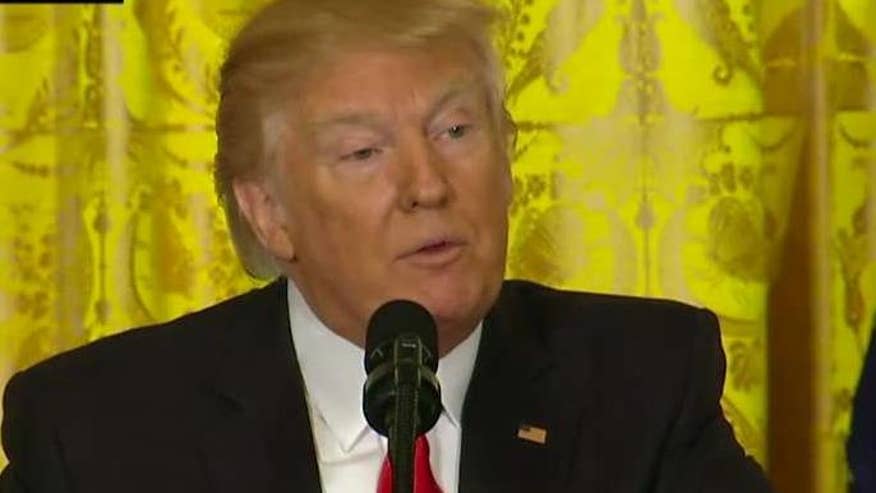 Former Hillary Clinton campaign chairman John Podesta fired back at President Donald Trump Thursday after Trump said Podesta "said terrible things" about Hillary Clinton in a series of hacked emails.
During his press conference Thursday, Trump was asked about the difference between the release of Podesta's emails by Wikileaks during last year's election campaign and recent leaks that led to the resignation of national security adviser Michael Flynn.
"In one case, you're talking about highly classified information," Trump responded. "In the other case, you're talking about John Podesta saying bad things about the boss.
"I will say this," Trump added, "if John Podesta said that about me and he was working for me, I would have fired him so fast your head would have spun. He said terrible things about her. But it wasn't classified information."
Podesta responded with a pair of tweets.
1 @realDonaldTrump "Podesta saying bad things about the boss" from a President who wouldn't know the truth if it slapped him in the face

— John Podesta (@johnpodesta) February 16, 2017
2 For the record, I never said bad things about Hillary in the emails the Russians stole to help elect him POTUS

— John Podesta (@johnpodesta) February 16, 2017
Trump called Thursday for an investigation of what he called "illegal leaks" relating to a series of conversations Flynn had with the Russian ambassador to the U.S. Flynn initially denied he had discussed U.S. sanctions against Moscow with the ambassador, but later admitted he could not be sure he had not. He resigned Monday night.
By contrast, Trump called during the campaign for Russian hackers to breach Clinton's personal email server to locate messages she did not turn over to the State Department from her tenure as secretary of state. Trump has repeatedly insisted the remark was a joke.