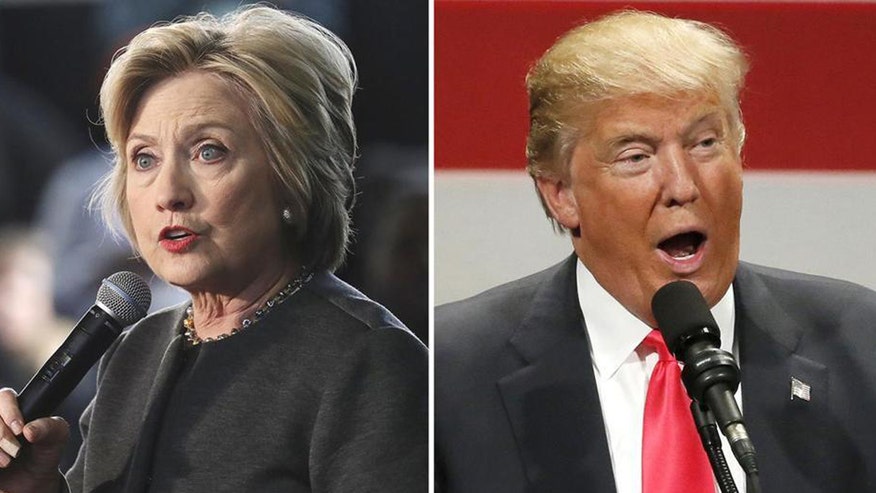 **Want FOX News Halftime Report in your inbox every day? Sign up here.**

On the roster: - What we leave behind - FBI digging into former Trump campaign boss' Russia ties - Abedin's email testimony could come back to haunt her in new FBI probe -Top Clinton aides accuses Comey of 'double standard'

WHAT WE LEAVE BEHIND
What do you think the odds are that the next president will serve a full term?

Probably not as good as you'd like.

In the history of the presidency, only one of 44 left office early. Two were impeached, but neither was convicted. That is a remarkable track record of stability over 227 years.

Given the state of our election to pick a 45th president, though, you'd have to bet that the odds are quite high for at least an attempted impeachment in the next four years.

Republicans are already promising to beleaguer Democrat Hillary Clinton with inquests and inquiries if she wins the election. Republican Senators are even talking seriously of refusing Clinton the right to fill vacancies on the Supreme Court for the duration of her term.

It is the pre-delegitimization of her presidency.

And if Donald Trump pulls off an upset, one can hardly imagine the lengths to which Democrats will go to stigmatize his term.

But we can hardly place all the blame on the partisans, here. Clinton and Trump have provided abundant ammunition for anyone seeking to hamstring their prospective presidencies.

Clinton has passed most of the duration of this election under the cloud of a criminal investigation surrounding her mishandling of state secrets, revived with gusto last week because of the, believe it or not, charges for sexual misconduct with a minor against the estranged husband of Clinton's top aide.

There have also been enormous ethical questions surrounding Clinton's family foundation, which has the markings of a payola scheme wearing white tie and tails.

The last time a Clinton was impeached, it was for lying about his assignations with a White House intern. The options available to Republicans in Congress for the next potential Clinton impeachment are a veritable salad bar of fixin's.

As the Democrat limps in to the final week of the 2016 election, the Republican is just getting warmed up for his ethical hurdles.

Trump would be the first president-elect to stand trial in a fraud charge. While his transition team, led by the ethically engulfed Gov. Chris Christie, would be handing out briefing books and picking undersecretaries, Trump would be busy defending himself against the charges that he ripped off thousands of aspiring businessmen and businesswomen through Trump University.

That's to say nothing of the lawsuits Trump has threatened against the women who have accused him of sexual assault. Or, one supposes, the additional claims that will come.

Democrats, though, surely would not allow a President Trump's headaches to be limited to civil court. We would no doubt hear about Trump's ties to Vladimir Putin's Russia and his complicated business relationships around the world. One can also see Democrats doing to Trump what Republicans did to the first President to be impeached, Andrew Johnson, and baiting him into abuses of power.

Maybe it would just be convenient for Americans to elect a president and a special prosecutor every four years.

Clinton's campaign wants you to believe that Russia is trying to get Trump elected to be Putin's puppet. But that doesn't seem to really be the Kremlin's aim. The goal, pretty obviously, is to destabilize the American political system and further erode public confidence in our institutions.

And on those counts, Putin is on a shirtless horseback ride to victory.

As we wrap up this execrable election we can inventory the institutions that have fallen under attack or suffered self-inflicted wounds: the FBI, the Department of Justice, the election process itself, the impartiality of Supreme Court justices, debate moderators, the media in general, the parties' presidential nominating processes, big business, entrepreneurship, Ford Motor Company, the police, peaceful protest, the military, immigrants, old white people, Mexicans, fat people and even Oreos.

The country has been trying to gnaw its way out of this election like a fox with its paw caught in a trap.

What we leave behind to get out of this debacle will be a lot.

THE RULEBOOK: PEOPLE'S CHOICE
"Another and no less important desideratum was, that the Executive should be independent for his continuance in office on all but the people themselves. He might otherwise be tempted to sacrifice his duty to his complaisance for those whose favor was necessary to the duration of his official consequence."– Alexander Hamilton, Federalist No. 68

TIME OUT: HEY, BOO
As you continue to pilfer through your children's Halloween candy, take an etymological adventure with a history for the word 'boo.' NY Magazine: "While humans have been sharing ghost stories for thousands of years – Pliny the Younger offered an especially spooky Roman take at around 100 AD – the thing that ghosts say when you meet them is pretty modern. As noted on Etymonline and highlighted by Gretchen McCulloch, 'boo' got its start in the early 15th century as boh, or a 'combination of consonant and vowel especially fitted to produce a loud and startling sound.' As a short but mighty syllable, boo is well-suited to its task: the 'b' comes out quickly, and the 'oo' is sharp and strong — perfect for a supernatural interjection."

Flag on the play? - Email us at HALFTIMEREPORT@FOXNEWS.COM with your tips, comments or questions

SCOREBOARD
Average of national head-to-head presidential polls: Clinton vs. Trump: Clinton +4.8 points
[Polls included: IBD, ABC/WaPo, Fox News, Pew and CNBC.]

Average of national four-way presidential polls: Clinton vs. Trump vs. Johnson vs. Stein: Clinton +3.6 points
[Polls included: IBD, ABC/WaPo, Fox News, Pew and CNBC.]

FBI DIGGING INTO FORMER TRUMP CAMPAIGN BOSS' RUSSIA TIES
Newsweek: "The FBI has been conducting a preliminary inquiry into the foreign business ties of former Donald Trump aide Paul Manafort, according to reports…The inquiry into Manafort, who worked for Trump until August, has not yet developed into a full criminal investigation, NBC News reported. It also reported in August that Manafort was a key player in multi-million-dollar business propositions with Russian and Ukrainian oligarchs."

But no confirmed link between Trump, Russia - The Hill: "Amid multiple reports drawing different connections between Donald Trump's campaign and Russia Monday night, The New York Times reported that FBI officials' investigations of the GOP presidential nominee have yet to confirm any ties. FBI officials said their investigations have yet to find a connection between the GOP presidential nominee and Russia. The bureau has been investigating the Russian government's role in the U.S. presidential election. But the FBI believes that the country was likely trying to disrupt the overall race and not trying boost Trump's chance of getting elected."

Report: Comey tried to quash report on Kremlin interference - CNBC: "FBI Director James Comey argued privately that it was too close to Election Day for the United States government to name Russia as meddling in the U.S. election and ultimately ensured that the FBI's name was not on the document that the U.S. government put out, a former bureau official tells CNBC."

Trump's avoidance in paying personal income tax pushed legal limits, experts say - NYT: "[[N]ewly obtained documents show that in the early 1990s, as he scrambled to stave off financial ruin, Mr. Trump avoided reporting hundreds of millions of dollars in taxable income by using a tax avoidance maneuver so legally dubious his own lawyers advised him that the Internal Revenue Service would most likely declare it improper if he were audited…Moreover, the tax experts said the maneuver trampled a core tenet of American tax policy by conferring enormous tax benefits on Mr. Trump for losing vast amounts of other people's money — in this case, money investors and banks had entrusted to him to build a casino empire in Atlantic City."

Trump's companies have also reportedly destroyed emails against court order - Newsweek: "Over the course of decades, Donald Trump's companies have systematically destroyed or hidden thousands of emails, digital records and paper documents demanded in official proceedings, often in defiance of court orders…In each instance, Trump and entities he controlled also erected numerous hurdles that made lawsuits drag on for years, forcing courtroom opponents to spend huge sums of money in legal fees as they struggled—sometimes in vain—to obtain records."

ABEDIN'S EMAIL TESTIMONY COULD COME BACK TO HAUNT HER IN NEW FBI PROBE
Fox News: "Scrutiny of top Hillary Clinton aide Huma Abedin intensified Monday amid speculation that claims she made in her FBI interview and a separate sworn deposition could come back to haunt her as the bureau gains access to emails on her estranged husband's computer. While Abedin has effectively stepped off the campaign trail since the FBI's stunning announcement on Friday, her emails are now at the center of attention…FBI Director James Comey stressed in his letter to Congress Friday that investigators don't know how significant the new emails may be. But even if they don't implicate the Democratic presidential nominee, their mere existence could call into question testimony Abedin gave months ago about the email system."

Top Clinton aides accuses Comey of 'double standard' - WaPo: "Top aides for Hillary Clinton on Monday accused FBI Director James Comey of a "double standard" in his handling of the investigation into Clinton's use of a private email server as secretary of state. Clinton campaign manager Robby Mook called on Comey to explain why he rushed to disclose new information about the status of the investigation into Clinton, while reportedly opposing, on the grounds that it would be too close to the election, a public statement by the FBI that the Russian government was seeking the influence the presidential race. 'It is impossible to view this as anything less than a blatant double standard,' Mook said."

CNN: 'Completely uncomfortable' with Brazile's Hillary camp alleged correspondence - USA Today: "Donna Brazile warned Hillary Clinton's campaign that she would be asked about lead poisoning in Flint, Mich., ahead of a primary debate, according to an email released by WikiLeaks Monday. The group has been posting hacked emails from Clinton's campaign chairman, John Podesta. The email, originally sent March 5, 2016, warned that 'One of the questions directed to HRC tomorrow is from a woman with a rash.' [Brazile continued] 'Her family has lead poison and she will ask what, if anything, will Hillary do as president to help the ppl of Flint,' Brazile wrote. During the March 6 debate, Lee-Anne Walters, who said her family was poisoned by lead, asked Clinton and Vermont Sen. Bernie Sanders if they would 'make a personal promise to me right now.'"

AUDIBLE: GONE BABY GONE
"I will be organizing my post-presidency where I'm not close enough to him to whisper in his ear." – President Obama responding to a question from comedian Samantha Bee about whether he'd tell Trump he wasn't really born in America by whispering in Trump's ear on inauguration day.

PLAY-BY-PLAY
Obama hits the campaign trail for Clinton - AP

Dems losing advantage in early vote - NYT

Trump doubles down on Hillary attacks in Mich. - Time

Pence stumps in deadlocked Fla., pushing space program - Florida Today

One week out, Senate still up for grabs- WaPo

Koch-backed group drops big ad on Feingold's ObamaCare record - Americans for Prosperity

Burr apologizes for private 'bullseye' remark regarding Hillary - CBS News

Ryan: Voted 'for our nominee' - WSJ

Perry reportedly sought primary challenger for Cruz's 2018 re-election bid - Texas Tribune

Kasich writes in McCain's name on absentee ballot - [Cleveland] Plain Dealer

Tenn. statehouse rep compares his opponent to failed Tennessee football coach - Mediate

FROM THE BLEACHERS
"Chris, one of the best parts of my day is reading Fox News Halftime. Even if I didn't learn a thing, which I always do, I always laugh out loud and marvel at your fabulous way with words. Your style is so charming and fascinating I wish you would write books in your copious hours of spare time." – Sandra Morgan, Alamo, Texas

[Ed. note: I'm blushing, Ms. Morgan. I can't imagine a kinder thing that someone could say. It's my privileged to be part of your day and the days of many thousands of others of loyal readers. I always try harder knowing you guys are out there. Thanks for reading and taking the time to write.]

"Remember in Richard Nixon's resignation speech he mentioned that he was 'urged to fight on, but with issues at home and abroad America needed a fulltime President.' If Mrs. Clinton were to be elected how could she govern effectively if she was waiting for more shoes to drop in regards to all of her legal missteps? Isn't it time for her to consider America First and elect someone who could b e a 'fulltime President?'" – Robert Baker, Brownsville, Texas

[Ed. note: Mr. Baker, given the hideous imaginings described at the top of today's note for the next president, one wonders why either of them really want to do it at all.]

Share your color commentary: Email us at HALFTIMEREPORT@FOXNEWS.COM and please make sure to include your name and hometown.

GIVE ME A BREAK
KDVR: "Sometimes you just need candy. One thief needed a Kit Kat bar so badly that they broke into a man's car to get one. Well, technically, the door was unlocked so it wasn't that hard. Hunter Jobbins, a student at Kansas State University, left his car with the doors unlocked for 15 minutes and left a Kit Kat bar sitting in his car. But when he came back, the treat was gone and a handwritten note was in its place. Jobbins shared the note on Twitter. 'Saw Kit Kat in your cup holder. I love Kit Kats so I checked your door and it was unlocked. Did not take anything other than the Kit-Kat. I am sorry and hungry.'"

AND NOW, A WORD FROM CHARLES…
"Remember for a year we had been saying the most important event for Hillary was the Comey primary. And she won the Comey primary, but what we didn't know is that there was a recount. And she lost the recount." – Charles Krauthammer on "Special Report with Bret Baier."

Chris Stirewalt is digital politics editor for Fox News. Sally Persons contributed to this report. Want FOX News Halftime Report in your inbox every day? Sign up here.
Chris Stirewalt joined Fox News Channel (FNC) in July of 2010 and serves as politics editor based in Washington, D.C. Additionally, he authors the daily Fox News Halftime Report political news note and co-hosts the hit podcast, Perino & Stirewalt: I'll Tell You What. He also is the host of Power Play, a feature video series on FoxNews.com. Stirewalt makes frequent appearances on network programs, including America's Newsroom, Special Report with Bret Baier and Fox News Sunday with Chris Wallace. He also provides expert political analysis for FNC's coverage of state, congressional and presidential elections.