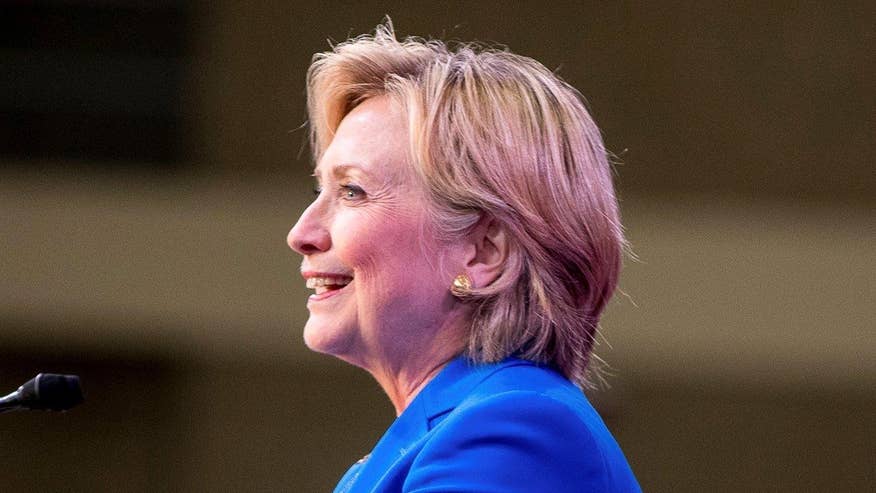 **Want FOX News Halftime Report in your inbox every day? Sign up here.**
On the roster: Carolina blue, again? - Russia housed - Power Play: Break time - Audible: But other than that… - Red bandana

CAROLINA BLUE, AGAIN?
It's Election Day!
But alas, for you, dear readers, it is just the first of many.
North Carolina fired the starting gun for 2016 vote as the Tar Heel State started
accepting ballots for what will be a two-month slog…
It is of course not without controversy as North Carolina Republicans and Democrats joust over the hours when the polls will be open. Democrats want more, Republicans want less. Count down to allegations of racism in 3, 2, 1…boom.
Democrats like early voting, not just in North Carolina, but around the country because their voters tend to be harder to mobilize. The Democratic coalition relies on poor and minority voters who have traditionally been harder to get to the polls than the middle- and upper-middle-class white voters at the core of the Republican coalition.
Over time, though, we have seen voters of all demographic strata get hip to the idea of early voting. Partisan gaps still persist, but more Americans are becoming accustomed to elections that last for weeks rather than the old concept of a single day.
Starting with Alabama and Minnesota later this month, more states will start their elections while the leaves are still green on the trees.
Throughout this campaign we have heard a lot of poppycock about it being "early" and that "it's still August."
Well, August ain't what it used to be because we vote differently now as a nation.
So how are things as the voting gets underway? Fortunately for us, the pollsters at Quinnipiac University wanted to know the same thing.
The university's latest round of swing state polling shows good news for Trump in Florida and Ohio. He's down in Pennsylvania, but so what? The Keystone State is pure pyrite for Republicans.
But the fact that he's sucking wind in North Carolina is a huge concern for Trump. He's down by 4 points here in the first head-to-head Q poll of the state this cycle.
Given Trump's problems in Virginia and Colorado, a loss in the state would be electorally damning. Getting Trump to 270 electoral votes without North Carolina or Pennsylvania looks like an impossibility.
So why is North Carolina holding out?
The problem for Trump seems to be, again, that there are too many college-educated white voters. Places like Durham County, home of Duke University, is changing the political map for the state. Trump is up 7 points over Clinton with white college-educated voters. It should be more like 20 points.
The other problem seems to be Trump's weak showing with military voters. Rather than the traditional 60/40 split for Republicans with voters from military households, Trump is getting just 46 percent.
It might be less of a problem elsewhere, but North Carolina is military country. There are about a half-million defense jobs in the state – roughly 10 percent of the state's economy.
Can Trump turn these trends around? Sure. The question now that voting has begun: Is there enough time?
THE RULEBOOK: GREAT BODY, INDEED
"It is essential to such a government that it be derived from the great body of the society, not from an inconsiderable proportion, or a favored class of it; otherwise a handful of tyrannical nobles, exercising their oppressions by a delegation of their powers, might aspire to the rank of republicans, and claim for their government the honorable title of republic." – James Madison, "Federalist No. 39"

TIME OUT: FILTERED
In the age of filters, snaps and timelines, people can make anything look romantic, even war. Paris Review: "And each war has its signature story. Afghanistan's coincides with the rise of social media. In the online world where banal weekend jaunts resemble the Odyssey and afflict followers with post-feed depression—the feeling after seeing glistening legs on a beach or a sunset clipped by an airplane's wing (not, notably, the cramped economy seat or credit-card bill)—establishing a social-media presence in a war zone is more than self-fashioning; it's reincarnation, maybe even creation ex-nihilo. Expats' Facebook and Instagram avatars often emerge as if by divine birth, leaving followers unable to fathom how that bookish college friend wound up motorcycling around Kabul or hiking the Hindu Kush with a few smiling local dudes in pajamas who, to the untrained eye, are obviously Taliban."
Flag on the play? - Email us at HALFTIMEREPORT@FOXNEWS.COM with your tips, comments or questions
SCOREBOARD
Average of national head-to-head presidential polls: Clinton vs. Trump: Clinton +4 points
[Polls included: CNN, Boston Herald, IBD, Fox News and USA Today]
Average of national four-way presidential polls: Clinton vs. Trump vs. Johnson vs. Stein: Clinton +1 point
[Polls included: GWU, CNN, Boston Herald, IBD and Fox News]
RUSSIA HOUSED
As a KGB agent, Vladimir Putin could have never dreamed of the success he is having today in fomenting unrest in the United States.
In the old days, Russia had to use secret agents and covert methods to influence American politics and culture. When John Kerry gave his testimony comparing American soldiers in Vietnam to Genghis Khan, Soviet agents considered it a triumph.
Agitating anti-war sentiment was a big part of the Kremlin's plan to not just force America out of Vietnam, but to break the culture of Moscow's enduring foe. The propaganda Russian students consume at school and adults absorb through state-controlled media is of a dystopian nightmare America: racism, poverty, inequality and corruption.
Now, that's not to say that the United States wasn't doing a blockbuster business in propaganda against the Soviet Union back in the day. Voice of America overtly and untold agents covertly sought always to undermine the Kremlin with his people.
America nurtured secret churches in the totalitarian, atheistic state distributing the writing of dissidents like Aleksandr Solzhenitsyn and played up the plenty and opportunity of America and the West to deprived and beleaguered subjects of the Soviet empire.
Many in Putin's Russia believe that America has continued to run these kinds of psyops after the Cold War, especially when instilling fear of American meddling is a key component to Putin's rule.
As WaPo's Philip Bump points out, Putin's approval ratings are so appealingly high to Donald Trump for a very particular reason: "So the through-line here is this: Trump thinks Putin should be emulated because he is viewed positively in his country. He is viewed positively in part because he crushes dissenting media opinions, something that Trump has also either praised or tacitly accepted. It's part of being a 'leader,' it seems."
Putin's Russia is economically struggling and increasingly isolated, but his 24-hour propaganda machine convinces Russians that he is leading a brave fight against foreigners.

Trump's acceptance, tacit or otherwise, extended even to appearing on the Kremlin U.S. propaganda channel, RT. His campaign says it was an accident, and if that's the case, it was a doozy. Especially because Trump went on to say that he did not think Putin was behind the hacking of Democratic Party emails that lead to the ouster of the party's chairwoman, even though the U.S. intelligence community strongly suspects the Kremlin.
Quite a piece of staff work: Allowing Trump to appear on Kremlin propaganda the same day he was in a defensive crouch for saying (again) that he admired Putin and that the Russian ruler a stronger leader than his own president. One wonders how Putin would deal with a blunder of such a size.
While Trump was digging deeper on Russia, his running mate and other Republicans were faced with the unappetizing choices of wither praising an authoritarian ruler of a hostile nation or publicly breaking with their own party's nominee.
And Trump's Russophile debacle comes at just the worst moment.
Clinton is slumping in the polls following the latest and arguably most politically damaging revelations concerning her secret email. Republicans were doing a great job of keeping their fire focused on her mess. And now they all have to either say why it's cool to praise Putin or to dump on Trump.
Nyet.
POWER PLAY: BREAK TIME
Early voting ballots will be put in the mail today marking the first votes cast in this election cycle. But with far more undecided voters this year than in 2012, how will this elusive group of voters mark their ballots? Will minor party candidates matter more this cycle? WashEx's Sarah Westwood and National Journal's Josh Kraushaar weigh in. WATCH HERE.
But will those party loyalists vote down the line? - More Americans are voting straight-ticket, but 2016 could reverse the trend with Clinton and Trump atop the ballot. Westwood and Kraushaar discuss down-ballot races. WATCH HERE.
AUDIBLE: BUT OTHER THAN THAT…
"Other than destroying every instrument of democracy in his own country, having opposition people killed, dismembering neighbors through military force and being the benefactor of the butcher of Damascus, he's a good guy. This calculation by Trump unnerves me to my core." – Sen. Lindsey Graham, quoted by Politico, on Trump's recent praise of Russian leader Vladimir Putin

PLAY-BY-PLAY
Q poll: Republicans romp in swing state Senate races - Quinnipiac University
Trump proposes $20 billion education plan focused on school choice - Cleveland Plain Dealer
David Drucker explains what GOP insiders are planning for their post-election party overhaul - WashEx
Clinton tells National Baptist Convention Trump doesn't understand black Americans and their faith - NYT
Big Dog whistle: Bill Clinton says Trump's campaign phrase is racist, but… - Fox News
Clinton takes bipartisan tack in new ad - The Hill
Fox News' Jud Berger explains Trump could benefit from the GOP's lead in voter registration - Fox News

Pence gets intel briefing today - WashEx
Fred Barnes explains why Clinton's credibility gap would make her a lame duck president from day one - Weekly Standard
ANY GIVEN SUNDAY
Homeland Security Secretary Jeh Johnson joins Mr. Sunday on the 15th anniversary of the 9/11 attacks and Newt Gingrich and Rep. Xavier Becerra, D-Calif., talk 2016. Watch "Fox News Sunday with Chris Wallace." Check local listings for broadcast times in your area.
[#mediabuzz - Host Howard Kurtz has the latest take on the week's media coverage. Watch #mediabuzz Sundays at 11 a.m. and a re-airing at 5 p.m. ET.]
FROM THE BLEACHERS
"Hillary doubling down on no ground troops could prove to be her 'read my lips moment.'" – Margery Peterson, Salinas, Calif.

[Ed. note: Ah, the famous promise that helped undo George H.W. Bush's re-election bid! That's a good indication of why politicians so often use mumbo jumbo language, as both nominees this cycle are usually quite adroit. But you are sure right that if Clinton becomes president and reneges on that one, the Democratic base would abandon her in droves in the same way that conservatives abandoned the first President Bush in 1992.]
"There is a great deal of money raised by both candidates. When all is said and done, and the election is over, what actually happens to the funds that may not have been spent by the campaigns?" – Dennis Shanley, Northridge, Calif.

[Ed. note: Funny thing: the consultants almost always find a way to spend it all. Strange how that happens... But there are often funds left over after a run and quite often campaign debt to be paid off. There are rules for what the candidates can do, but they are allowed to roll those contributions over to new campaigns, even for other offices.]
"What relevance does the head to head matchup of Clinton and Trump really have when at least 49 states will include Gary Johnson at least 42 for Jill Stein?" – Anne Fairchild, Marietta, Ga.

[Ed. note: Great question! History tells us that minor party candidates usually underperform pre-election polls. Some of the support expressed to pollsters is really just dissatisfaction with the major party candidates manifested in another way. Many of those folks don't end up showing up. We give it to readers both ways so they can see the differences.]
Share your color commentary: Email us at HALFTIMEREPORT@FOXNEWS.COM and please make sure to include your name and hometown.
RED BANDANA
Peggy Noonan writes today about Welles Crowther, a 24-year-old junior associate at the financial firm Sandler O'Neill, who died so that untold others could live on Sept. 11, 2001. But for more than a year, his family never knew of the heroics of their son. It was only after the New York Times reported on a "mysterious man appeared at one point, his mouth and nose covered with a red -handkerchief." They knew at once that it was Crowther, who carried his signature handkerchief every day – a tradition he inherited from his father. You won't read anything better about the 15th anniversary of the day today than what Peggy wrote: "The way I see it, courage comes from love. There's a big unseen current of love that hums through the world, and some plug into it more than others, more deeply and surely, and they get more power from it. And it fills them with courage. It makes everything possible. People see the fallen, beat-up world around them and ask: What can I do? Maybe: Be like Welles Crowther. Take your bandanna, change the world."
Chris Stirewalt is digital politics editor for Fox News. Sally Persons contributed to this report. Want FOX News Halftime Report in your inbox every day? Sign up here.
Chris Stirewalt joined Fox News Channel (FNC) in July of 2010 and serves as politics editor based in Washington, D.C. Additionally, he authors the daily Fox News Halftime Report political news note and co-hosts the hit podcast, Perino & Stirewalt: I'll Tell You What. He also is the host of Power Play, a feature video series on FoxNews.com. Stirewalt makes frequent appearances on network programs, including America's Newsroom, Special Report with Bret Baier and Fox News Sunday with Chris Wallace. He also provides expert political analysis for FNC's coverage of state, congressional and presidential elections.