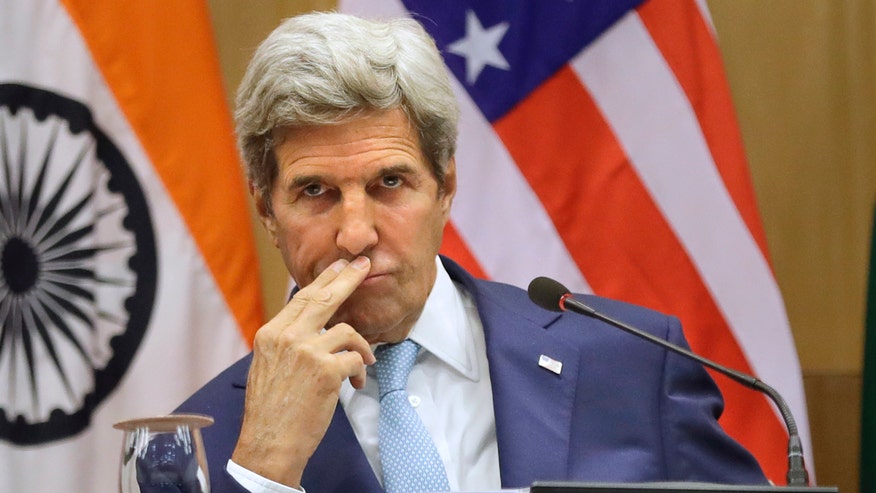 Secretary of State John Kerry said Sunday that negotiations have stalled between the United States and Russia to stop fighting in Syria between Russian-backed government troops and U.S.-supported rebels.
Kerry said at the G20 economic summit in China that the talks have stalled over some "technical" issues but they would resume Monday. Obama and Putin were also expected to meet Monday.
The countries have tried for weeks to broker a cease-fire between Syrian President Bashar al-Assad's government and moderate rebels in an effort to expand access and humanitarian aid for the hundreds of thousands of civilians caught in the crossfire.
The strategy has hinged on an unlikely U.S.-Russian military partnership alligned against extremist groups operating in Syria.
But the two powers have conflicting views about who fits in that category, beyond ISIS and Al Qaeda.
"An awful lot of technical things have been worked out, a lot of things are clear, but there still remain, as I say, a couple of tough issues," said Kerry, who is negotiating the deal with Russian Foreign Minister Sergey Lavrov. "We've got to figure out how to make certain both of us can be comfortable with the resolution to those issues, so that's what we're working on."
Obama said the U.S. and Russia have "grave differences" but a deal was "worth trying."
"We're not there yet," Obama said. "I think it's premature for us to say there's a clear path forward, but there's the possibility at least for us to make some progress."
Kerry declined to say what specific issues are holding up the deal.
A senior State Department official said the talks faltered on Saturday when Russia pulled back from agreement on issues the U.S. negotiators believed had been settled.
Kerry and Lavrov were consulting with their governments before talks resume.
Lavrov's deputy, Sergei Ryabkov, said a deal was "close" but said Washington had to dissociate itself from Nusra.
The Syrian conflict has killed as many as a half-million people since 2011 and caused millions to flee their homes, contributing to a global migration crisis. Amid the chaos, ISIS has emerged as a global terror threat.
Kerry and Lavrov's talks on the sidelines of the summit represent their third significant attempt since July to finalize a new U.S.-Russian military partnership that Moscow has long sought.
The package would include provisions so aid can reach besieged areas of Syria and measures to prevent Assad's government from bombing areas where U.S.-backed rebels are operating.
U.S. officials have said that as part of a deal, Russia would have to halt offensives by Assad's government, something it has failed to do over months of diplomatic efforts.
And the U.S. must get rebels to break ranks with an Al Qaeda-linked extremist group, a task that grew tougher after its fighters last month successfully broke the siege of Aleppo, Syria's largest city and the site of fierce recent fighting.
Negotiators had been hopeful a deal could come together while world leaders gathered in China, and American officials were optimistic enough that they invited reporters to an expected announcement by Kerry and Lavrov.
But officials removed Lavrov's podium just before Kerry came out -- alone -- to announce that no agreement had been finalized. A planned conference call with journalists to discuss the deal was abruptly canceled.
In recent days, the State Department has said it only wants a nationwide cease-fire between Assad's military and the rebels, and not another "cessation of hostilities" that is time-limited and only stops fighting in some cities and regions.
Negotiators on both sides have spent weeks poring over maps of potential areas where opposition groups operate and where Assad's forces would be prohibited from launching airstrikes.
The idea is for Russia to use its significant influence over Assad to ensure compliance with the deal.
But the U.S. has long been wary on the military coordination part of the deal because it says Russia has mainly targeted moderate, U.S.-backed opposition groups in a bid to prop up Assad.
The United States wants Russia to focus exclusively on ISIS and al-Qaeda-linked groups.
Defense Secretary Ash Carter and National Intelligence Director James Clapper have expressed misgivings about sharing intelligence and targeting information with Moscow.
However, Kerry told reporters in response to questions about Pentagon concerns that, "Everybody's signed off on what we're talking about right now."
The Associated Press contributed to this report.