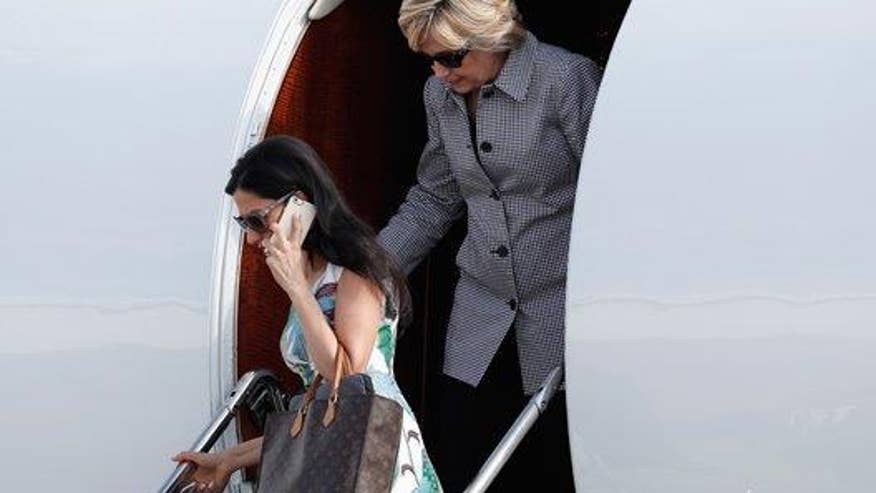 A new batch of emails released Thursday allegedly shows a top Clinton Foundation official asking Hillary Clinton aide Huma Abedin for help obtaining diplomatic passports – though Clinton officials say the request was related to the effort to secure the release of two American journalists held in North Korea.
The July 2009 exchange was included in the release of 510 pages of State Department documents obtained by the conservative group Judicial Watch, which had sued in court for records.
In the exchange, then-Clinton Foundation executive Doug Band says he needs the special passports for himself and others.
"Need get me/ justy and jd dip passports," he writes. "We had them years ago but they lapsed and we didn't bother getting them."
"Ok will figure it out," Abedin replies.
Bill Clinton spokesman Angel Urena said in response Thursday that the exchange does not tell the whole story.
"The trip led to the successful release of two American journalists who were being held in North Korea," Urena said. "This request turned out to be unnecessary and the trip was able to occur without diplomatic passports."
But Judicial Watch noted that federal law "strictly limits" such passports to certain individuals, including Foreign Service officers and those "having diplomatic status or comparable status because he or she is traveling abroad to carry out diplomatic duties on behalf of the U.S. Government." Their family members and government contractors also are eligible.
"The idea that the State Department would even consider a diplomatic passport for Clinton Foundation executives is beyond belief," Judicial Watch President Tom Fitton said in a statement.
Clinton campaign spokesman Josh Schwerin also said the request was related to freeing the journalists.
"Judicial Watch is now attacking State Department officials and the 42nd President of the United States for rescuing two American journalists from North Korea," Schwerin said in a written statement. "This is a new low even for this right-wing organization that has been going after the Clintons since the 1990s."
The State Department referred Fox News back to the federal regulations, saying they could not comment on individual cases.
Judicial Watch said the new documents include 37 email exchanges not in the original 30,000 handed over to the State Department.
The Judicial Watch release comes on the heels of another release earlier this week between Band and Abedin.
In that exchange of emails -- released as part of a public records lawsuit filed by the conservative group Citizens United -- Band suggested individuals from companies that had donated to the foundation be included at a State Department lunch with then-Chinese President Hu Jintao scheduled for January 2011, according to ABC News.