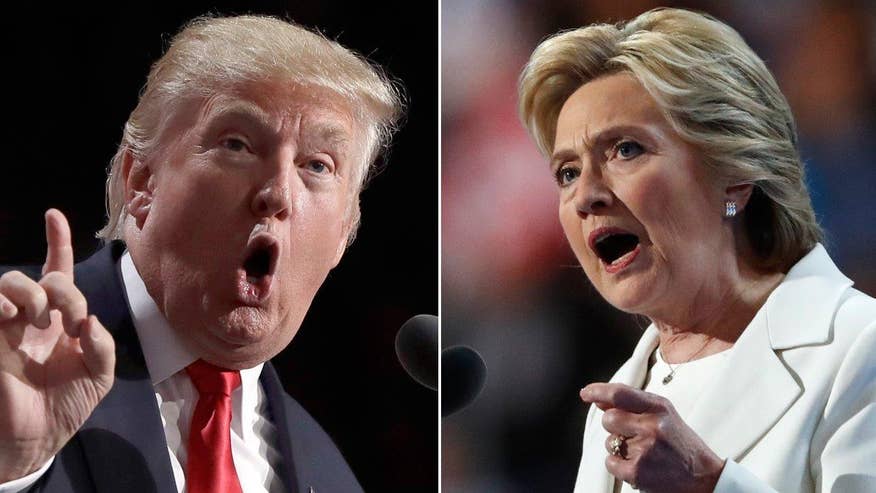 **Want FOX News Halftime Report in your inbox every day? Sign up here.**
On the roster: Post-convention cash clash begins - Clinton sees convention bounce, but can she keep it? - Trump says Humayun Khan would be alive had he been president – Audible: Hmmm… - Maybe if he'd been on foot
POST-CONVENTION CASH CLASH BEGINS
Donald Trump has yet to officially announce his fundraising totals for July, but if they're anything like Hillary Clinton's, 2016 is on the road to topping 2012 for most expensive election cycle yet.
Today, the Clinton camp announced a near $90 million haul for her final July numbers. Of that, $63 million was raised for her campaign and another $26 million for the Democratic National Committee. Clinton also raised $8.7 million within 24 hours of her convention speech Thursday.
Meanwhile, Trump has yet to announce his official numbers, but claimed Monday that he was near $35.8 million. He didn't specify if that was part of joint fundraising with the Republican National Committee or just for his campaign. Trump made his claims prior to Clinton's totals being released.
So far, however, both candidates are about in line with their 2012 predecessors.
In July 2012, President Obama raised a little over $48 million for his campaign along with about $9 million for the DNC while Mitt Romney raised $40 million for his campaign and near $38 million for the RNC. This did not include funds from leading super PACs and outside groups, which was a substantial part of the 2012 race as well.
If Trump's boasted numbers are for his campaign alone then his fundraising is pretty much on track with Romney, if underperforming slightly. But if that total includes his funds raised with the RNC then Trump looks like he's in trouble, especially as his opponent is keeping up, even surpassing, Obama's 2012 funds.
But remember, the conventions in 2012 were held in late August and early September so the post-convention fundraising bounce for the 2012 candidates would be seen in August and September totals rather than July. When comparing those numbers, both Clinton and Trump both vastly underperform their predecessors.
Trump's actual numbers will give a clearer picture of the state of the money race, but if he continues to fall short competing with the Clinton money machine will be a tough feat. But as Trump proved in the primary, the guy with the most money doesn't always come out the winner in the end.
TIME OUT
History: "On this day in 1776, members of Congress affix their signatures to an enlarged copy of the Declaration of Independence. Fifty-six congressional delegates in total signed the document, including some who were not present at the vote approving the declaration. The delegates signed by state from North to South, beginning with Josiah Bartlett of New Hampshire and ending with George Walton of Georgia…Exactly one month before the signing of the document, Congress had accepted a resolution put forward by Richard Henry Lee that stated 'Resolved: That these United Colonies are, and of right ought to be, free and independent States, that they are absolved from all allegiance to the British Crown, and that all political connection between them and the State of Great Britain is, and ought to be, totally dissolved.'"
Flag on the play? - Email us at HALFTIMEREPORT@FOXNEWS.COM with your tips, comments or questions
SCOREBOARD
Average of national presidential polls: Clinton vs. Trump: Clinton +5 points
Generic congressional vote: Democrats +2.8
CLINTON SEES CONVENTION BOUNCE, CAN SHE KEEP IT?
Although surveys keep coming in still, Nate Silver says that Hillary Clinton's convention bounce looks to be bigger than Donald Trump has seen at this point. FiveThirtyEight: "Initial polls conducted after the Democratic National Convention suggest that Hillary Clinton has received a convention bounce. In fact, it appears likely that Clinton's bounce will exceed Donald Trump's, which measured at 3 to 4 percentage points. Thus, Clinton will potentially exit the conventions in a stronger position than she entered them, perhaps also making up for some of the ground she lost to Trump earlier in July. This is good news for Clinton, but we'll need to wait a few weeks to see if she can sustain her bounce before we can conclude that the race has been fundamentally changed."
Trump says Humayun Khan would be alive had he been president - The Hill: "Donald Trump said that if he was president in 2004, Khizr Khan's son wouldn't have died serving in Iraq because America would not have been engaged in a war there. 'If I were president, his son wouldn't have died because we wouldn't be in a war,' Trump said during a Monday night interview on Fox News's 'Hannity.' 'I wouldn't have been in the war.'"
PLAY-BY-PLAY
Trump fires senior advisor Ed Brookover - Reuters
Trump suggests Russia could help get rid of ISIS, have better relations with U.S. - NYT
Trump gives Ryan's primary challenger shout out for kind words - WashEx
Can Ivanka Trump close the deal for her dad? - Fox News
Kaine's first rally at home since becoming Clinton veep pick - Virginian-Pilot
Wasserman Schultz's primary challenger claims she's using DNC resources to target campaign - The Hill
Jill Stein selects human rights activist as running mate - Time
AUDIBLE: HMMM…
"The question that I think that [Republicans] have to ask themselves is, if you are repeatedly having to say in very strong terms that what [Donald Trump] has said is unacceptable, why are you still endorsing him? What does this say about your party that this is your standard bearer?" – President Obama this morning saying Republicans need to renounce their support of Trump.

FROM THE BLEACHERS
"In the past two cycles all it took was the Dems throwing out a shiny object and the nice guy Republicans would be off task for weeks. And they lost. This time, whenever they want to flip the polls, they trot out some not so subtle, and to most, very obvious bait (Kahn) and Trump is all over it. He should stick to the issues. With the Hillary baggage and the policies in his favor the only candidate that could beat Trump Is Trump." -- Mike Martin, Tukwila, Wash.

"Why can't Paul Manafort control Trump? He has a perfect chance to win this race and stop the Democrats from further ruining this country, but he keeps making insulting, idiotic, irrelevant comments that give Hillary and her machine the chance to completely refocus the discussion. Trump needs to just focus on the economy, terrorism, and law and order. Why aren't Manafort and Gingrich pushing him to do this? Why don't his kids tell him he's going to lose if he keeps his unpresidential behavior up?" -- Cynthia I. Rice, Clearwater, Fla.

MAYBE IF HE'D BEEN ON FOOT
AP: "A Montana ranch hand has been fined after authorities say he posted a video on social media of him chasing a grizzly bear in a pickup truck. The Helena Independent Record newspaper reports that Lawrence Kennedy of Browning was fined $400 after reaching a plea agreement with federal prosecutors. Kennedy initially pleaded not guilty to violating the Endangered Species Act but switched his plea under the deal July 5. He was charged with unlawfully harassing a threatened species. Federal officials investigated Kennedy after he posted a Facebook video in March showing him driving a truck as a bear ran across an open field on a ranch. Kennedy told the newspaper in March that he was chasing the bear to keep it away from a herd of cows."
Chris Stirewalt is digital politics editor for Fox News. Sally Persons contributed to this report. Want FOX News Halftime Report in your inbox every day? Sign up here.