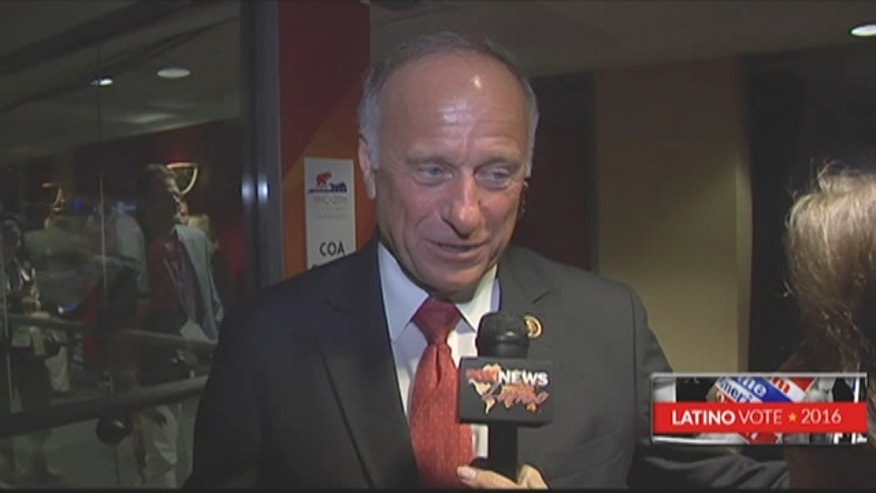 CLEVELAND – A day away from Donald Trump's speech accepting the GOP nomination, Rep. Steve King, one of the most influential conservative leaders at the Republican national convention, has yet to endorse him.
King is a rainmaker in the GOP party, and a member of the House's conservative faction that holds great sway.
In Cleveland, in private rooms at the Quicken Loans Arena, King has held court with meetings with conservative and GOP leaders, and Trump aides, stressing the need to make conservative policies and positions a priority in a future Trump administration, he told Fox News Latino.
King also has been advising Sen. Ted Cruz, who had tapped the Iowa lawmaker to be his national presidential campaign chairman, on what to mention and stress in his much-awaited speech before the delegates Wednesday night.
In a rare move by the RNC and the Trump campaign, Cruz's speech is not being vetted. The question remains whether Cruz, who had acrimonious exchanges with Trump toward the last weeks of his campaign, and who has withheld endorsing the real estate mogul, will use his primetime moment to reassert himself as the standard-bearer of GOP conservatives and emphasize that part of the party, or whether he will take the new step of giving Trump a clear, full-throated endorsement.
"It can actually be both," King said, referring to the two main directions Cruz can focus the speech on. "It's a delicate balance to reach. If anybody can do it, Ted Cruz can do it."
"I said to him you need to give a resounding speech at the convention," King said of his talks with Cruz. "There's no one who walks into the arena with more firepower than Ted Cruz."
"Ted Cruz was the only other person on the planet that qualified to be nominated at the convention," King said.
King said it is important that the upshot of Cruz's speech be about rallying around Trump, and supporting him to defeat Democratic presumptive nominee Hillary Clinton.
"This convention is about Donald Trump," King said.
At the same time, King said, the primetime spotlight arguably is a second chance at a command performance for Cruz to display his oratorical heft and intellectual acumen. In other words, it's another chance, his supporters and King say, for the 45-year-old to sound and act presidential, with eye toward running for the Oval Office again.
"I'm hopeful that…people will hear the speech, they will rise to their feet and they will think about Ronald Reagan in 1976," King said.
King was a vocal and persistent critic of Donald Trump, saying as recently as earlier this year that he had serious doubt about the mogul's commitment to conservative principles.
On Tuesday night, King softened his tone, saying that he felt more at ease with supporting Trump after his selection of Indiana Gov. Mike Pence, whom he praised as pro-life, against same-sex marriage and pro-Constitution.
"He gives great confidence to…Christian conservatives in this party," King said. "Mike Pence and I have fought the cultural battles" in Congress.
King said the country had been hurt by the Obama administration's divisive policies.
He cited the president's moves to help undocumented immigrants – a sore subject for King, one of Congress's most fervent hardliners.
"They're about bringing into America as many undocumented Democrats as possible," King said, adding that these immigrants would "vote to perpetuate the leftist agenda."
"America cannot continue to succeed as the unchallenged nation in the world if we're going to hand it over to people [immigrants] who don't understand our civilization or culture," King said. "Those who want to embrace Americanism, come on into this country and contribute to it, because we have a place for you."
As for Trump's controversial plans to build a wall, King smiled and said he'd even offer to help.
"Let's build a fence or wall," King said. "I want two no-man's lands on either side of the wall. I say to Donald Trump, go ahead and call on me, I've been in the construction business all of my life, we'll build that wall. You take care of making the beautiful part and making the Mexicans pay for it."
King said he will absolutely cast his vote for Trump.
But he's not yet endorsing him.
"I want to be in a place where I can look at conservatives and my district state and country in the eye and say we can work with the Trump administration," King said. "I'm not there yet."
"But I'm working in that direction."
Elizabeth Llorente is Senior Reporter for FoxNews.com, and can be reached at Elizabeth.Llorente@Foxnews.com. Follow her on Twitter @Liz_Llorente.