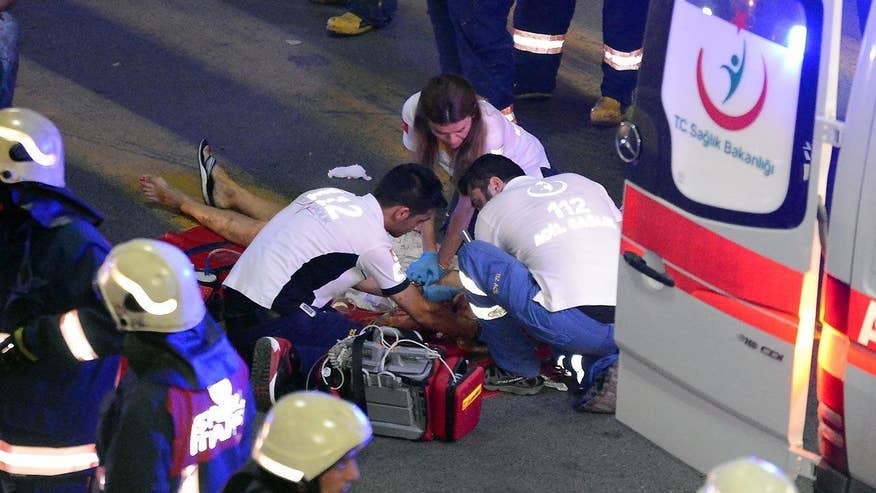 The U.S. Consulate is working to see whether any Americans were among the victims in Tuesday's attack at an Istanbul Airport, a State Department spokesman told Fox News.
The spokesman said the U.S. Consulate in Istanbul has urged Americans to avoid the area around the Istanbul Ataturk Airport. Americans are also urged to avoid any potential police action around the city and keep tabs on local media for updates about the situation.
Tuesday's attack at the airport left 42 people dead and 238 injured. Three Islamic State suicide bombers are suspected of committing the attacks. However, there was no immediate claim of responsibility from any group.
The State Department spokesman said the situation is still fluid and more information will be released when they have it.
Americans in Turkey are also urged to contact family members immediately.
Americans injured in the attack should contact local emergency personnel at 112 (ambulance) or 155 (police). U.S. citizens who are in need of emergency consular assistance should call the U.S. Consulate General Istanbul at (90) 212-335 90 00 or email at TurkeyEmergencyUSC@state.gov, the State Department spokesman said.
Anone calling from outside of Turkey about a loved one who is in Turkey and in need of some help are urged to contact the Office of Overseas Citizens Services by email at TurkeyEmergencyUSC@state.govor by phone at 1-888-407-4747 or 202-501-4444
"All Chief of Mission personnel have been accounted for. We are making every effort to account for the welfare of U.S. citizens in the city," the spokesman said.
Fox News' Lucas Tomlinson contributed to this report.