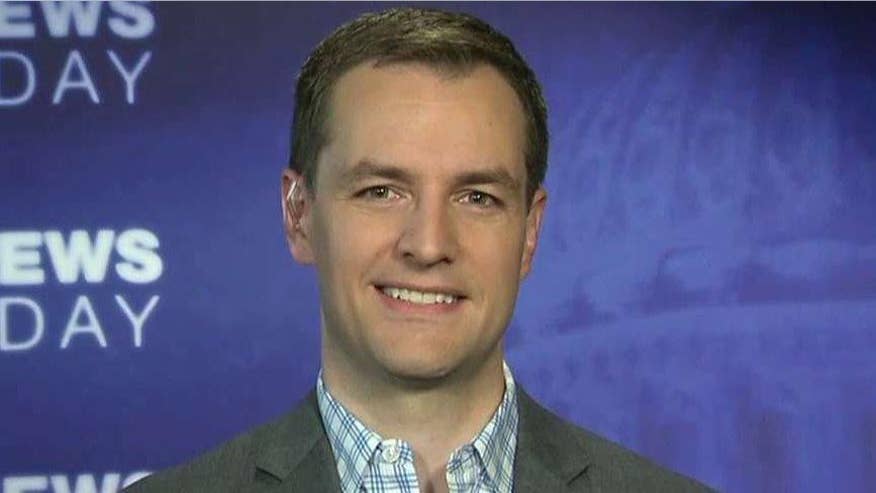 Hillary Clinton's campaign manager Robby Mook said Sunday that Britain's emotionally charged exit from the European Union signals the frustration voters feel over establishment politics, but maintains Clinton is the right presidential candidate to allay growing fears in the U.S.
Mook, in an exclusive interview on "Fox News Sunday," said Americans should value the stability and incremental change in politics that Clinton can bring over the risks likely to come from Donald Trump, the presumptive Republican presidential nominee.
"Voters here in the United States are incredibly frustrated," Mook said. "There aren't enough new jobs getting created; wages aren't rising, so people are very, very frustrated. And the next president is going to have to address that issue. And I think this -- the Brexit event -- is actually very instructive."
Mook said American voters should take stock of how both candidates have responded to the Brexit vote overseas.
"Hillary Clinton came out very quickly, obviously said that the voters had spoken," Mook said, adding that "we need to make sure that middle-class family savings -- hard-earned savings -- aren't affected by what happens.
"In complete contrast, Donald Trump went out, talked about his golf course, all the fancy plumbing at his resort, and said that he was actually glad that the British pound was plummeting because it would help his bottom line," Mook said.
When asked about several controversies circling around Clinton, including the email scandal and Benghazi, Mook maintained Clinton "has actually been the most transparent secretary of state in our history. She has released all of her emails. She has released her schedules. You know, I think the record speaks for itself here."
Mook also called out Trump for not releasing his taxes and says it has been a "given for decades that presidential candidates release their taxes. Donald Trump refuses to do that."
"Fox News Sunday" host Chris Wallace pressed Mook on releasing how much money Clinton made on paid speeches she gave at Goldman Sachs.
"Donald Trump has given dozens of paid speeches himself," Mook said. "Nobody is asking him to release them."