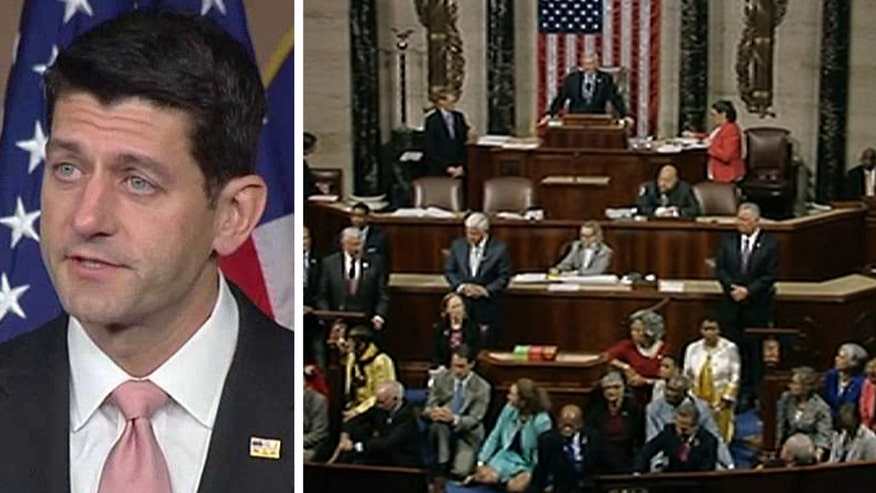 **Want FOX News Halftime Report in your inbox every day? Sign up here.**
On the roster: Chaos or order? - Power Play: In wake of Senate shakeup, Jolly preps for Crist battle - Brexit vote will bring auguries for Trump, Clinton - Audible: What's in a name? - Illegal passing

CHAOS OR ORDER?
Is America teetering at the brink of banana republic-dom or will the Founder's ancient system reassert itself to restore order?

Depending on your degree of pessimism, today brings signals either that the Founder's fall is accelerating or that republicanism shall be reasserted.

On the side of collapse: The House of Representatives turned into an all-night pizza party as Democrats physically obstructed legislative business to demand a vote on a gun control bill. It's the kind of conduct that, in modern times at least, we are only accustomed to seeing in foreign lands – the kinds of places where members of parliaments occasionally beat the borscht out of each other.

On the side of ships righting themselves: The Supreme Court upheld a lower court ruling blocking President Obama's granting of amnesty to millions of illegal immigrants. Obama's order was an intentionally provocative act meant to stretch the boundaries of presidential power and provoke a fight with Republicans. The judiciary branch gave him a time out.

Since before William Marbury was a magistrate, the idea of a judiciary that can constrain the power of a rapacious executive has been a bulwark of the American system. Federal judges have lifetime appointments for that very reason.

Those concerned about the fiery populism on display in American politics of all flavors these days take some comfort in the idea that these current tumults can be cooled by judges with respect for due process.

Buuuuuuuuuuuuuut…

The decision in Obama's immigration case is more of a non-decision. With the court one justice short, the four-four deadlock means that a lower court's ruling can stand. If the late Justice Antonin Scalia's replacement is a believer in expanded executive power, future decisions will give us even more kingly presidents. If Scalia's successor is a fan of a weaker presidency, the court will keep the next chief executive penned, at least to the current degree.

While this certainly casts in sharper relief the consequences of the presidential election and subsequent appointment, or, more likely, appointments to the high court it also gives us pause to consider the heath of the system overall.

No fair-minded person could doubt the sincerity of the Democrats who channeled their inner Abbie Hoffmans' to embarrass House Republicans Wednesday night. Democrats almost uniformly support restrictions on gun purchases and have since Hillary Clinton wore bell bottoms to class at Wellesley.

What is different this time is that gun control advocates declared invalid the protocols and procedure in the House of Representatives. There are hundreds of causes that could be deemed important enough to demand immediate action by the federal government, from cancer, to ISIS, to abortion. But those demonstrations have generally been for street corners and rallies, not the floor of the House.

But if people believe the system is broken – perhaps irreparably so – then why should we respect disrespectable conventions and institutions. If Washington is beyond broken what is the problem with breaking it a little bit more? Like the man said: "I'm out of order? This whole trial is out of order?"

When Donald Trump muses on the possibility of America intentionally defaulting on its debts the energy is the same. The whole "full faith and credit" jazz is insufficient to the time, so pitch it. When Bernie Sanders calls for the federal government to subsume the financial sector, the energy is the same. If bankers are basically crooks anyway, why not treat them that way?

And certainly when Trump's opponents visit violence upon his supporters, or those supporters commit violence of their own, this it is still the same: the failure of the system, an urgency of the moment, require and allow actions deemed unthinkable in most of modern history.

Which side do you think will win? The crusty, musty old bones of Mr. Madison's republic rising up to bring order or the fully-frothed ardor of those who believe the time for chaos has come?

If you're hanging your hopes at deadlocked decisions on the Supreme Court you might want to think again.

POWER PLAY: IN WAKE OF SENATE SHAKEUP, JOLLY PREPS FOR CRIST BATTLE
With Sen. Marco Rubio, R-Fla., deciding to seek reelection, Rep. David Jolly, R-Fla., dropped his bid for Rubio's seat and took up his own re-election campaign. Jolly, who represents a Democrat-leaning district that includes Tampa will likely face former Gov. Charlie Crist in what is expected to be a marquee House matchup in the crucial I-4 corridor of the largest swing state. He talks to Chris Stirewalt about the race and his proposal to restrict gun purchases for those on terror watch lists. WATCH HERE.

TIME OUT
Meet Thomas McDade. You may not know him, but if you have ever read a true crime story, you've probably benefitted from his work. Author Casey Cep tells us his story: "An inventory of more than two hundred years of homicide, the book is a literal whodunit, not a whytheydunit and barely a whattheydun. Pardon-seeking confessions, moralizing execution sermons, self-justifying stories crafted by law enforcement, tell-alls seeking pardons for the accused, salacious trial transcripts revised and revisited by printers across multiple editions: McDade read everything having to do with murder in America, and he made what remains one of the most comprehensive bibliographies in the field. More than a reading list, 'The Annals of Murder' is a remarkable look at America's long obsession with true crime: an eleven-hundred-and-twenty-six-round game of Clue, with a rotating roster of weapons and settings, murders and victims, verdicts and executions."

Flag on the play? - Email us at HALFTIMEREPORT@FOXNEWS.COM with your tips, comments or questions

SCOREBOARD
Average of national presidential polls: Clinton vs. Trump: Clinton +5.8 points
Generic congressional vote: Democrats +2.2

BREXIT VOTE WILL BRING AUGURIES FOR TRUMP, CLINTON
However Britons vote today on the referendum to depart the struggling European Union, the so-called "Brexit" decision will be seen as portentous for American politics and the clash between Donald Trump and Hillary Clinton.

There's a long history of parallelism between America's politics and those of her mother country – Margaret Thatcher and Ronald Reagan, Tony Blair and Bill Clinton, etc. – and the similarities today are quite strong.

The move for divorce from the Continent has been substantially stoked by the influx of Middle Eastern migrants from the unraveling of Syria and Iraq. While the debates have often centered on regulation, independence and other policy fights, national identity and the threat of Islamist terrorism have predominated.

Sound familiar? Trump talks much less these days about the threat of Mexican migrants and much more about the dangers of Islamism in America. A "Brexit" win would be considered a good omen for the de facto GOP nominee.

If Britain decides to remain in the EU, it will symbolize a commitment to internationalism and the world-order ideas of Hillary Clinton. By choosing to remain part of this united Western world and make decisions together, Britain would be favoring her platform of foreign policy.

As the votes continue to roll in today, keep up with Sky News for the latest tally of Britain's future and a preview of what may be in store for us here in the colonies.

But remember, just as predictable as the trans-Atlantic cross currents is the frothy over-interpretation of those correlations. When the results are in, which should be some time before midnight, Eastern Time, beware the hyperventilating commentator.

PLAY-BY-PLAY
Sanders incremental concession continues - USA Today

Group pushing for unbound delegates to the RNC starts ad campaign - The Hill

Old divides: Scowcroft for Clinton, Rumsfeld for Trump - Daily Beast

Trump's Scottish golf course losing millions - WaPo

Jeb Bush says he'd back Marco Rubio... if asked - Tampa Bay Times

Likely Rubio challenger padded resume - WashEx

Pro-choice groups ratchet up attacks on pro-life Sen. Pat Toomey in Pa. - The Hill

Clinton knocks trickle-down economics in policy speech against Trump - USA Today

Meet "Little Donny" Trump - WaPo

THE JUDGE'S RULING: RIGHTS, NOT FLIGHTS
Fox News Senior Judicial Analyst Judge Andrew Napolitano notes that the proposed "No Fly, No Buy" restrictions on gun purchases is all about government control: "If a government bureaucrat can put your name on a secret list on the bureaucrat's own whim or even using secret standards and, as a result, you have lost a fundamental liberty, then the feds have transformed a natural right into a governmental gift. If the feds can create a no-fly list in secret and 'no fly' comes to mean 'no buy,' then we have no rights but what the government will permit us to do." Read it all here.

AUDIBLE: WHAT'S IN A NAME?
"I'm not here to do general definitions." – Gene Sperling, economic adviser to Hillary Clinton, when asked on MSNBC to distinguish the difference between a socialist and a Democrat.
FROM THE BLEACHERS
"I think Trump will not have to depend on the 3 states that the 'establishment' has always advertised as crucial. One of my biggest disappointments with everything this year is Mitt Romney. So many of us regret that we supported him. I am glad to see Marco deciding to run for his senate seat. He has a future with the GOP – and the country." – Vira Doughton, Pennsylvania

"Where is the whimsy, where is the humor.....what did you do with Chris Stirewalt? There are plenty of outlets for 'just gimme the facts.'. I always looked forward to Chris's take on politics of the day. His insights were clever, funny and yet SPOT ON. Now it's just boring, fact blathering. This has been a most painful run up to the election. Brilliant humor made it less so. Bring back Chris Stirewalt." – Natalie Denton, Laguna Woods, Calif.

[Ed. note: If a fellow can't take a week off from time to time, he'll have no whimsy left in him! Thank you for the very kind words, though. I'll be at my post.]

"I heard Charles Krauthammer share Clinton's designed-to-inspire words on Fox yesterday that you included in Halftime Report. Was left speechless both times." – Ann Thiede, Marina, Calif.

[Share your color commentary – email us at halftimereport@foxnews.com – but we can only include if you include your name and home town.]

ILLEGAL PASSING
The Guardian: "A Swedish footballer has hit out after being sent off for breaking wind during a match – with the referee accusing him of 'deliberate provocation' and 'unsportsmanlike behaviour'. Adam Lindin Ljungkvist, who was playing at left-back in the match between Järna SK's reserve team and Pershagen SK, was shown a second yellow card late on in what local media called 'bizarre circumstances'. 'I had a bad stomach, so I simply let go,' the 25-year-old told Länstidningen Södertälje. 'Then I received two yellow cards and then red. Yes, I was shocked, it's the strangest thing I have ever experienced in football. I asked the referee, 'What, am I not allowed to break wind a little?' 'No,' he replied … I don't get it but maybe he thought I farted in my hand and threw the fart at him. But I did not.' Opposition striker Kristoffer Linde told the paper: "I was standing a good distance away but I heard the fart loud and clear. It's the strangest thing I've seen on a pitch, and I've been playing football since I was eight years old.'"

AND NOW, A WORD FROM CHARLES…
"I give [Sen. Marco Rubio] credit for both honesty about ambition, but also about principle. I think it's a combination of both." – Charles Krauthammer on "Special Report with Bret Baier."

Chris Stirewalt is digital politics editor for Fox News. Sally Persons contributed to this report. Want FOX News Halftime Report in your inbox every day? Sign up here.
Chris Stirewalt joined Fox News Channel (FNC) in July of 2010 and serves as politics editor based in Washington, D.C. Additionally, he authors the daily Fox News Halftime Report political news note and co-hosts the hit podcast, Perino & Stirewalt: I'll Tell You What. He also is the host of Power Play, a feature video series on FoxNews.com. Stirewalt makes frequent appearances on network programs, including America's Newsroom, Special Report with Bret Baier and Fox News Sunday with Chris Wallace. He also provides expert political analysis for FNC's coverage of state, congressional and presidential elections.