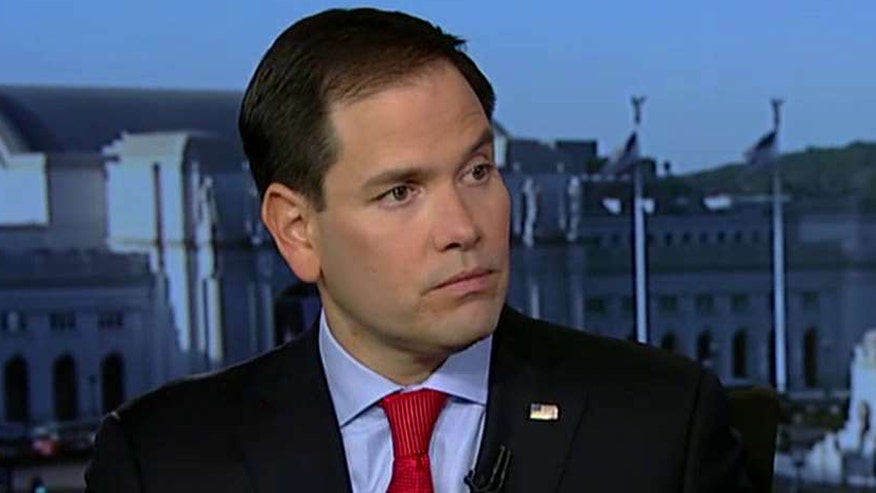 **Want FOX News Halftime Report in your inbox every day? Sign up here.**
On the roster: With Trump tethered, Rubio steps out - Trump hits back at Hillary - No ObamaCare abortion exemption for churches - Perino & Stirewalt: Veeps, peeps and Alf? Oh my - What's worse than having Barney stuck in your head?
WITH TRUMP TETHERED, RUBIO STEPS OUT
Today marks what might be a turning point for the GOP in the 2016 election.

Sen. Marco Rubio, R-Fla., announced his decision to seek a second term despite avowals not to. Just an hour or so later, de facto GOP nominee Donald Trump delivered the kind of TelePromptered speech he used to mock other candidates for giving.

Can the mutual interests of a party so deeply divided draw together Republicans around the common cause of victory in November?

Well, maybe…
Trump's anemic fundraising report for May shows why he is susceptible to the demands from Senate Majority Leader Mitch McConnell and other party grandees to become a more mainstream, canned candidate.

While Trump may not need as much money as Clinton to get his message out, the nullity that was his fundraising in his first month of general election campaigning is not even close to competitive. And the news today is that things are getting worse, not better.

The donors and handlers at whom Trump once scoffed are seeing their leverage improve. Bye, bye Corey Lewandowski, hello Paul Manafort.

Trump continues to threaten to go it alone and fund his own campaign, but his speech today belies the notion that he is going to escape from his new enclosure anytime soon. His willingness to behave in a conventional manner is in direct correlation to the willingness of the fellow members of his adoptive party to stick their own necks out.
But only up to a point.

The Quinnipiac University poll out today shows Rubio as far and away the best bet for Republicans to hold onto his seat this fall. Even as Trump was getting clobbered by Democratic counterpart Hillary Clinton in the poll, Rubio handily beat both potential Democratic nominees.
Rubio outperformed Trump by 7 or 8 points with general election voters, more than enough to carry him clear of any eddies that would follow if Trump capsizes in such a manner as the polls shows.
And while Rubio has eaten plenty of crow in endorsing a man for president whom he called a "con man" and an "erratic individual" who mustn't have access to nuclear weapons, the Floridian has also been careful to not dive headfirst into the Trump lagoon.
In his interview today with Chris Wallace, in which Rubio announced his decision, the senator continued to stay on the shoreline: "I think whether it's Hillary Clinton or Donald Trump, no matter who the next president is, we're going to need senators to encourage them to make the right decisions."
Translation: Conservatives have hard battles ahead, whoever wins.
That's the same message you see in the Q Poll for Pennsylvania Sen. Pat Toomey, who is stomping the scrapple out of his Democratic challenger, Katie McGinty. Toomey, who hasn't endorsed Trump and has repeatedly and pointedly differed from his party's soon-to-be nominee, is also running ahead of Trump by 8 points.
So while Trump has famously told his fellow Republicans to "be quiet" and let him do the talking for the party this cycle, we see a different trend emerging today. It is Trump who is toned down and resistant Republicans like Rubio making waves.
And surely this is the arrangement that would best for the party as a whole this cycle: a toned down, scripted Trump hammering away at Clinton while dissident members are left alone to chart their own paths in challenging swing states.
But if Republicans think that Trump will be corralled so simply, they are as foolish as they were when his ascendency began.
Think back to Trump's experience when his creditors put the clamp down on him as his casinos were foundering. Trump was furious at the penny-ante constraints placed on his spending. He was deep in the hole, though, and had to oblige.

But when he could get out from under their thumbs, Trump ran riot.

His campaign coffers flat busted, Trump is in a similar situation again with the GOP money men. But when he has either got them so deeply invested that they can't back out or that it's simply too close to the election, the tables will surely turn.
[Watch Fox: The full interview with Sen. Marco Rubio, R-Fla., airs tonight on "Special Report with Bret Baier" at 6 p.m. ET]
TIME OUT
The Verge: "A weight-loss device approved by the FDA last week has some doctors up in arms, with one even attempting to put together 4,000 physicians to sue the agency. That's because they say the device, which lets patients pump some of the food they've just eaten directly from their stomachs into the toilet, isn't safe and may lead to eating disorders… A person with AspireAssist has a tube surgically implanted through the abdomen into the stomach…After a meal, the patient waits 20 to 30 minutes before connecting the pump to the valve; the food is drained and dumped into the toilet. The process takes about 10 minutes and the device can remove up to 30 percent of the calories consumed with a meal, according to Kathy Crothall, president and CEO of Aspire Bariatrics, which makes the device and is based in King of Prussia, Pennsylvania."

Flag on the play? - Email us at HALFTIMEREPORT@FOXNEWS.COM with your tips, comments or questions

SCOREBOARD
Average of national presidential polls: Clinton vs. Trump: Clinton +5.8 points
Generic congressional vote: Democrats +2.2

TRUMP HITS BACK AT HILLARY
Bloomberg: "Donald Trump tied presidential rival Hillary Clinton to the 'rigged economy' in a speech on Wednesday in Manhattan, appealing to supporters of her remaining Democratic rival Bernie Sanders. 'I will end the special interest monopoly in Washington D.C.,' Trump said at Trump SoHo. 'The other candidate in this race has spent her entire life making money for special interests.' The presumptive Republican presidential nominee's speech quickly moved from railing against the establishment—a pillar of his outsider run for president—to railing against Clinton's record in public service. 'Hillary Clinton has perfected the politics of personal profit and even theft," he said. 'She ran the State Department like a personal hedge fund.' He also said NAFTA, which Clinton supported, was 'disastrous, totally disastrous.' Before Trump even delivered the speech, Clinton's campaign on Wednesday morning sought to rebut it, sending what it described as fact-checks to a series of allegations about Clinton's fundraising and her family's foundation."
NO OBAMACARE ABORTION EXEMPTION FOR CHURCHES
The Hill: "The Obama administration on Tuesday rejected a complaint from religious groups in California that had argued the state was violating federal law by requiring all health insurance plans to cover abortions. The Office of Civil Rights within the federal Department of Health and Human Services wrote in a letter that California's requirements do not violate the federal Weldon Amendment…At issue is a California state agency's ruling in 2014 that all health insurance plans in the state had to cover abortions…[Churches] say that California's ruling violates the federal Weldon Amendment, which protects a 'healthcare entity,' including a health insurance plan, from discrimination if it declines to cover abortions. The Obama administration, however, ruled on Tuesday that California's actions do not violate the Weldon Amendment."
PERINO & STIREWALT: VEEPS, PEEPS AND ALF? OH MY
In their still-unnamed but surprisingly acclaimed podcast, mindful messaging maestra Dana Perino and simple country pundit Chris Stirewalt cover a panoply of political topics after a tumultuous week for both parties' presumptive nominees. LISTEN AND SUBSCRIBE HERE.

[Power Play: Security Shift -Are voters' perceptions of the candidates on terrorism shifting after the Orlando attacks? Chris Stirewalt explains it all in just 60 seconds. WATCH HERE.]

PLAY-BY-PLAY
Lewandowski attends Trump fundraiser post-firing - Daily Beast

Poll: Voters want Trump VP to have military experience - CNN
Trump's children show their influence, makes Republicans nervous - WSJ
Clinton to inherit Obama's fundraising list - WashEx

Kaine's deviation from Dem hardline on abortion could be trouble - The Hill

Shuttered prison being prepared for Democratic convention - AP
Walker says delegates should be able to vote the way they see fit - Weekly Standard

Falwell facing controversy for posing with Trump in front of Playboy cover - The Hill

After meeting, Trump struggles to close the deal with evangelicals - NRO
AUDIBLE: HE HEARD THERE WERE SANDWICHES
"Wrong room. Thank you." – Sen. Bernie Sanders, I-Vt., hurriedly leaving a Republican Senate luncheon into which the Democratic presidential runner up and his large retinue of Secret Service agents had mistakenly stumbled on Tuesday.
FROM THE BLEACHERS
"I have had good success describing the current presidential election as a contest between the queen of filth and the king of slime. I have as yet found no one who disagrees with me." – Alan Utter, Los Angeles, Calif.
"Delegates on the Convention Rules Committee can change the rules in order to dump Trump by using the rules laid down by the Party--rules Mr. Trump ignores, preferring to make up his own. I'm 80, a right-of-center independent, and have always voted conservative. I--in effect--left the Republican Party by deciding not to vote Republican when Trump became the presumptive nominee. Millions of other voters have made the same decision, as will millions more. As for all those Primary votes for Trump: how many might have been cast by Democrats who just happened to wander into an open Republican Primary?" – Jack Lawhorn, Hollins, Va.
"Way to go Chris-!!!!!, I so enjoy your old program and also the new Halftime report. Love it when you 'sign off' with 'You bet'- - -You lucky devil, getting to work with and be around all those super gals @ Fox News-- I am on a 'first name basis' with all the gals, my dying wish is to be setting in my wheel chair and throw kisses to them as they report for work. I'm 88 years old and have been a Republican ever since -- Donald Trump is saying what I've been thinking forever…" – Don Mapes, Sedro-Woolley, Wash.
[Share your color commentary -- email us at halftimereport@foxnews.com -- please make sure to include your name and home town.]

WHAT'S WORSE THAN HAVING BARNEY STUCK IN YOUR HEAD?
AL.com: "A 15-year-old girl trapped for a harrowing 45 minutes was rescued by Trussville [Ala.] firefighters. But Darby Risner wasn't stuck in a cave or overturned car or crib. She was stuck in the head of Barney the dinosaur. The big, plush, purple head of Barney the dinosaur. … "She put the Barney head on and when she sat down on the sofa to wait [to surprise her friends], it dropped. It slipped over her shoulders. When they finally came down, she got up and realized it had dropped so low, she couldn't get it off. It was digging into her.' Her four friends and the parents of one of the friends then tried to get Darby out of the head. It wouldn't budge. They slathered Vaseline on her arms, but it still was a no-go. … The firefighters also tried to pull off the head, but their efforts were to no avail. … [Mother Audrey Shannon] said. 'And with the Vaseline on her arms, they said it was like trying to wrestle a greased pig.'"
AND NOW A WORD FROM CHARLES…
"This is a line from [Hillary Clinton's speech Tuesday]. 'I believe in an America always moving forward toward the future.' Now every creature on earth from the crustacean to the President of the United States of America is moving forward toward the future. There is nowhere else to move. This is about the emptiest phrase of a presidential candidate can offer. And it's the essence of her campaign." – Charles Krauthammer on "Special Report with Bret Baier."
Chris Stirewalt is digital politics editor for Fox News. Sally Persons contributed to this report. Want FOX News Halftime Report in your inbox every day? Sign up here.
Chris Stirewalt joined Fox News Channel (FNC) in July of 2010 and serves as politics editor based in Washington, D.C. Additionally, he authors the daily Fox News Halftime Report political news note and co-hosts the hit podcast, Perino & Stirewalt: I'll Tell You What. He also is the host of Power Play, a feature video series on FoxNews.com. Stirewalt makes frequent appearances on network programs, including America's Newsroom, Special Report with Bret Baier and Fox News Sunday with Chris Wallace. He also provides expert political analysis for FNC's coverage of state, congressional and presidential elections.