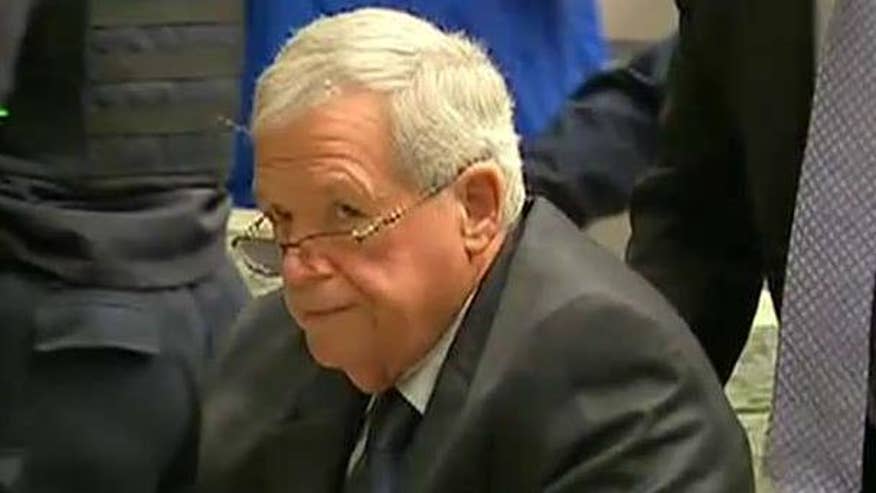 Practically nobody knew who Denny Hastert was on the morning of December 19, 1998.

It didn't seem like Christmas-time in Washington that day. Low clouds crowded the sky as temperatures wavered in the 40s. And everyone was miserable.
The House met in a rare, Saturday session to vote on Articles of Impeachment leveled against President Clinton linked to his liaisons with Monica Lewinsky.
The foul mood permeated the Capitol because lawmakers wanted to be back in their districts. People were missing festive parties, found themselves running behind on Christmas shopping and just didn't want to work on a Saturday so close to the holidays. To top it off, Clinton ordered airstrikes against Iraq after Baghdad repeatedly violated U.S.-patrolled no-fly zones imposed after the first Gulf War.
It was hard to keep up.
And then there was Livingston. Bob Livingston.
Republicans showed then-House Speaker Newt Gingrich, R-Ga., the door after the party nearly lost the chamber in that year's midterm election.
Gingrich's tactics exasperated rank-and-file Republicans who thought the party overplayed its hand on impeachment. The GOP tapped then-Rep. Bob Livingston, R-La., as its speaker-in-waiting for the new Congress convening in January.
But word broke that weekend that Livingston also engaged in an affair.
As if there wasn't enough going on that Saturday….
Nobody had heard of Denny Hastert that morning. But they sure had by nightfall.
Hastert was the House GOP's chief deputy whip.
That's an obscure leadership position in the vote-counting operation.
Hastert was a former high school wrestling coach and teacher. State legislator. A backbencher congressman with virtually no public profile outside his congressional district. And on that frenzied Saturday, in Washington, House Republicans rushed to fill the speaker void created by Gingrich and Livingston.
The bombs pelted Baghdad. The House impeached the president on two articles and rejected two others. Everyone marveled at Livingston's spectacular incineration and Hastert's meteoric climb.
But Denny Hastert? Who was he?
That interrogative commanded the news headlines for days. There were profiles on Hastert. Interviews with friends. Testimonials. Everyone tried to learn a little more about the man whom nobody knew. By a twist of fate, Hastert would succeed the now-toxic Gingrich in the speaker's suite.
Denny Hastert was two heartbeats from the presidency.
Journalists often characterized him as an "accidental" speaker.
Congressional Republicans affectionately referred to the beefy, avuncular figure as "Coach."
In time, we learned Hastert was quiet, soft-spoken. He rarely sat for interviews or chatted with reporters in the hallway. The speaker was sometimes invisible, infrequently spotted lumbering out of his office except en route to the House floor.
Instead, then-House Majority Leader Tom DeLay, R-Texas, scored the headlines. The cantankerous Texan constantly tangled with the press, Democrat and sometimes members of his own party.
Few really knew Hastert. Even fewer did outside the Beltway. Most Americans probably only saw Hastert when he sat perched on the dais behind Presidents Clinton and Bush as they presented their annual State of the Union speeches every winter.
But seeing someone is a far cry from knowing someone.
--
In 2006, there were mid-term elections. Republicans quickly distanced themselves from then-President George W. Bush and the unpopular war in Iraq. A month before the election, news broke that then-Rep. Mark Foley, R-Fla., sent inappropriate text messages to teenage House pages.
Foley abruptly resigned.
Hastert flailed in managing the crisis.
House Republicans wondered why "Coach" stumbled in his efforts to control the matter, especially considering his background working with teens.
The Foley scandal sealed the deal for Republicans. Democrats won control of the House for the first time in 12 years that November.
Hastert stepped aside from leadership. He remained in the House for a few months before resigning his seat.
Over the years, Hastert occasionally surfaced at the Capitol for business. He materialized on the floor of the Republican convention in Tampa four years ago. Otherwise, Hastert was invisible.
But the cloudy picture about who he was cleared up over the past year.
A complicated criminal indictment about violating federal banking rules simultaneously surprised and confused Washington. Prosecutors peppered the indictment with cryptic language about "past misconduct." In fact, the indictment's first sentence curiously illuminated part of who Hastert was:
"From approximately 1965 to 1981, defendant JOHN DENNIS HASTERT was a high school teacher and coach in Yorkville, Illinois."
It all went back to Yorkville. Tidbits of information and innuendo dribbled out about Hastert for months.
And then Hastert appeared for his sentencing for illegally structuring bank transactions. Federal Judge Thomas Durkin made it clear who Denny Hastert was.
"The defendant is a serial child molester," Durkin said. "Nothing is more stunning than having 'serial child molester' and 'Speaker of the House' in the same sentence."
Witnesses pried open a very dark window into Hastert's past in court. They relayed sordid tales about high school locker rooms, shower stalls, training table massages and out-of-state wrestling trips.
When pressed by Durkin, Hastert admitted to the court that he sexually abused high school wrestlers more than 40 years ago.
--
Today, few traces linger in the Capitol suggesting that the quiet, enigmatic Hastert ever served as speaker. Significant turnover in the House means many members now in office never served with Hastert, let alone knew him.
Lawmakers are most familiar with Hastert via the so-called "Hastert rule."
That's a principle Hastert tried to adhere to as speaker. It required a "majority of the majority" to support legislation before the leadership tried to advance the measure in the House. People still chatter about the Hastert rule -- but now embarrassingly catch themselves when uttering the ignominious phrase.
The Hastert issue churned just as House Speaker Paul Ryan, R-Wis., won the speaker's gavel last fall. Just days into the job, Ryan ordered Hastert's portrait removed from the Speaker's Lobby, the long, ornate corridor that runs behind the rostrum in the House chamber.
The Hastert portrait is now mothballed among other House art and effects. The House hung a portrait of the late Speaker Frederick Gillett, R-Mass., in Hastert's place.
Hastert is practically a phantasm now in the Capitol.
In the beginning, few people knew much at all about J. Dennis Hastert. It took a while. And now we finally know who Denny Hastert is.