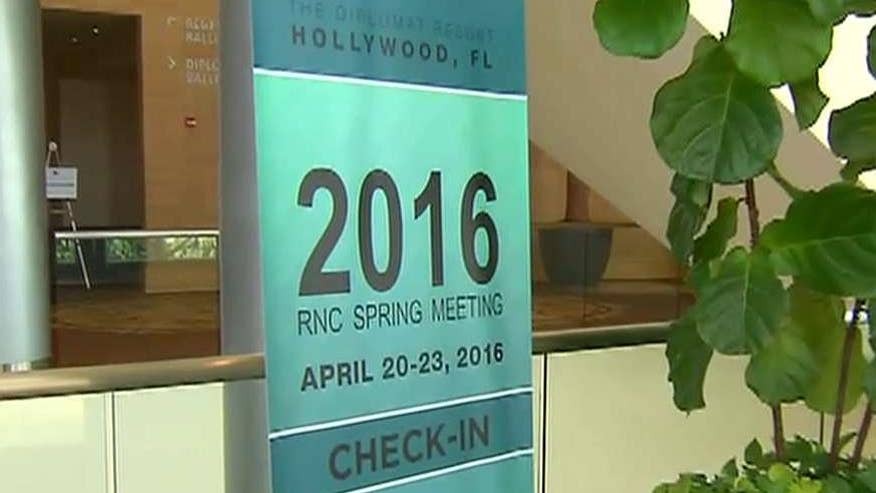 BEACH BRAWL FOR THE RNC?
HOLLYWOOD, FLA – When the members of the Republican National Committee contemplated their spring meeting at the seaside not only did they not expect to be swarmed by reporters, candidates, and their campaigns, they probably didn't expect there to be much of anything expect for networking and sunset cruises.

Instead they find themselves in the first battle of what promises to be a long war over how their convention will pick the party's 41st presidential nominee.

As one committee member put it to Fox News First, "This is like a hurricane."

The overriding purpose and concern of this committee is to stage a nominating convention every four years, especially in the era of super PACs and outside money, the fundamental job of the RNC is to stage a quadrennial convention.
As disconcerting as it is for these members to face challenging odds in the general election, a more pressing and practical concern for these individuals is having a disastrous convention in Cleveland in July.

The way it is supposed to go, and has gone for forty years, is more akin to a big event like the Academy Awards than a matter of actual political consequence. But Republican frontrunner Donald Trump and his many new Washington-based consultants and lawyers are explicitly warning that this institution could fail spectacularly. In this in ominous warning, if Trump is not the nominee, the convention would still be a branding exercise alright, but it would just be branding the Republican Party as an undemocratic, incompetent, disaster.

As one state party chairman put it, "If Trump comes up short, are we basically opening our wrists and bleeding out?"
There is certainly a path for Trump to clinch outright and win the 1,237 delegates he needs. Ask Larry Sabato at the University of Virginia, or ask Nate Cohn at the NYT, but the greatest likelihood is that even if Trump trumps in the northeast on Tuesday and figures out how to play the delegate game in Pennsylvania's complex system, he will still need the Republican equivalent of superdelegates to take the nomination. These are the 7 percent or more of delegates who will arrive in Cleveland not bound to any candidate.

The most likely scenario is that Trump shows up just short and will rely on party stalwarts to give him the nomination to avoid the violence, division and upheaval that Trump and his team have warned of. It's a credible threat.

That's not the only thing on offer from Team Trump. If his party will simply meet his demands there are rewards. In closed door meetings here, there is the promise of not just a Trump who plays the party game and hires the consultant class that so dominates the GOP apparatus, but also that Trump himself will change. They point to his mostly good conduct in the past three weeks. Yes, the insults were back on the campaign trail in Indiana on Wednesday, but so to was a respectful visit to the state's Republican Gov. Mike Pence, and more moderate postures on issues.

The new-look Trump includes not just an effort to beef up his policy proposals, but also a more moderate side including transgender acceptance. Like, really moderate.
That's not to say that there aren't many who relish the idea of a contested and maybe even chaotic convention. The many supporters of Sen. Ted Cruz, R-Texas, as well as those still clinging to the idea of a political messiah who will be revealed at the convention came here in the belief that most of the party apparatus still favored blocking Trump.

One diehard Cruz supporter put it this way: "I still refuse to believe that the Republican Party will allow itself to be hijacked by a charlatan who attacks our party and our system every day."

Despite Trump's public menace and private persuasion there are many hold outs.
But how many?

The first ground on which that question will be tested surrounds an arcane and probably only symbolic procedural issue placed before the committee. Solomon Yue, a committee member from Washington state, wants the RNC's rules committee to recommend that the convention adopt different rules for how the process works. As it stands, the convention will be operated under the same rules that the House of Representatives does. That means no filibusters, no funny business, and nearly absolute power for whomever wields the gavel. And just as it is in the House that person is Speaker Paul Ryan. What Yue and a sizable number of committee members want is to use the same kind of procedure that state parties, subcommittees of the RNC, and your local rotary club follow: Decentralized power with many opportunities for delegates to block the process.

Yue hasn't stated a public preference for any candidate, but he has said that he is concerned about the party leaders, including Ryan, railroading dissident delegates. At first it was assumed that the issue here would be whether an establishment switch-a-roo would deprive Trump of the nomination in favor of a more electable candidate.

But as the new, consultant-backed Trump campaign hoves into view like a party boat pulling up at the dock, the debate has shifted on the question of the rules. Now, it seems that it is the Cruz delegation that has the most to lose under a heavy speaker's gavel. Not only could Cruz be thrown over for a moderate establishmentarian, but might also face the possibility of an establishment yielding to Trump, and slamming the door on the first ballot without Cruz ever getting to stage a floor fight.

Picture the moment: Trump arrives in Cleveland just a couple of dozen delegates short of the prize, but many of the delegates and their preferences are in dispute. Cruz's team would hope to be able to disqualify some delegates or even unbind some that don't have autonomy on the first ballot. A powerful parliamentary officer can shut down procedural tactics, calls for further debate, or the re-visitation of credentials or rules. Ryan could hammer closed the selection process on round one, and send furious Cruz backers out to the Cuyahoga night.

The rules committee vote that will be held later today will not be binding on the convention and will not have anything to do with the allocation of precious delegates. But what it will be is the first, best indication we have about whether the RNC is ready to take up occupancy in Trump Tower.
Cruz camp makes general election argument to GOP elite - Time: "In a private meeting with members of the Republican National Committee, the Cruz campaign's high command, including campaign manager Jeff Roe, strategist David Polyansky, and delegate-hunters Ken Cuccinelli and Saul Anuzis, made the case for Cruz as the party's stronger choice for the general election and argued he'd help down-ballot GOP races."
[GOP delegate count: Trump 845; Cruz 559; Kasich 147 (1,237 needed to win)]

WITH YOUR SECOND CUP OF COFFEE…
Science Daily: "A new study, by researchers from the University of Cambridge and the Zoological Society of London, shows how baboons monitor each other for changes in behaviour that indicate food has been found, such as hunching over to scoop it up. This 'socially learned' information gets transmitted through proximity: those with more neighbours are more likely to spot when someone starts feeding. Once they do, baboons will head towards the food…When it comes to applying and exploiting social knowledge, however, the characteristics of individual baboons -- whether its sex, status, boldness, or social ties in grooming networks -- determine who gets to eat, or where they are in any queue that forms."
Got a TIP from the RIGHT or the LEFT? Email FoxNewsFirst@FOXNEWS.COM

POLL CHECK
Real Clear Politics Averages
National GOP nomination: Trump 40.4 percent; Cruz 30.6 percent; Kasich 21.8 percent
National Dem nomination: Clinton 47.7 percent; Sanders 46.3 percent
General Election: Clinton vs. Trump: Clinton +9.3 points
Generic Congressional Vote: Democrats +1
CAMPAIGN CASH CONTINUES TO FLOW FOR HILLARY
WSJ: "A super PAC backing Mrs. Clinton, Priorities USA Action, raised $11.7 million last month—more than double its February haul—and had $44.6 million left to spend at the end of March, according to its FEC filing. The group has conserved much of its funds for the likely general-election fight against the Republican Party. The PAC's haul will supplement strong fundraising by Mrs. Clinton's campaign, which ended March with $29 million in the bank. Mrs. Clinton had been outraised in March by rival Bernie Sanders—bringing in $29.3 million to the Vermont senator's $46 million—but spent her funds at a slower rate. Mr. Sanders churned through his cash in March, spending as much as he raised, and ended the month with $17 million in the bank. Campaigns and super PACs were required to disclose their March fundraising to the FEC by midnight on Wednesday."

Hillary the Hawk - NYT Magazine goes in depth on the origins of Clinton's foreign policy background, and how she became more Hawkish than many in her party, including her former boss President Barack Obama.
Bernie advisor claims there's still - The Hill: "A top aide to Sen. Bernie Sanders (I-Vt.) says that he can win the Democratic presidential nomination before the party's convention. 'I think we can win the nomination before the convention,' senior adviser Tad Devine said on MSNBC's 'The Rachel Maddow Show.' 'It's going to be a difficult task; I think we can get there,' he said. 'We think we can win more states. We think we can win more delegates. We think we can prove to Democratic leadership that he is the best possible candidate for a general election.'"

THE JUDGE'S RULING: IMMIGRATION TAKEN UP BY THE COURT
This week, the Supreme Court heard oral arguments on President Obama's executive orders banning various agencies from deporting illegal immigrants. Fox News' Senior Judicial Analyst Judge Andrew Napolitano says that the court's discussion of wording to preserve the president's actions is uncalled for: "In a weird series of questions, Chief Justice John Roberts Jr. asked whether the president's executive orders could be salvaged constitutionally by excising or changing a few words. This was improper because it treated an executive order as if it were a statute. It is not the job of the court to find ways to salvage executive orders as it is to salvage statutes, because the Constitution has given 'all legislative Powers' to Congress and none to the president."

[Dem delegate count: Clinton 1893; Sanders 1180 (2,383 needed to win)]

WAIT TIL THEY FIND OUT ABOUT THE KETCHUP PACKETS
FOX 11: "A McDonald's customer in Arkansas accused of emptying his cup of water and filling it with soda now faces a robbery charge, police said Tuesday. The restaurant manager said the suspect was one of three people who asked for water at the drive-thru window in Springdale. The customers parked and walked into the store before dumping out the water and pouring soda into the cup, KHBS/KHOG-TV reports. The manager spotted the three and told them to return the soda. Only 18-year-old Cody Morris refused, police say. The manager even ran out and tried to block Morris' car from leaving, but the suspect reportedly drove his vehicle in reverse and hit the worker twice before speeding away. Police arrested the driver after they said they found his car at a nearby bowling alley. It's unclear whether he'll face any additional charges aside from felony robbery."
Chris Stirewalt is digital politics editor for Fox News. Sally Persons contributed to this report. Want FOX News First in your inbox every day? Sign up here.
Chris Stirewalt joined Fox News Channel (FNC) in July of 2010 and serves as politics editor based in Washington, D.C. Additionally, he authors the daily Fox News Halftime Report political news note and co-hosts the hit podcast, Perino & Stirewalt: I'll Tell You What. He also is the host of Power Play, a feature video series on FoxNews.com. Stirewalt makes frequent appearances on network programs, including America's Newsroom, Special Report with Bret Baier and Fox News Sunday with Chris Wallace. He also provides expert political analysis for FNC's coverage of state, congressional and presidential elections.