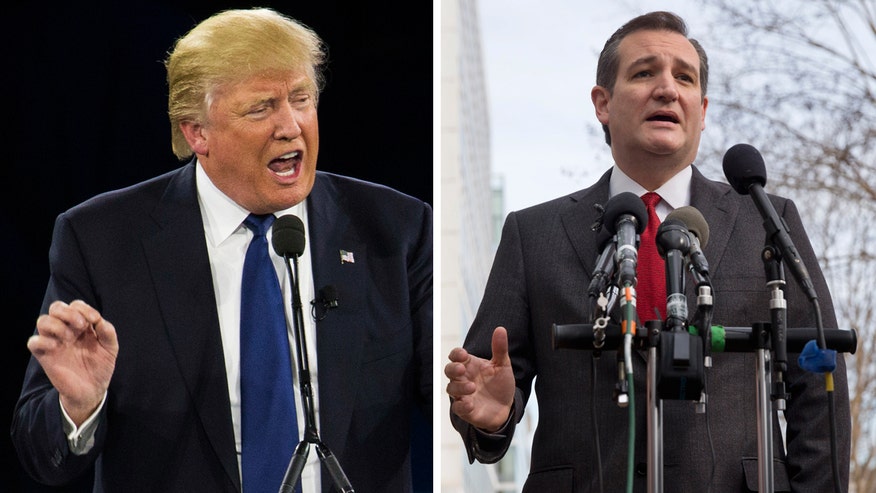 **Want FOX News First in your inbox every day? Sign up here.**
Buzz Cut:
• Can the GOP still win in the fall?
• Walker hints at coming Cruz endorsement
• Kasich digs in his heels
• Hillary decks Trump on national security
• Watching it should have been enough punishment

CAN THE GOP STILL WIN IN THE FALL?
As the two parties move closer to picking their nominees, voters have been paying a lot of attention to the Republican primaries. And that seems to be very bad news for the GOP.
A month ago, now-presumptive Republican nominee Donald Trump trailed his Democratic counterpart, Hillary Clinton, by an average of 2.8 points in the Real Clear Politics average. Today, he trails her by an average of 11.4 points.
To put that in perspective, that's worse than Jimmy Carter's margin of defeat in 1980.
The latest Fox News poll – buttressed by a survey from Bloomberg – shows how damaging the past weeks of the ghastly GOP race have been to the likeliest Republican standard bearer. Trump trailed in the Fox News poll by 5 points last month. Now it's 11 points.
The revealing part is that Trump's areas of strength in the GOP primaries aren't translating to the general electorate. Trump not surprisingly loses among women by 14 points, but unlike typical Republicans, Trump only runs even with Clinton among men. Republican Mitt Romney, for example, won men by 7 points in 2012.
Despite the ardency of his army of primary supporters, Trump does worse than his remaining credible rival, Sen. Ted Cruz, in the general electorate among white voters, black voters, voters without college degrees, independents and even crossover Democrats.
We always take hypothetical poll questions with considerable salt. Asking voters to imagine races tends to produce foggy results. But we're getting to the point now where no imagining is necessary. And the fact that at that very moment, the GOP candidate goes into freefall is not a good sign for the party.
But given Trump's gift for appealing to poor and lower-middle-class white voters and rattling his electoral rivals, that could all change. It's still 229 days until Election Day, after all and some Republican holdouts today would be expected to suck it up and back their party's nominee. WaPo's Chris Cillizza laid out the scenario in which Trump scrambles the general election map and pulls off a stunning upset.
There are two problems with this idea. First, there should already be some evidence of this phenomenon. Look at polling in Pennsylvania, New York and Wisconsin, home to lots of blue collar white voters. Trump consistently fares worse than other Republicans. As the primaries have shown, polls have pretty accurately reflected Trump's share of the vote. His supporters don't mind telling pollsters, so it's not like they are hiding their lights under a bushel when the survey calls come in.
The second problem is that just as Trump's unconventionality as a Republican allows him to pursue traditionally Democratic states, it also would allow Clinton to raid traditionally red turf.
Think of it this way: Trump might be able to put Massachusetts in play, but he could also put Utah in the toss-up category. Same for Georgia, Indiana, North Carolina and Missouri.
In the two-week pause between primaries, Trump's general election viability will matter a great deal for the Republican voters pondering whether to push him over the top or to roll the dice on an open convention by backing Cruz.
The best argument Trump has for the skeptical members of his party is that he can win a general election – essentially that its worth accepting a candidate who flouts the beliefs and traditions of the GOP itself to have a chance this fall.
If Republicans come to believe that the general election is unwinnable anyway, it might put some more starch in the effort to block Trump.
[In his column, Karl Rove gives historical insight into contested conventions.]
Walker hints at coming Cruz endorsement - WaPo: "Gov. Scott Walker (R-Wis.), who has largely disappeared from national politics since the end of his presidential bid, said in a new radio interview that he will likely endorse … Sen. Ted Cruz (R-Tex.) before Wisconsin's April 5 primary. … 'You've pointed out that if you're someone who's uneasy with the front-runner, right now there's only one candidate — I think if you're just looking at the numbers objectively — Ted Cruz,' Walker told [a local radio host]. 'Senator Cruz is the only one who's got a chance, other than Donald Trump, to win the nomination. My friend Governor Kasich cannot.'"
[The Crystal Ball team at the UVA Center for Politics gives their predictions on the rest of the GOP primary calendar. You'll want to keep this one in your bookmarks.]
Kasich digs in his heels - NYT: "Republicans desperate to stop Donald J. Trump from capturing the presidential nomination increased the pressure Wednesday on Gov. John Kasich of Ohio to quit the race, with Jeb Bush joining the growing number of party figures throwing their weight behind Senator Ted Cruz. Mr. Kasich refused, saying that he, not the Texas senator, was the best option to stop Mr. Trump. But his argument was undercut by his dismal showings Tuesday in Utah and Arizona, where he won no delegates — as well as by the surprise endorsement Wednesday morning by Mr. Bush of Mr. Cruz."
But he may have a friend in Pennsylvania - In a new Franklin and Marshall College poll in Pennsylvania, John Kasich experienced a big bump coming in at 30 percent, doubling his support from last month, which sat at 15 percent. Kasich is now just 3 points shy of frontrunner Donald Trump, who has led in the state since October.
[GOP delegate count: Trump 739; Cruz 465; Kasich 143 (1,237 needed to win)]
WITH YOUR SECOND CUP OF COFFEE…
Baseball legend Joe Garagiola died Wednesday at the age of 90 after spending a lifetime around the game he loved. Garagiola was one of the "boys from the Hill," the Italian neighborhood in St. Louis where he and fellow baseball icon Yogi Berra grew up together. A few years back, the NYT went to the neighborhood in one of America's greatest baseball town: "In fact, much of The Hill's orderly working-class streets, homes and shops remain intact, not all that much changed from an era when sons of Italian immigrants became Americanized, often through sports. Elizabeth Avenue has been renamed Hall of Fame Place, and sidewalk plaques mark the homes of Berra and Garagiola, and the legendary Cardinals announcer Jack Buck, who bought a house down the block at the corner of Elizabeth and Macklind when he was broadcasting Cardinals games.
Got a TIP from the RIGHT or the LEFT? Email FoxNewsFirst@FOXNEWS.COM
POLL CHECK
Real Clear Politics Averages
National GOP nomination: Trump 43 percent; Cruz 30.3 percent; Kasich 19.1 percent
National Dem nomination: Clinton 51.5 percent; Sanders 42.5 percent
General Election: Clinton vs. Trump: Clinton +11.4 points
Generic Congressional Vote: Democrats +1
HILLARY DECKS TRUMP ON NATIONAL SECURITY
NYT: "In her most vigorous assault yet on her Republican rivals, Hillary Clinton on Wednesday ridiculed the foreign policy prescriptions of Donald J. Trump and Senator Ted Cruz, calling them 'reckless actions' that would alienate America's closest allies, demonize Muslims and empower Russia. 'If Mr. Trump gets his way, it will be like Christmas in the Kremlin,' Mrs. Clinton said…The speech, delivered at Stanford University, was written hurriedly after Tuesday's terrorist attacks in Belgium refocused the presidential campaign from domestic issues like income inequality to the threat of global terrorism. With a firm lead in the race for delegates needed to capture the Democratic nomination, Mrs. Clinton seemed eager to turn to national security to launch her sharpest attacks yet on Mr. Trump and Mr. Cruz."
Hillary, Trump matchup set to be the oldest pairing in recent history - The Hill: "The 2016 presidential race is shaping up to be the oldest match-up in the country's history. The Republican front-runner, billionaire Donald Trump, will be 70 years old on Election Day, while former Secretary of State Hillary Clinton, the Democratic favorite, will be 69. If they win their parties' respective nominations, no pair atop the ballot will have been older, on average, since the nation's founding."
[Dem delegate count: Clinton 1690; Sanders 946 (2,383 needed to win)]
WATCHING IT SHOULD HAVE BEEN ENOUGH PUNISHMENT
WSOC: "A Concord man was arrested for failing to return a 2002 VHS rental movie, 'Freddy Got Fingered.' James Meyers showed Channel 9 the arrest warrant Wednesday. … Meyers said he was driving his daughter to school on Concord Parkway Tuesday morning when a Concord police officer pulled him over for a tail-light that was out. … 'The officer said, 'I don't know how to tell you this but there's a warrant out for your arrest from 2002. Apparently you rented the movie 'Freddy Got Fingered' and never returned it.' I thought he was joking,' said Meyers. … Meyers said he thought everything would get straightened out at the department. He was surprised when officers arrested him and then took him to the magistrate's office. … Meyers said he vaguely remembers renting the particular movie from a family-owned video store in Kannapolis."
Chris Stirewalt is digital politics editor for Fox News. Want FOX News First in your inbox every day? Sign up here.
Chris Stirewalt joined Fox News Channel (FNC) in July of 2010 and serves as politics editor based in Washington, D.C. Additionally, he authors the daily Fox News Halftime Report political news note and co-hosts the hit podcast, Perino & Stirewalt: I'll Tell You What. He also is the host of Power Play, a feature video series on FoxNews.com. Stirewalt makes frequent appearances on network programs, including America's Newsroom, Special Report with Bret Baier and Fox News Sunday with Chris Wallace. He also provides expert political analysis for FNC's coverage of state, congressional and presidential elections.