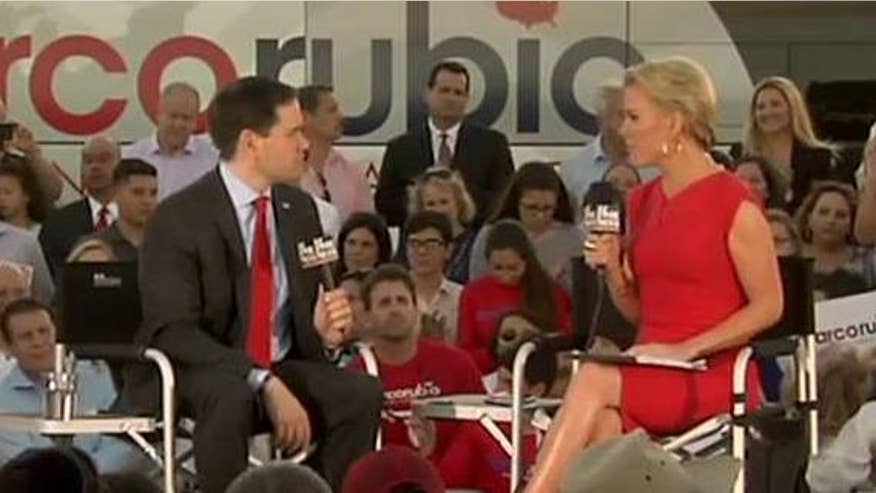 For Florida Sen. Marco Rubio, the headlines and the polls speak for themselves.
"Rubio should quit the race," a Boston Globe opinion piece reads.
"Sorry, Marco Rubio, it's time to fold," a Washington Post piece declared.
The latest Fox News Poll, released less than a week before Florida's March 15th Republican primary, shows Donald Trump holding a dominating 23-point lead over Rubio in his home state – 43 percent to 20 percent.
The poll appears to validate the Post opinion piece which said, "There reaches a time in every campaign in which the only people who are convinced that the candidate has a legitimate chance to win is the candidate himself and the most loyal (or ambitious) aides."
But in a town hall meeting on Wednesday night on The Kelly File, with Fox News Host Megyn Kelly, Rubio maintained that he would not drop out of the race before Florida's primary — despite reports that he was thinking about it.
"That is 100 percent categorically false," Rubio said. "I have never discussed dropping out with anyone on my team or anyone on the planet Earth. Or anyone on any planet for that matter.
I am not dropping out of the race. We are going to fight this thing through Tuesday. We are going to win Florida. We are going to go on."
Rubio dodged the question about what would happen to his campaign if he loses Florida on Tuesday, although he admitted "it won't be a good night if we don't win Florida."
He tried to downplay the fact that he's only won two contests so far, the Minnesota caucus and the Puerto Rico primary. Rubio reiterated that it didn't matter because it all comes down to Florida.
"I'd still have to win Florida," Rubio said. "You can't be the Republican nominee if you don't win Florida. And I am going to do everything I can to win this state. These people here in this state have never given up on me. I am not going to give up on them."
Despite losing by 23 points in the latest poll, Rubio believes he could win Florida if voters choose not to vote for Senator Ted Cruz and Governor John Kasich, and instead coalesced around him.
"A vote for them is a vote for Trump, because I am the only one that can beat Donald Trump in Florida," Rubio said. "So even if you like John Kasich or Ted Cruz if you don't want Donald Trump to win Florida, you have to vote for me. I am the only one that has a reasonable chance of even beating him."
Bryan Llenas currently serves as a New York-based correspondent for Fox News Channel (FNC). Click here for more information on Bryan Llenas. Follow him on Twitter @BryanLlenas.