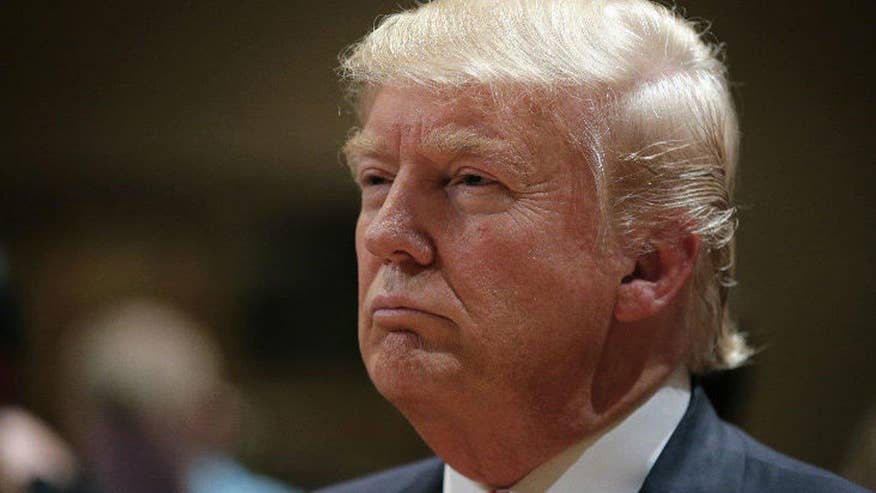 **Want FOX News First in your inbox every day? Sign up here.**
GOP NOMINATION FIGHT RUMBLES FORWARD
The Republican Party is getting ready to do something it has never done before.
The GOP is either going to nominate a candidate that has run his entire campaign against the party itself or it will unite around the goal of denying that candidate a win.
Donald Trump's Super Tuesday performance was good – certainly good enough that if he was a conventional candidate, he would already be the presumptive nominee. But it wasn't the knockout that he and his supporters had hoped for.
Trump racked up big wins in his strongholds but lost four of 11 contests. More significant than the win/loss record for the night is the delegate count. And in that measure, little changed.
After Tuesday's contests, Trump is forecast to gain only about 20 delegates in his lead over Sen. Ted Cruz. Even with more than a quarter of the 2,340 delegates already allocated, a 20-delegate bump isn't much. But, again, if Trump was an ordinary frontrunner, it would still be enough to break down resistance among the holdouts.
But Trump is not ordinary. Rather than acceptance, the despair among conservative and establishment Republicans is deepening; conservatives for fear of the dissolution of their movement, establishmentarians for fear of polls that show a general election wipeout that crushes the party all the way down the ballot.
Trump's general election strategy is a comfort to his supporters and to some anxious Republicans. His argument that his mix of showmanship and left-right hodgepodge of positions can win enough blue-collar Democrats to pull off a victory goes against consistent head-to-head polling that shows him at a substantial deficit to presumptive Democratic nominee Hillary Clinton.
For most Republicans, however, this morning brought uncertainty and anxiety. The two choices facing the GOP seem unthinkable for a party that has long prided itself on orderly nominations. No nominee has gone to the Republican convention without enough delegates to win outright in 40 years, and there hasn't been a floor fight at a convention in 68 years.
But the choices couldn't be clearer today. Option one: a quick capitulation to Trump's takeover bid. Option two: push forward into an intentionally messy delegate fight and likely a contested convention.
The uncomprehending look on New Jersey Gov. Chris Christie's face as he stood behind Trump during the front runner's election-night speech said it all for a party that has been forced to confront realities heretofore unimaginable.
When he backed Trump, Christie no doubt imagined himself the vanguard of an establishment that would make the best of an unusual nominee and get busy trying to save the general election.
That may yet happen, and Christie may look like a guy who bought Apple stock at $22 a share in 1980 instead of how he looked Tuesday: like a guy who accidentally walked in on a cockfight. But he will at least have to wait a while longer for his revenge.
Conventional wisdom says that Republicans will fall in line and accept the reality of having a populist renegade as their party's standard bearer. With all people, the path of least resistance is usually the safest bet. In politics, it is doubly so.
But the establishment and conservatives will act out of mutual self-interest for the next two weeks and do as their respective champions, Sens. Marco Rubio and Ted Cruz, did in their remarks Tuesday night and focus their fire on Trump.
Every year, trailing candidates and hyperventilating pundits talk breathlessly about open conventions and floor fights. And for 40 years they have been wrong. But this time, it's fully in the realm of possibility.
The best news for Trump out of Tuesday is that it seems far less likely that he will face a single opponent with unified support before the contests switch to winner-take-all on March 15.
Cruz had a very good night; more than good enough to erase his troubles of the previous two weeks. The problem for Cruz is that Tuesday was the best day on the primary calendar for him. Southern Republicans intentionally frontloaded their contests in a bid to give a favorite son a boost in the early going. It worked. But now Cruz faces many tough contests in more moderate states outside the South.
Marco Rubio had a long night. He notched his first victory but fell short in Virginia and now trails Cruz substantially in the delegate count. For Rubio, however, the road looks smoother from here. While he faces a make-or-break test two weeks from now in Florida, Rubio can at least say that his hardest day on the calendar is behind him.
That's all good news for Donald Trump in the sense that neither Cruz nor Rubio came out of the night as the consensus favorite for the rest of the party.
But the bad news for Trump is that the emphasis for the party has shifted away from picking a nominee and toward blocking a nominee. The next two weeks will see an all-out assault on Trump with the aim of letting voters check their assumptions one more time and perhaps denying Trump the delegates he needs to win outright.
It's going to get weird out there, America.
Chris Stirewalt is digital politics editor for Fox News. Want FOX News First in your inbox every day? Sign up here.
Chris Stirewalt joined Fox News Channel (FNC) in July of 2010 and serves as politics editor based in Washington, D.C. Additionally, he authors the daily Fox News Halftime Report political news note and co-hosts the hit podcast, Perino & Stirewalt: I'll Tell You What. He also is the host of Power Play, a feature video series on FoxNews.com. Stirewalt makes frequent appearances on network programs, including America's Newsroom, Special Report with Bret Baier and Fox News Sunday with Chris Wallace. He also provides expert political analysis for FNC's coverage of state, congressional and presidential elections.